Permentan 26/2012, Kepala Pusluhtan Ingatkan BPP Total Layani Petani
Agricultural Extension Determines the Success of Indonesian Agriculture
Editor : M. Achsan Atjo
Translator : Dhelia Gani

PUBLISHED: Kamis, 09 Mei 2019 , 01:05:00 WIB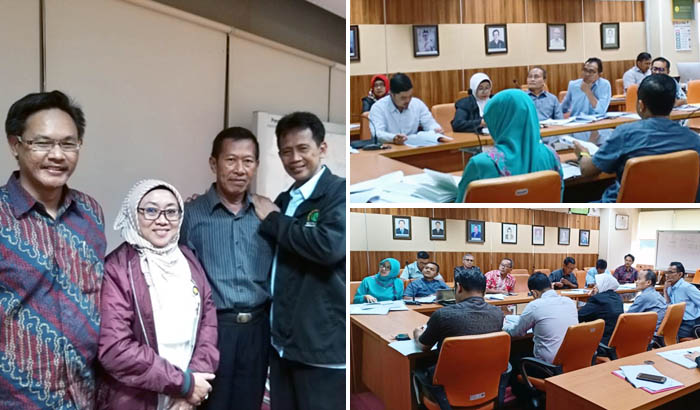 PUBLIC HEARING: Kepala Pusluhtan BPPSDMP Siti Munifah [hijab] bersama ketiga pimpinan BPP Kelas Utama [inset kiri] dan public hearing Pusluhtan dengan jajaran terkait di Kementan [Foto2: Humas Pusluhtan]
Jakarta [B2B] - Pemerintah RI mengingatkan Balai Penyuluhan Pertanian [BPP] sebagai garda terdepan ´pembelajaran petani´ di tingkat kecamatan di seluruh Indonesia, untuk total melayani petani. Kementerian Pertanian RI mengharapkan BPP meningkatkan kelengkapan prasarana dan sarana, layanan informasi, konsultasi teknogi pertanian, peningkatan jumlah dan kualitas penyuluh pertanian sesuai perannya sebagai ´rumah besar penyuluh pertanian dan petani´ untuk penyempurnaan Peraturan Menteri Pertanian [Permentan] No 26/2012 tentang Pengelolaan BPP.
Hal itu dikemukakan Kepala Pusat Penyuluhan Pertanian [Pusluhtan BPPSDMP] Siti Munifah pada ´public hearing´ dengan jajarannya, Selasa [7/5] terkait penyempurnaan Permentan No 26/2012 dan peran BPP mengacu pada Surat Edaran Menteri Dalam Negeri No 520/2017. Turut hadir tiga pimpinan BPP Kelas Utama yakni BPP Jogoroto di Kabupaten Jombang, Provinsi Jawa Timur; BPP Palimanan, Kabupaten Cirebon, Provinsi Jawa Barat dan BPP Seyegan, Kabupaten Sleman, Provinsi DI Yogyakarta.
"Sebagai rumah penyuluh dan petani, BPP menjalankan fungsi sebagai pusat koordinasi dan sinkronisasi program dan kegiatan pembangunan pertanian; pusat data dan informasi pertanian; pusat pembelajaran; pusat konsultasi agribisnis; dan pusat pengembangan kemitraan usahatani. BPP juga harus mampu mengawal program pembangunan di kecamatan," kata Siti Munifah yang didampingi Penyuluh Utama Kementan, Siti Nurjanah.
Memasuki era revolusi industri 4.0, BPP disiapkan untuk lebih berperan aktif mendukung pembangunan pertanian nasional, mengacu pada Surat Edaran Menteri Dalam Negeri Nomor: 520/2017.
"BPP sebagai kelembagaan penyuluhan pertanian di kecamatan merupakan suatu unit kerja nonstruktural yang berfungsi sebagai tempat pertemuan bagi penyuluh pertanian, petani dan pelaku usaha yang dipimpin oleh koordinator penyuluh," kata Siti Munifah.
Dia mengingatkan BPP juga berperan strategis untuk mengoordinasikan, mensinergikan dan menyelaraskan kegiatan pembangunan pertanian di tingkat kecamatan dengan pihak-pihak terkait. [Liene]
Jakarta [B2B] - Indonesian government reminded the coordinator of the Agricultural Extension Center or the BPP as the frontline of ´farmer learning´ at the sub-district level across the country to support farmers. The Indonesian Agriculture Ministry expects the BPP to improve the completeness of infrastructure and facilities, information services, agricultural technology consultations, increase the number and quality of agricultural extensionists according to their roles.
"As the house for agricultural extensionists and farmers, The BPP functions as the center for coordination and synchronization of agricultural development programs; agricultural data and information center; learning center; agribusiness consulting center; and the center for developing farming partnerships," said Director of ministry´s Agricultural Extension Center, Siti Munifah in coordination meeting here on Wednesday afternoon [May 8].
In the era of industrial revolution 4.0, BPP should play an active role to support national agricultural development, refers to the Minister of Home Affairs Instruction Number 520/2017.
"The BPP as an institution of agricultural extension in the sub-district is a non-structural work unit that functions as the meeting place for agricultural extensionists, farmers and business people led by an extension coordinator," Munifah said.
She reminded the BPP to play a strategic role in coordinating, synergizing and harmonizing agricultural development activities at the sub-district level with relevant parties.