Polbangtan Diluncurkan, Mentan: "Lulusan Harus jadi Job Creator, Bukan Cari Kerja"
Indonesian Minister Launched the Agricultural Development Polytechnic
Reporter : Gusmiati Waris
Editor : Cahyani Harzi
Translator : Dhelia Gani

PUBLISHED: Selasa, 18 September 2018 , 16:06:00 WIB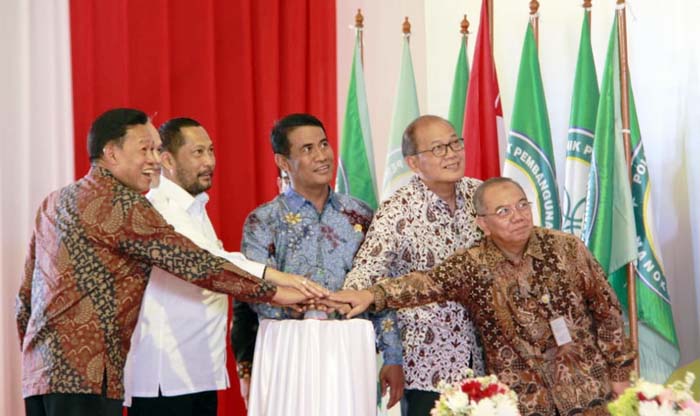 TEACHING FACTORY: Mentan Amran Sulaiman (batik biru) didampingi Kepala BPPSDMP Kementan, Momon Rusmono (kiri) dan Dirut Bulog, Budi Waseso (kemeja putih) menekan tombol (Foto: Humas BPPSDMP/Saputra Eko)
Bogor, Jabar (B2B) - Kementerian Pertanian RI meluncurkan Politeknik Pembangunan Pertanian (Polbangtan) di Bogor, Selasa pagi (18/9) sebagai implementasi UU Pendidikan Tinggi No 12/2012, dan Mentan Andi Amran Sulaiman mengingatkan kepada 4.487 mahasiswa angkatan pertama Polbangtan untuk lulus sebagai job creator, "bukan lagi mencari kerja."

Mentan Amran Sulaiman mengatakan transformasi Polbangtan dari Sekolah Tinggi Penyuluhan Pertanian (STPP) merupakan pengejawantahan komitmen Pemerintah RI mengantisipasi perubahan dan tantangan sektor pertanian ke depan, sekaligus implementasi UU Pendidikan Tinggi, yang mensyaratkan konsep pembelajaran yang menekankan praktik 70% melalui teaching factory disingkat TeFa ketimbang teori hanya 30%.

"Perubahan ini tidak dimaksudkan sekadar mencetak tenaga terampil di sektor pertanian. Lebih dari itu, menciptakan para wirausahawan muda pertanian. Lulus dari Polbangtan harus menjadi job creator, bukan mencari kerja," kata Mentan.

Menurutnya, Polbangtan akan menerapkan konsep pembelajaran yang menekankan pada kegiatan praktik melalui TeFa, untuk meluluskan sarjana sains terapan dengan orientasi menjadi wirausahawan muda pertanian melalui konsep pendidikan dan pengajaran 30% teori dan 70% praktik.

"Model pembelajaran ini mengajak mahasiswa masuk ke lingkungan sesungguhnya di tempat kerja. Tujuannya menumbuhkan kemampuan kewirausahaan dari mahasiswa yang mengembangkan produk berorientasi pasar dan diminati konsumen," kata Kepala Badan Penyuluhan dan Pengembangan SDM Pertanian (BPPSDMP) Kementan, Momon Rusmono kepada pers.

Menurutnya, STPP yang semula berorientasi menghasilkan penyuluh pertanian dan peternakan, maka lulusan Polbangtan diarahkan menjadi job creator yang berjiwa wirausaha atau socioagropreneur dengan keahlian tertentu di bidang pertanian, peternakan, dan perkebunan.

Enam Kampus
Kelembagaan Polbangtan yang tertuang dalam Peraturan Menteri Pertanian (Permentan) No 25/2018 tentang Organisasi Tata Kerja Polbangtan berlaku untuk enam kampus STPP di seluruh Indonesia yang beralih peran dan fungsi STPP Medan menjadi Polbangtan Medan, STPP Bogor menjadi Polbangtan Bogor, STPP Magelang menjadi Polbangtan Yogyakarta - Magelang, STPP Malang menjadi Polbangtan Malang, STPP Gowa menjadi Polbangtan Gowa, dan STPP Manokwari menjadi Polbangtan Manokwari.

"Polbangtan mengusung 13 Prodi untuk meningkatkan pengembangan pendidikan dan kualitas sarjana terapan sesuai visi Polbangtan menjadi politeknik pembangunan pertanian unggulan," kata Momon Rusmono.

Dari 13 Prodi, sembilan di antaranya dengan jenjang sarjana terapan disingkat S.Tr antara lain Penyuluh Pertanian Berkelanjutan, Penyuluh Perkebunan Presisi, Teknologi Produksi, Penyuluhan Peternakan dan Kesehatan Hewan, Agribisnis Hortikultura, Teknologi Benih, Teknologi Pakan Ternak, Produksi Ternak, dan Agribisnis Peternakan.

"Empat Prodi lainnya dengan jenjang diploma tiga disingkat D III antara lain Kesehatan Hewan, Mekanisasi Pertanian, Budidaya Hortikultura, Budidaya Ternak," kata Momon Rusmono.
Bogor, West Java (B2B) - Indonesian Agriculture Ministry launched the Agriculture Development Polytechnic or the Polbangtan here on Tuesday morning (September 18) as the implementation of the University Education Law Number 12/2012, and Agriculture Minister Andi Amran Sulaiman reminded 4,487 Polbangtan students of first generation to graduate from college become the job creator, "not looking for work."

Minister Sulaiman said the transformation of Polbangtan from the Agricultural Extension College or the STPP is manifestation of the commitment of Indonesian government to anticipate change and challenges of the agricultural sector going forward, as the implementation of the University Education Law, which requires a learning concept that emphasizes 70% practice and 30% theory through the teaching factory or TeFa.

"The transformation is not just forming skilled scholars in the agricultural sector. More than that, creating young agricultural entrepreneurs. The Polbangtan graduates must be job creators, not looking for work," Minister Sulaiman said.

According to him, the Polbangtan will apply the learning concept that emphasizes practical activities through TeFa, oriented to become young agricultural entrepreneurs through the concept of education and teaching 30% theory and 70% practice.

"The TeFa´s learning model invites students to enter the work environment. The aim is to foster entrepreneurial abilities from students who develop market-oriented products and demand by consumers," Director General of Agency for Agricultural Extension and Human Resources Development or BPPSDMP, Momon Rusmono.

According to him, STPP which was originally oriented to producing agricultural and livestocks extension, then the Polbangtan graduates were directed to be job creators with entrepreneurial spirit or socioagropreneur with certain expertise in agriculture, livestocks and plantations.

Six Campuses
The Polbangtan institution is regulated in the Agriculture Minister Regulation Number 25/2018 about the Working Procedure of Polbangtan applied to six STPP campuses across the country changed its name and functions into the STPP Medan become Polbangtan Medan, STPP Bogor becomes Polbangtan Bogor, STPP Magelang becomes Polbangtan Yogyakarta - Magelang, STPP Malang becomes Polbangtan Malang, STPP Gowa becomes Polbangtan Gowa, and STPP Manokwari becomes Polbangtan Manokwari.

"The Polbangtan carries 13 Prodi to improve the of polytechnic education in agricultural development," Mr Rusmono said.

Of the 13 study programs, nine of them with the applied bachelor degree abbreviated as S.Tr, among others Sustainable Agriculture Extensionist, Precision Planting Extensionist, Production Technology, Livestock and Animal Health Extensionist, Horticultural Agribusiness, Seed Technology, Animal Feed Technology, Animal Production, and Livestock Agribusiness.

"Four other study programs with three diploma levels abbreviated as D III include Animal Health, Agricultural Mechanization, Horticultural Cultivation, Livestock Cultivation," Mr Rusmono said.