Harga Telur Naik, BKP Kementan `Jemput Bola` Distribusi Langsung ke Konsumen
Direct Distribution to Consumers, the Indonesian Govt Strategy to Stabilize Egg Prices
Reporter : Gusmiati Waris
Editor : Cahyani Harzi
Translator : Dhelia Gani

PUBLISHED: Minggu, 16 Desember 2018 , 16:18:00 WIB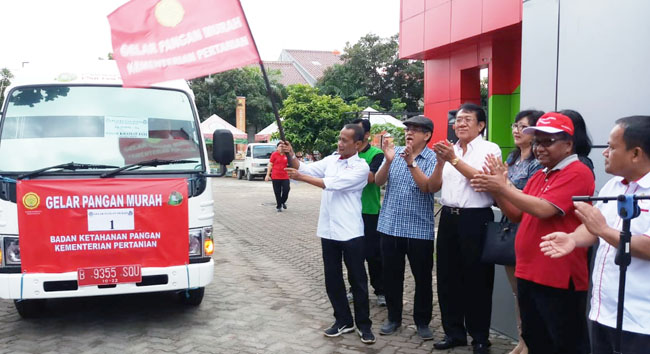 ARMADA TTI: Kepala BKP Kementan, Agung Hendriadi mengangkat bendera start armada Toko Tani Indonesia (TTI) didampingi Sekretaris BKP Riwantoro (kanan) dan Kapus Distribusi dan Cadangan Pangan, Rishaferi (Foto: Humas BKP)
Jakarta (B2B) - Meningkatnya kebutuhan konsumen menjelang akhir tahun, harga telur ayam ras pada sejumlah pasar tradisional di Jabodetabek melambung Rp25.000 hingga Rp27.000 di atas harga acuan pemerintah (HAP) sebesar Rp23.000 per kg, diantisipasi oleh Badan Ketahanan Pangan (BKP) di Kementerian Pertanian RI, dengan mendistribusikan langsung telur hasil produksi peternak kepada konsumen di Jabodetabek.
Kepala BKP Kementan, Agung Hendriadi bertindak cepat dengan menggandeng Ditjen Peternakan dan Kesehatan Hewan (PKH) Kementan dan pihak-pihak terkait seperti PD Pasar Jaya, Perhimpunan Insan Perunggasan Indonesia (Pinsar), dan Forum Peternak Layer Nusantara (PLN) dengan menyuplai delapan ton telur ayam ras seharga Rp23.000 per kg.
"Gelar Pangan, khususnya penjualan telur yang dilakukan BKP, membuktikan pemerintah peduli dan hadir untuk membantu masyarakat memperoleh telur ayam ras dengan harga terjangkau," kata Agung H pada peluncuran ´gelar telur merah´ disingkat GTM di Jakarta, Sabtu (15/12).
BKP Kementan mengerahkan seluruh kekuatan Toko Tani Indonesia (TTI) untuk mendistribusikan telur ayam ras ke tujuh pasar tradisional utama di Jabodetabek yakni Grogol, Kramat Jati, Mampang Prapatan, Cijantung, Tebet Barat, Pademangan, Jatinegara dan TTI Center - Pasar Minggu di Jakarta Selatan, dengan harga Rp23.000 per kg sesuai Peraturan Menteri Perdagangan (Permendag) No 96/2018.
Menurut Agung H, kenaikan harga telur ayam ras jelang akhir tahun 2018 tergolong wajar lantaran hari besar umat Kristiani dan tahun baru 2018, khususnya konsumsi telur untuk membuat kue, makanan dan kebutuhan sebagainya.
"Langkah BKP ini, kami harapkan harga telur bisa kembali stabil sesuai HAP yakni Rp23 ribu per kg," katanya yang didampingi Sekretaris BKP Kementan, Riwantoro dan Kepala Pusat Distribusi dan Cadangan Pangan BKP, Rishaferi.
Jakarta (B2B) - Increasing consumer needs ahead of the end of the year, price of eggs in some traditional markets in Jakarta in the range IDR25.000 until IDR27.000 above the government´s reference price or the HAP of IDR23,000 per kg, anticipated by the Food Security Agency at the Indonesian Agriculture Ministry or the BKP Kementan by direct distribution to the consumers.
Agung Hendriadi as the Director General of BKP Kementan respond quickly by cooperating with Directorate General of Livestocks and Animal Health at the ministry and stakeholders such as Jakarta´s local enterprise market manager or the PD Pasar Jaya, Indonesian broiler breeders association or the Pinsar and PLN supply eight tons of chicken eggs for IDR 23,000 per kg.
"The direct distribution strategy to consumers is a proof of the government´s commitment to care about consumer needs," Mr Hendriadi told the press here on Saturday (December 15).
The BKP Kementan mobilizes distribution and marketing networks for basic needs, Indonesian Farmers Stores or the TTI, to distribute chicken eggs to traditional markets in Jakarta and surrounding areas namely Grogol, Kramat Jati, Mampang Prapatan, Cijantung, Tebet Barat, Pademangan, Jatinegara and TTI Center - Pasar Minggu of South Jakarta of IDR 23,000 per kg according to the rules of trade minister.
According to Mr. Hendriadi, the price of race chicken eggs soared towards the end of 2018 is quite reasonable because consumer needs are increasing.
"We expect the price of eggs to stabilize according to the government´s reference price of IDR 23 thousand per kg," he said accompanied by some 2nd echelon officials of the BKP Kementan.