Mentan Kunjungi Lokasi Usaha Packing House di Lembang
Millennial Farmers are the Target of Developing Indonesian Agricultural HR
Reporter : Kemal Agus Praghotsa
Editor : Cahyani Harzi
Translator : Dhelia Gani

PUBLISHED: Sabtu, 26 Desember 2020 , 16:21:00 WIB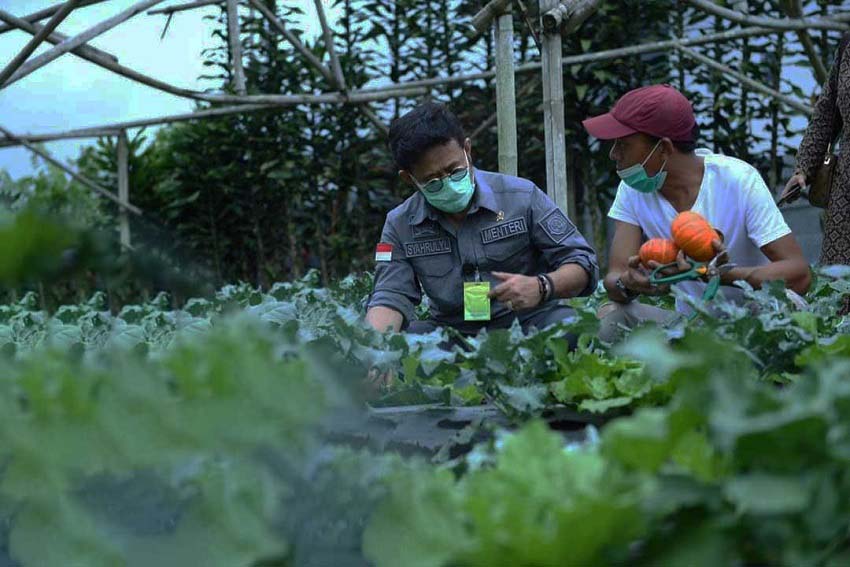 PETANI MILENIAL: Menteri Pertanian RI Syahrul Yasin Limpo meninjau lokasi usaha kemasan rumah [packing house] Lembang. [FOTO: Kementan]
Bandung,Jabar [B2B] - Menteri Pertanian RI Syahrul Yasin Limpo meninjau lokasi usaha kemasan rumah [packing house] Lembang, di Kabupaten Bandung, Jawa Barat, Untuk memantau proses budidaya berbagai tanaman pangan hingga proses pengemasan produksi pemasaran dalam negeri dan pemenuhan ekspor.
"Mereka melakukan korporasi mereka sendiri. katakanlah budidayanya dengan bibit yang terkoleksi bagus, kemudian membuat bedengan dan semua sistem pertanamannya dilakukan sangat baik," kata Mentan Syahrul.
Mentan Syahrul mengatakan packing house ini memiliki prospek sangat besar karena dikelola oleh anak muda dengan sentuhan teknologi mesin serta sistem digitalisasi. Pihaknya akan terus mendorong peluang yang sama di berbagai daerah lain, peluang tersebut bisa diciptakan melalui kolaborasi pemerintah dengan para petani muda ini.
"Misalnya menjadi mentor packing house dengan pola menetap dari satu daerah ke daerah lain. Jika ini diikuti oleh semua pemuda akan ada banyak hal yang bisa dilakukan. Tentu Kementerian Pertanian akan mendorong anak muda yang seperti itu," katanya.
Menurutnya, packing house Lembang sejauh ini mampu melakukan enam kali tanam dalam semusim, artinya ada enam kali panen yang seluruh produksinya dijual dalam berbagai bentuk untuk memenuhi kebutuhan masyarakat.
"Saya bangga karena proses olahnya sudah menggunakan pendekatan packaging yang sangat bagus dan seusai keinginan masyarakat," tutupnya.
Bandung of West Java [B2B] - Indonesian government in the next five years prioritizes the development of human resources that are ready to face globalization in the era of industrialization 4.0, carry out its role to develop millennial farmers who understand information and communication technology, according to the senior official of the agriculture ministry.