Harga Beras Naik, Wewenang Otoritas Perdagangan Bukan Sektor Produksi
Indonesia`s Rice Prices are the Responsibility of Trade Authority
Reporter : Kevin Cesario
Editor : Cahyani Harzi
Translator : Dhelia Gani

PUBLISHED: Senin, 19 November 2018 , 16:23:00 WIB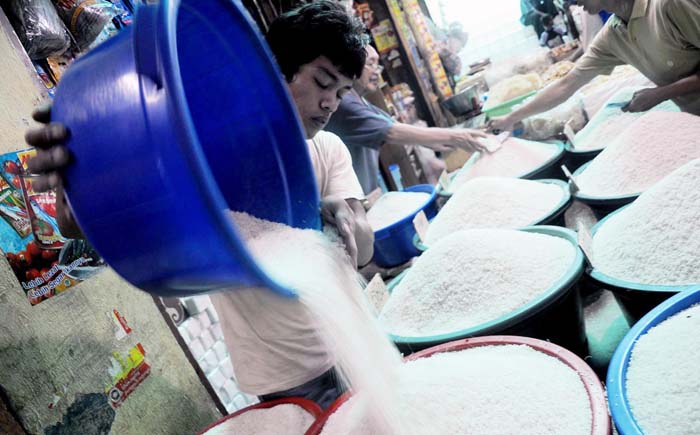 Foto: istimewa
Jakarta (B2B) - Kenaikan harga beras tidak selalu berkorelasi dengan kekurangan di tingkat produksi padi, namun dapat disebabkan oleh pergerakan beras di sektor perdagangan, sehingga harga beras bukan lagi ranah pihak yang berwenang di produksi, melainkan kewenangan otoritas perdagangan.
Pakar ekonomi pertanian Universitas Lambung Mangkurat Banjarmasin (Unlam) Luthfi Fatah mengatakan harga beras yang diberitakan mengalami kenaikan akhir-akhir ini tidak selalu berkorelasi dengan kekurangan di sektor produksi padi.
"Bisa jadi penyebabnya adalah pergerakan beras akibat perdagangan, yang membuat stok menjadi langka akibat kesengajaan pihak-pihak tertentu atau sesuatu yang alami. Mungkin ada yang ingin bermain untuk mengeruk keuntungan besar atau pun bisa terkait dengan distribusi atau pergerakan produksi lintas wilayah yang berlangsung alami," kata Luthfi Fatah via telepon, Senin (19/11).
Menurutnya, dalam kondisi apa pun, harga beras di pasaran bukan lagi ranah pihak yang berwenang di sektor produksi, karena seharusnya menjadi tanggung jawab otoritas perdagangan.
Dia mengingatkan pihak-pihak yang berkepentingan untuk mengamati stok beras dari waktu ke waktu, termasuk meneliti pergerakan atau distribusi beras antarprovinsi dan kabupaten/kota.
"Untuk memperhitungkan stok beras tidak cukup hanya menggunakan data produksi beras, karena terkait pula dengan variabel waktu dan variabel pergerakan produk," kata Luthfi Fatah yang juga menjabat Dekan Fakultas Pertanian Unlam Banjarmasin.
Jakarta (B2B) - The increase in rice prices not always related to rice production, but it could be due to the distribution of rice in the trade sector, so that the rice price is no longer authorized stakeholders production sector, but it is the responsibility of the trade authority.
Agricultural economist of Banjarmasin´s Lambung Mangkurat University, Luthfi Fatah Lutfi Fatah said rising rice prices are reported lately not always because rice production is not sufficient for consumers.
"The cause could be the distribution in the rice trade, which triggered reduced rice supply due to the interests of a number of parties or something natural. Maybe there are many parties who want big profits or can because of cross-regional distribution constraints," Mr Fatah said via phone on Monday (November 19).
According to him, in any condition, rice prices on the market no longer the authority of production sector, because it should be responsibility of the trade authority.
He reminded the authorities of production sector to observe rice stocks at any time, and observe rice distribution between provinces and districts/cities.
"To calculate rice stock is not enough to only use production data, because it is also related to time and distribution variables," said Mr Fatah, who was also the Dean of Banjarmasin´s Lambung Mangkurat University.