Kontingen Polbangtan Kementan Raih Juara 3 Lomba Debat Pekan Raya
Millennial Farmers Development are the Target of Indonesia`s Polbangtan Bogor
Editor : M. Achsan Atjo
Translator : Novita Cahyadi

PUBLISHED: Jum'at, 23 Desember 2022 , 16:03:00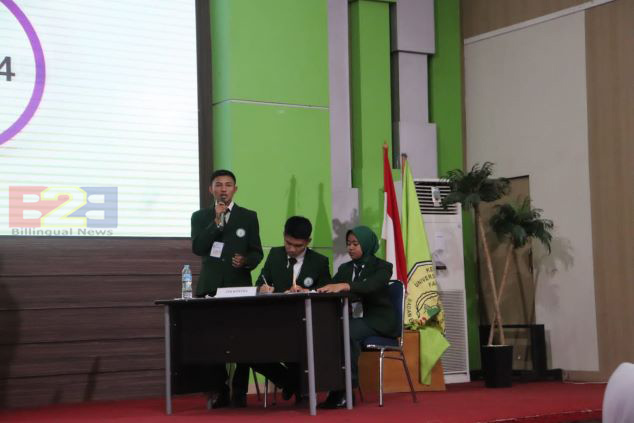 POLBANGTAN BOGOR: Tiga Mahasiswa Polbangtan Bogor mengikuti perlombaan Debat Pekan Raya Pertanian 4.0 yang diselenggarakan di Universitas Sultan Ageng Tirtayasa
Serang, Banten [B2B] – Kontingen Politeknik Pembangunan Pertanian [Polbangtan] Bogor kembali menorehkan prestasi. Tim Mahasiswa dari Jurusan Peternakan yang terdiri dari Bahri Dwi Yandi Batubara, Aditia Yaman Dalantaras Bukit, dan Arum Yunitawati meraih Juara III Lomba Debat Pekan Raya Pertanian 4.0 yang diselenggarakan di Universitas Sultan Ageng Tirtayasa.
Pada ajang bergengsi ini, Polbangtan Bogor mengirimkan dua tim delegasi. Untuk tim Atramerus yang digawangi oleh Hikmal Zaelani, Wafa Nur Ambia, dan Fadelia Kalembang keluar sebagai Runner Up 1.
Keberhasilan Polbangtan Bogor keluar sebagai juara tidak lepas dari peranan adanya UKM Debat yang melaksanakan Latihan rutin dan melahirkan debater hebat, untuk melatih dan meningkatkan kemampuan para mahasiswa.
Aditia Bukit, selaku Ketua UKM Debat Polbangtan Bogor mengaku bersyukur, karena bisa kembali mengharumkan nama civitas akademika. Adit berharap, agar anggota UKM Debat Polbangtan Bogor bisa lebih memacu motivasi untuk menorehkan lebih banyak prestasi.
Prestasi ini bukan kali pertama yang diraih oleh Tim Debat Polbangtan Bogor. Sebelumnya, mereka juga pernah menjadi juara nasional pada ajang Festival Jurnalistik Husbandry 2022 yang diselenggarakan di Universitas Jenderal Soedirman.
Menteri Pertanian Syahrul Yasin Limpo mengatakan generasi muda harus memaksimalkan potensi pertanian.
"Pertanian memiliki potensi yang luar biasa. Potensi yang bisa menghasilkan. Kita berharap generasi muda bisa menggarap sektor ini. Karena, pertanian seperti merpati yang tidak pernah ingkar janji," kata Mentan Syahrul.
Sementara Kepala Badan Penyuluhan dan Pengembangan Sumber Daya Manusia Pertanian [BPPSDMP], Dedi Nursyamsi, menyampaikan bahwa petani milenial mempunyai peran penting dalam melanjutkan pembangunan di sektor pertanian.
"Sehingga, dibutuhkan dukungan dari SDM pertanian. Selain itu SDM pertanian adalah pengungkit terbesar produktivitas pertanian. Maka pendidikan vokasi menjadi salah satu kunci terhadap cikal bakal lahirnya petani milenial," ujar Dedi.
Serang of Banten [B2B] - The role of agricultural vocational education in Indonesia such as the the Agricultural Development Polytechnic or the Polbangtan, to support Indonesian Agriculture Ministry seeks to maximize its efforts to produce millennial entrepreneur.
Youth Enterpreneurship And Employment Support Services Program or the YESS, to support Indonesian Agriculture Ministry seeks to maximize its efforts for the millennial entrepreneur.
Indonesian Agriculture Minister Syahrul Indonesia Yasin Limpo stated that the government´s commitment to developing agriculture, especially in the development of advanced, independent and modern agricultural human resources.
"The goal is to increase the income of farming families and ensure national food security. Farmer regeneration is a commitment that we must immediately realize," Minister Limpo said.
He reminded about the important role of vocational education, to produce millennial farmers who have an entrepreneurial spirit.
"Through vocational education, we connect campuses with industry so that Polbangtan graduates meet their needs and are ready for new things," Limpo said.