Harga Gabah Sukabumi Anjlok, Mentan Bentuk Posko dan Tim Serap Gabah
Indonesians Agriculture Minister Acted Quickly to overcome the Grain Prices
Reporter : Gusmiati Waris
Editor : Cahyani Harzi
Translator : Dhelia Gani

PUBLISHED: Selasa, 06 Februari 2018 , 17:20:00 WIB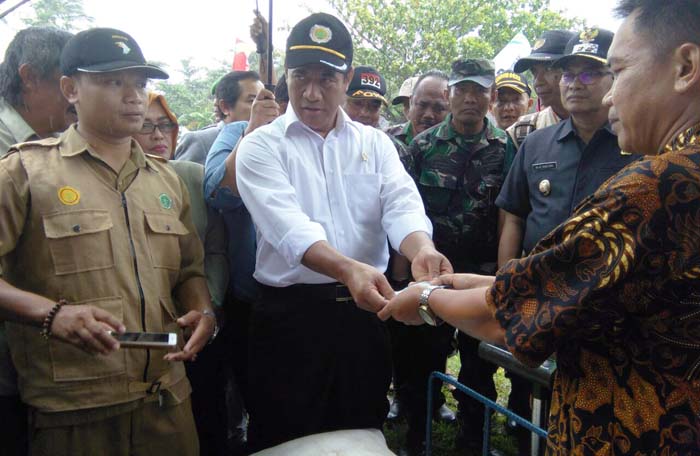 GABAH SUKABUMI: Mentan Andi Amran Sulaiman secara simbolis membeli gabah petani di Sukabumi untuk mengatasi anjloknya harga gabah dengan melibatkan Bulog, Babinsa dan PPL (Foto: B2B/Gusmiati Waris)
Sukabumi, Jabar (B2B) - Anjloknya harga gabah di bawah harga pembelian pemerintah (HPP) ke Rp3.800 per kg mendorong Menteri Pertanian RI Andi Amran Sulaiman bertindak cepat dengan menyambangi dua sentra produksi padi Provinsi Jawa Barat, yakni Garut dan Sukabumi setelah mendapat laporan dari Banun Harpini, Penanggung Jawab Upsus Pajale Jawa Barat.

"Ini harus kita selamatkan. Kita harus gerak cepat. Jangan sampai harga gabah tambah anjlok. Petani bisa rugi. Harganya jangan turun, kalau perlu naik sedikit agar petani tidak susah dan konsumen tidak menjerit," kata Mentan Amran Sulaiman, Selasa siang (6/2) dalam arahannya di Desa Pangumbahan Kecamatan Ciracap, Kabupaten Sukabumi, Jabar.

Mentan mengaku mendengar kabar harga gabah jatuh kemarin sore (5/2) sehingga dia memutuskan ke Sukabumi setelah panen padi dan memantau harga gabah di Kabupaten Garut, Selasa pagi, didampingi Wakil Gubernur Jawa Barat Deddy Mizwar, Banun Harpini dan Ketua Komisi Pengawas Persaingan Usaha (KPPU) Syarkawi Rauf.

Banun Harpini menambahkan, harga gabah kering panen (GKP) saat ini Rp 3.800 hingga Rp 4.000 per kg, sedangkan harga gabah kering giling (GKG) Rp4.800 hingga Rp5.000 per kg dan harga beras saat ini di kisaran Rp11.000 hingga Rp12.000 per kg.

"Harga jual GKP di tingkat petani Jabar puncaknya pada 24 Januari 2018 mencapai Rp5.700 per kg tapi hari ini harga GKP anjlok ke Rp5 ribu per kg," katanya kepada pers.

Peran Media Massa
Mentan Amran Sulaiman dalam arahannya mengingatkan media massa cetak dan elektronik untuk menyampaikan kabar tentang harga gabah di Sukabumi anjlok kepada publik, dan jangan baru mendengar harga beras naik beberapa persen langsung panik.
"Ini harus disampaikan kepada publik, jangan harga beras naik satu persen teriaknya luar biasa tapi begitu harga gabah turun, ini sudah anjlok 30 persen malah tidak tahu karena tidak terpublikasi. Saya minta wartawan sampaikan ke seluruh Indonesia," kata Mentan.

Mentan memastikan mulai hari ini, pemerintah siap membeli gabah melalui Bulog didukung bintara pembina desa (Babinsa) di Koramil, penyuluh pertanian lapangan (PPL).

"Saya minta PPL sebagai anak kandungku ... dorong ini ... berbakti dan menolong petani Sukabumi. Kepada wakil bupati bisa koordinasi ke bank seperti BRI, Bulog juga sudah siapkan dana untuk serap gabah. Saya juga sudah koordinasi Dirut Bulog via telepon untuk mendukung serap gabah," katanya lagi.

Dia juga meminta Babinsa untuk mendukung serap gabah, dan apabila Bulog Sukabumi kewalahan mengatasi kekurangan dana, "PPL dan Babinsa datang ke Jakarta, masih ada gaji menteri yang bisa dipakai untuk membantu dan melayani petani."
Sukabumi, West Java (B2B) - The decline in grain prices under the government regulation to Rp 3,800 per kg forced the Indonesian Agriculture Minister Andi Amran Sulaiman to visit two rice production centers of West Java Province, Garut and Sukabumi regencies after being reported by Banun Harpini, person in charge of the Rice Production Improvement Program for West Java province.

"We have to save, we have to move fast, do not let the price of grain adds to fall. Farmers can lose. If necessary the price rises a little so that farmers and consumers are not harmed," Minister Sulaiman said here on Tuesday afternoon (February 2) in Pangumbahan village of Ciracap subdistrict in Sukabumi district.

Mr Sulaiman claimed heard grain prices fell yesterday afternoon so he decided to Sukabumi after the rice harvest in Garut district on Tuesday morning accompanied by Deputy Governor Deddy Mizwar, Banun Harpini, and Chairman of the Business Competition Supervisory Commission or KPPU, Syarkawi Rauf.

Mrs Harpini added that the price of dry harvested rice is currently 3,800 to 4,000 rupiah per kg, while the dry grain price is 4,800 to 5,000 rupiah per kg, and the rice prices currently 11,000 to 12,000 rupiah per kg.

"The highest selling price of dry paddy at farmers level on January 24, 2018 reached 5,700 rupiah per kg but today the price dropped to 5 thousand rupiah per kg," she told reporters.

The Role of Mass Media
Minister Sulaiman in his direction reminded print and electronic mass media to deliver the news about the price of grain in Sukabumi to the public, and do not just care about the price of rice rose, then denounced the government and cornered farmers.

"It should be presented to the public, rice prices rose by one percent already noisy, but once the price of grain down even calm, drop 30 percent even not know because not published. I ask journalists to convey to all of Indonesia," he said.

Mr. Sulaiman confirmed starting today, the government is ready to buy grain through the logistic agency or Bulog supported by army soldiers and agricultural field extension workers.

"I ask the agriculture extension ... push this ... and help Sukabumi farmers. Deputy regent can coordinate with banking, the Bulog also has prepared funds to buy grain from farmers. I have also coordinated with Bulog´s big boss via phone to support this program," he said.

He also asked the army soldiers to support the absorption of grain, and if Bulog in Sukabumi had difficulties in funding, "Please come to Jakarta, there is still a minister´s salary that can be used to help and serve the farmers."