Ratekcan 2019, BPPSDMP Kementan Komitmen Capai Target RPJMN Jokowi
Indonesia`s Widodo 2019 Focused on HR Development including Agriculture
Reporter : Gusmiati Waris
Editor : Cahyani Harzi
Translator : Dhelia Gani

PUBLISHED: Selasa, 15 Januari 2019 , 17:02:00 WIB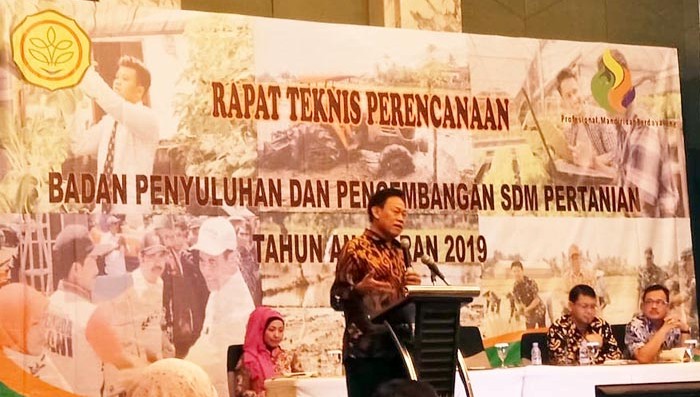 2019 TAHUN SDM: KaBadan SDM Kementan, Momon Rusmono menyampaikan arahan didampingi Kapusdiktan Idha WA, Kapusluhtan Siti Munifah, Sesba Andriko NS, dan Kapuslatan Bustanul AC (Foto: BPPSDMP/Liene)
Bogor, Jabar (B2B) - Badan Penyuluhan dan Pengembangan SDM Pertanian (BPPSDM) berupaya keras mencapai target pembangunan SDM pertanian sesuai Rencana Pembangunan Jangka Menengah Nasional (RPJMN) Presiden Joko Widodo kepada Menteri Pertanian RI Andi Amran Sulaiman, dengan menetapkan rencana kerja pemerintah 2019 (RKP) fokus pada optimalisasi pemanfaatan seluruh sumber daya untuk pencapaian tujuan dan sasaran RPJMN 2015 -2019.
"Penguatan perencanaan pembangunan SDM pertanian menuntut kita untuk memaksimalkan effort dan breakthrough BPPSDMP, dengan memanfaatkan seluruh potensi didukung kerja keras semua pihak di Badan SDM Kementan, untuk pencapaian pembangunan pertanian ke depan," kata Kepala BPPSDMP Kementan, Momon Rusmono dalam arahannya saat membuka rapat teknis perencanaan 2019 (Ratekcan) di Bogor, Selasa (15/1).
Dia menambahkan, Mentan Amran Sulaiman mengingatkan tentang arahan Presiden Jokowi untuk pembangunan 2019 adalah fokus pada pembangunan SDM, yang dijabarkan pada Rencana Kerja Pembangunan Pertanian 2019 (Renjabangtan) yang fokus pada ´pengembangan infrastruktur dan korporasi petani untuk percepatan peningkatan produksi dan ekspor pangan serta meningkatkan kesejahteraan masyarakat miskin.´
"BPPSDMP Kementan berperan penting dan menjadi penentu menghasilkan SDM pertanian yang profesional, mandiri, dan berdaya saing," kata Momon Rusmono.
Bertitik tolak dari hal itu, katanya lagi, program dan kegiatan BPPSDMP harus ditindaklanjuti untuk pemantapan pelaksanaan kegiatan dan APBN lingkup BPPSDMP tahun anggaran 2019," katanya lagi.
Renjabangtan BPPSDMP Kementan ditandai dengan penandatanganan perjanjian kinerja 2019 sebagai implementasi program dan kegiatan oleh pejabat eselon dua: Sekretaris BPPSDM Andriko Noto Susanto; Kepala Pusat Penyuluhan Pertanian (Pusluhtan) Siti Munifah; Kepala Pusat Pelatihan Pertanian (Puslatan) Bustanul Arifin Caya; dan Kepala Pusat Pendidikan Pertanian (Pusdiktan) Idha Widi Arsanti. Dilanjutkan penandatanganan perjanjian kerja dari para kepala unit pelaksana teknis (UPT) dan kepala dinas lingkup pertanian provinsi.
Tampak hadir sejumlah pejabat eselon tiga dan empat di antaranya Kabag Evalap BPPSDMP, Titin Gartini; Kabid Program dan Kerjasama Pelatihan - Puslatan, Dewi Darmayanti; Kabid Kelembagaan dan Ketenagaan Pendidikan - Pusdiktan, Inneke Kusumawaty; dan Kasubbid Informasi dan Materi Penyuluhan - Pusluhtan, Septalina Pradini; Kasubbid Program dan Evaluasi Pendidikan - Pusdiktan, Vitri Aryanti; dan dan Kasubbag Program BPPSDMP, Saptorini.
Bogor of West Java (B2B) - Indonesian´s Directorate General of Extension and Agricultural HR Development or BPPSDMP strive to achieve agricultural HR development targets in accordance to the 2015 - 2019 National Medium Term Development Planor the RPJMN of President Joko Widodo to the Agriculture Minister Andi Amran Sulaiman by establishing a 2019 government work plan to support the RPJMN target.
"Agricultural HR development requires us to maximize the effort and breakthrough of BPPSDMP, by utilizing the potential supported by the hard work of all parties for the future of Indonesian agriculture," Director General of BPPSDMP Momon Rusmono in his direction while opened 2019 planning technical meeting, here on Tuesday (January 15).
He added, Minister Sulaiman reminded that President Widodo´s direction for development in 2019 was to focus on human resource development, described in the 2019 Agricultural Development Work Plan focus on ´developing infrastructure and farmers´ corporations to accelerate the increase in food production and exports and improve the welfare of the poor.´
"The BPPSDMP plays an important role and determines the production of agricultural human resources that are professional, independent and competitive," Rusmono said.
According to him, BPPSDMP programs and activities must be implemented for the implementation of 2019 fiscal year activities.
The BPPSDMP´s commitment was marked by signing the 2019 performance agreement as the implementation of programs and activities by second echelon officials: Secretary of BPPSDM Andriko Noto Susanto; Director of Agricultural Extension Center, Siti Munifah; Director of Agriculture Training Center, Bustanul Arifin Caya; and Director of Agricultural Education Center Idha Widi Arsanti.