KRPL di Lapas, BKP Kementan Ajak Bertani Warga Binaan Ditjen PAS
Indonesian Govt Invited Inmates to Farm in Prison Yard for Urban Farming
Editor : M. Achsan Atjo
Translator : Dhelia Gani

PUBLISHED: Sabtu, 29 Juni 2019 , 17:33:00 WIB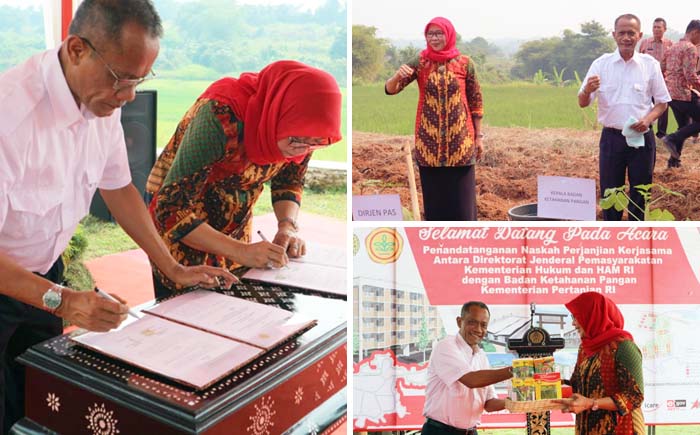 LINTAS KEMENTERIAN: Kepala BKP Kementan, Agung Hendriadi [kemeja putih] dan Dirjen PAS Sri Utami menandatangani PKS dan tanam bersama setelah penyerahan paket tanaman KRPL di Tangerang [Foto2: Humas BKP]
Tangerang, Banten [B2B] - Pemerintah RI berupaya memberdayakan rakyat dan potensi lahan untuk pertanian, tak terkecuali warga binaan dan lahan pada lembaga pemasyarakatan [Lapas] seluruh Indonesia, seperti diinisiasi oleh Badan Ketahanan Pangan - Kementerian Pertanian RI [BKP Kementan] dengan Direktorat Jenderal Pemasyarakatan - Kementerian Hukum dan HAM [Ditjen PAS Kemenkumham] untuk pengembangan kawasan rumah pangan lestari [KRPL].
Upaya pemberdayaan untuk mengajak warga binaan bertani melalui KRPL di pekarangan Lapas tertuang pada naskah ´perjanjian kerja sama´ [PKS] yang diteken oleh Kepala BKP Kementan, Agung Hendriadi dan Sri Utami selaku Dirjen PAS Kemenkumham di Tangerang, Banten pada Jumat [28/6].
BKP Kementan juga menyerahkan paket benih tanaman sayuran antara lain cabai, terong ungu, kol, okra, daun bawang, kembang kol, dan pare. Dilanjutkan penanaman berbagai jenis tanaman oleh Agung Hendriadi dan Sri Utami dan tim dari kedua kementerian.
"Kami akan mengordinasikan dengan instani terkait baik di tingkat pusat maupun daerah untuk mendukung pengembangan KRPL bagi warga binaan Lapas Kemenkumham," kata Agung Hendriadi usai menandatangani PKS dengan Dirjen Lapas Sri Utami di kawasan pemukiman pemasyarakatan Ciangir, Kecamatan Legok, Kabupaten Tangerang, Provinsi Banten.
Menurut Agung H, BKP Kementan melaksanakan tugas memberdayakan masyarakat agar mampu memenuhi kebutuhan pangan secara mandiri, salah satunya dengan memanfaatkan lahan pekarangan melalui KRPL.
"Kementan sangat senang dengan kerjasama ini, karena sudah menjadi tugas BKP Kementan untuk memberdayakan masyarakat dalam mengoptimalkan lahan pekarangan," katanya
Dirjen Sri Utami mengapresiasi langkah BKP Kementan seraya menyatakan tentang pentingnya reintegrasi sosial yang sehat bagi warga binaan. "Semangatnya dalam perjanjian ini adalah pemberdayaan karena tujuan lapas ini adalah reintergrasi sosial, agar setelah keluar dari lapas, kehidupan mereka menjadi lebih baik lagi."
Dia menambahkan, kawasan pemukiman pemasyarakatan Ciangir di Kecamatan Legok tersebut kelak akan dikembangkan menjadi lokasi agrowisata sekaligus sarana edukasi.
Sri Utama berharap kerjasama tersebut dapat terus berlanjut dan berkembang lebih baik dalam upaya pemberdayaan warga binaan, dan pencanangan PKS akan direplikasi sebagai contoh bagi Lapas lain di seluruh Indonesia.
"Kami mengucapkan terimakasih atas gerak cepat Kementerian Pertanian dalam merespon keinginan kami," kata Dirjen PAS.
Tangerang of Banten [B2B] - Indonesian government seeks to empower people and the potential of land for agriculture including inmates and yards in prisons across the country, as initiated by the Food Security Agency of Agriculture Ministry [BKP Kementan] with Directorate General of Corrections of Justice and Human Rights Ministry [Ditjen PAS Kemenkumham] for development of urban farming.