KEP Berprestasi, Pusluhtan Verifikasi Lapang KEP Produsen Primadona di Situbondo
Indonesian Govt Support Development of Economic Institutions Farmers
Editor : M. Achsan Atjo
Translator : Dhelia Gani

PUBLISHED: Sabtu, 06 Juli 2019 , 17:48:00 WIB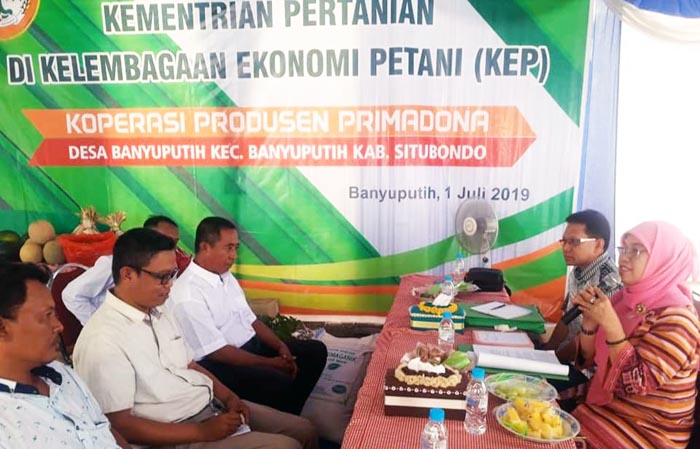 WAWANCARA PENGURUS: Kasubbid Evaluasi - Pusluhtan, Hafsah Husas [hijab oranye] didampingi R Pudji W [kanan] wawancara pengurus KEP Produsen Primadona [Foto2: Hafsah Husas/Facebook]
Situbondo, Jatim [B2B] - Kementerian Pertanian RI mengerahkan ´tim penilai [KEP] berprestasi tingkat nasional´ seperti dilakukan oleh Hafsah Husas, pejabat Pusat Penyuluhan Pertanian [Pusluhtan BPPSDMP Kementan] di Kabupaten Situbondo, Provinsi Jawa Timur untuk melakukan verifikasi lapang terhadap KEP Produsen Primadona di Balai Penyuluhan Pertanian [BPP] Sumberejo sebagai pembina dan cikal bakal berdirinya KEP di Desa Banyuputih, Kecamatan Banyuputih, Situbondo, belum lama ini.
"Salah satu bentuk movitasi bagi KEP untuk meningkatkan kinerja dan dan produktivitas pengelolaan usaha, serta kontribusinya dalam pembangunan pertanian, maka dilakukan pemberian penghargaan kepada KEP yang berprestasi dalam mengelola dan mengembangkan usaha," kata Hafsah Husas selaku Koordinator Tim Kategori Penilaian KEP dari Pusluhtan BPPSDMP Kementan melalui pernyataan tertulis yang dilansir Bidang Penyelenggaraan Penyuluhan Pusluhtan, Sabtu [6/7].
Sebagaimana diketahui Kepala Pusluhtan BPPSDMP Kementan, Siti Munifah menekankan kepada tim verifikasi lapang untuk memperoleh obyektivitas dalam penetapan kelembagaan ekonomi petani berprestasi yang akan memperoleh penghargaan, menyusun pedoman yang mengatur tata cara dan mekanisme penilaian KEP yang berprestasi dalam mengelola dan mengembangkan usaha.
"Penilaian kelembagaan ekonomi petani berprestasi dilakukan melalui proses penilaian yang obyektif, transparan dan dapat dipertanggungjawabkan," kata Hafsah H, yang juga menjabat Kasubbid Evaluasi - Bidang Program dan Kerjasama Pusluhtan BPPSDMP Kementan.
Hafsah menambahkan, hasil penilaian dari verifikasi lapang diharapkan mampu memberikan gambaran akurat dan terukur terhadap kinerja petani yang dinilai, dan memberikan acuan bagi pelaksana yang terlibat dalam penetapan kelembagaan ekonomi petani berprestasi. Sedangkan tujuan penilaian terhadap calon KEP berprestasi untuk motivasi kepada Produsen Primadona sebagai KEP untuk lebih meningkatkan kinerja dan produktifitas pengembangan agribisnis.
"Hal penting yang diverifikasi adalah hubungan dengan kinerja KEP yang dinilai; menerapkan standar atau ukuran yang dipakai untuk menilai KEP; dan sistem penilaian yang mudah dipahami dan dimengerti," kata Hafsah didampingi Pudji Prabowo, tim penilai dari Subbid Pemberdayaan Kelembagaan Petani - Pusluhtan [Liene]
Situbondo, Jatim [B2B] - Indonesian Agriculture Ministry evaluates the economic institutions farmers [KEP] across the country to choose the best KEP as done by Hafsah Husas, a senior official of the Agricultural Extension Center [Pusluhtan] in Situbondo district of East Java province to conduct field verification of the KEP Produsen Primadona at the Sumberejo agricultural extension center in Banyuputih sub-district.