Stranas KPK, Pusluhtan BPPSDMP Kementan Awali Database Simluhtan dari DIY
Simluhtan, Indonesia`s Agricultural Database in the era of Industrialization 4.0
Editor : M. Achsan Atjo
Translator : Dhelia Gani

PUBLISHED: Rabu, 21 Agustus 2019 , 17:07:00 WIB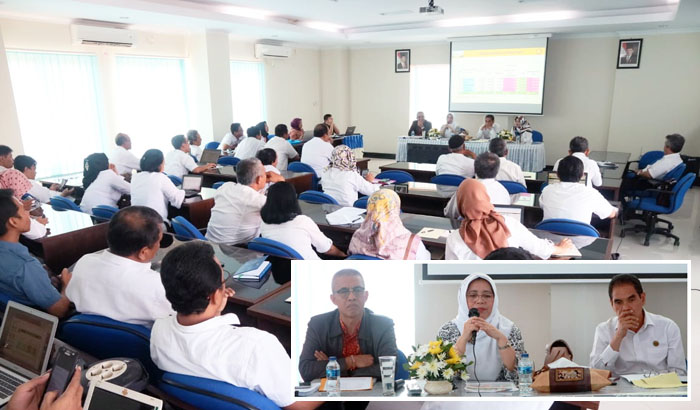 AUDIT KPK: Peserta Verval di Bantul, DIY yang dibuka oleh Kapusluhtan, Leli Nuryati [tengah, inset] didampingi Kabid I Wayan Ediana [kiri, inset] dan Sekretaris Dinas Pertanian Pemprov DIY, Barudin [Foto: Pusluhtan/Bima PS]
Bantul, DIY [B2B] - Hampir 50 penyuluh pertanian dan para administrator website CyberExtention [Admin] dari seluruh DI Yogyakarta [DIY] mengikuti kegiatan ´Verifikasi dan Validasi Data Simluhtan Membangun Database Pertanian' di Kabupaten Bantul, DIY, Rabu [21/8] yang dibuka oleh Kepala Pusat Penyuluhan Pertanian [Pusluhtan BPPSDMP Kementan] Leli Nuryati didampingi Kabid Penyelenggaraan Penyuluhan Pusluhtan, I Wayan Ediana mengawali pengumpulan databese Nomor Induk Kependudukan [NIK] petani dari DIY sebagai role model ke seluruh RI.
Kepala Pusluhtan, Leli Nuryati mengatakan kegiatan verifikasi dan validasi [Verval] didorong dan didukung penuh oleh Mentan Amran Sulaiman maupun Kepala BPPSDMP Kementan, Prof [R] Dedi Nursyamsi sebagai Strategi Nasional dari Komisi Pemberantasan Korupsi [Stranas KPK] mengacu pada database kependudukan atau NIK dari dari Direktorat Jenderal Kependudukan dan Catatan Sipil - Kementerian Dalam Negeri RI [Dukcapil Kemendagri].
"Pengumpulan database dari NIK petani merupakan Stranas KPK, jadi ini bukan main-main. Bukan sekadar data petani untuk Kementan, tapi sudah menjadi Stranas KPK. Semua program pertanian, bantuan untuk petani harus bersumber dari satu data yakni Simluhtan, kita ditagih oleh KPK. Kalau tidak serius melakukan pengumpulan diikuti verifikasi dan validasi data petani, bisa merembet kemana-mana," kata Leli Nuryati
Menurutnya, Pusluhtan BPPSDMP Kementan telah melakukan koordinasi dengan Dukcapil Kemendagri maupun KPK di Jakarta, untuk mendukung Verval Simluhtan di seluruh Indonesia.
Dalam berbagai kesempatan, Mentan Amran Sulaiman dan Prof Dedi Nursyamsi mengingatkan tentang tentang peran vital percepatan data dan informasi penyuluhan pertanian agar efektif dan efisien dengan memenuhi Empat Tepat yakni waktu, tempat, sasaran, dan kebutuhan; pusat penyuluhan pertanian (Pusluhtan) mengembangkan Simluhtan yang merupakan sistem data dan informasi berbasis web (online).
"Simluhtan juga merupakan bagian dari Big Data pertanian nasional, sehingga semua hal tentang pertanian tercakup di Simluhtan," kata Leli Nuryati.
Tampak hadir Kepala UPTD BPPSDMP Pemprov DIY, Titi Purwati; Sekretaris Dinas Pertanian Pemprov DIY, Barudin; dan Kasubbid Informasi dan Materi Penyuluhan - Pusluhtan, Septalina Pradini.
Leli Nuryati menambahkan, Simluhtan mencakup data kelembagaan penyuluhan tingkat provinsi, kabupaten/kota, dan kecamatan; ketenagaan penyuluhan meliputi penyuluh pertanian PNS, CPNS penyuluh pertanian, tenaga harian lepas - tenaga bantu penyuluh pertanian (THL-TBPP), dan penyuluh pertanian swadaya mendukung kelembagaan pelaku utama petani meliputi kelompok tani (Poktan), gabungan Poktan (Gapoktan), dan kelembagaan ekonomi petani maupun badan usaha milik petani.
"Standar operasional pengelolaan atau SOP dari Simluhtan sebagai acuan bagi pengelola data dan Admin di pusat dan daerah, sehingga proses penyediaan data dan informasi berjalan baik dan lancar," katanya. [Liene]
Bantul of Yogyakarta [B2B] - Nearly 50 agricultural extensionists and CyberExtention website administrators [Admin] across the Yogyakarta province attended the Indonesian Agriculture Database Verification and Validation activity [Simluhtan] in Bantul district of Yogyakarta province, Wednesday [August 21] opened by Director of Agricultural Extension Center at the Indonesian Agriculture Ministry [Pusluhtan BPPSDMP Kementan] accompanied by the Pusluhtan´s Head of Section for Organizing Agricultural Extension, I Wayan Ediana to initiate the collection of farmers´ databases, refer to the Population Registration Number [NIK] from the Yogyakarta province as the role model across the country.