BKP Kementan Gelar Bazar Pangan Murah Serentak Dua Hari di Empat Provinsi
Rice Prices Hike, the Indonesian Govt Held Food Bazaar in Four Provinces
Reporter : Gusmiati Waris
Editor : Cahyani Harzi
Translator : Dhelia Gani

PUBLISHED: Jum'at, 12 Januari 2018 , 18:13:00 WIB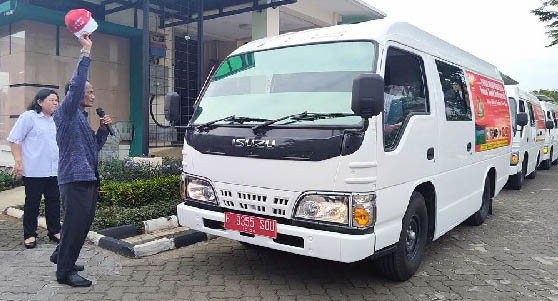 Kepala BKP Agung Hendriadi melambaikan topinya sebagai tanda start bagi armada Toko Tani Indonesia (TTI) menuju 11 lokasi penjualan di DKI Jakarta (Foto: istimewa)
Jakarta (B2B) - Badan Ketahanan Pangan (BKP) Kementerian Pertanian RI mengandeng empat pemerintah provinsi yakni DKI Jakarta, Jawa Tengah, Jawa Barat dan DI Yogyakarta untuk menggelar bazar pangan pokok hari ini dan besok (13/1) untuk mengantisipasi kenaikan harga beras akhir-akhir ini.

"Bazar pangan ini digelar serentak di empat provinsi untuk memudahkan masyarakat membeli beras dan komoditi pangan pokok lainnya dengan harga terjangkau," kata Kepala BKP Kementan, Agung Hendriadi kepada pers di Jakarta, Jumat (12.1).

Menurutnya, khusus beras medium dijual seharga Rp8.800 per kg seperti di gerai Toko Tani Indonesia (TTI) di empat provinsi tersebut. Sementara komoditi pokok lainnya adalah bawang merah Rp18.000, minyak goreng Rp11.000, dan gula pasir Rp12.000 per kg.

Bazar pangan di Jakarta dilakukan dengan mobil TTI di 11 titik penjualan antara lain Pasar Pondok Labu, Pasar Induk Beras Cipinang, Kelurahan Balekambang, Kecamatan Mampang, Pasar Warung Buncit, Pasar Cipinang Melayu, Kelurahan Cilandak Timur, Kelurahan Ragunan, Pasar Cijantung, Pasar Kramat Jati dan Kecamatan Tebet.

"Bagi warga Jakarta yang ingin belanja kebutuhan pangan pokok murah dapat mengunjungi salah satu dari 11 lokasi, yang akan dibuka serentak mulai pukul delapan pagi," kata Agung.
Jakarta (B2B) - Indonesia´s Food Security Agency of agriculture ministry cooperation with four provincial governments namely Jakarta, Central Java, West Java and Yogyakarta to hold a staple food bazaar today and tomorrow (December 13) to anticipate the rice price hike recently, according to senior official.

"The food bazaar is held simultaneously in four provinces to make it easier for people to buy rice and other basic food commodities at affordable prices," Director General of Food Security Agency, Agung Hendriadi told the press here on Friday (December 12).

According to him, special medium rice sold 8,800 rupiah per kg as in outlets of the Indonesian Farmers Shop in four provinces. While other basic commodities are 18,000 rupiah for shallot, 11,000 rupiah for cooking oil, and sugar 12,000 per kg.

The food bazaar in Jakarta is done by Indonesian farm shop car in 11 selling points in Jakarta, the capital of Indonesia.

"For Jakarta residents who want to buy cheap staple food can visit one of the 11 sales locations," Mr Hendriadi said.