Peduli Penyuluh, Bupati Ponorogo Anggarkan Rp1 M Beli Sepeda Motor
Indonesia`s Ponorogo Regent Cares of Motorcycles for Agricultural Extensionist
Editor : Cahyani Harzi
Translator : Dhelia Gani

PUBLISHED: Selasa, 01 Januari 2019 , 18:14:00 WIB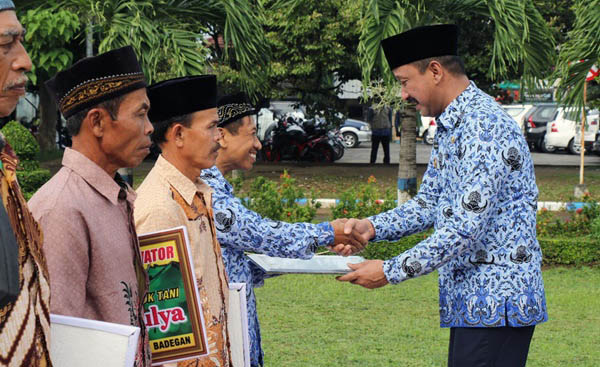 GAPOKTAN TELADAN: Bupati Ponorogo Ipong Muchlissoni (kanan) menyerahkan penghargaan dan bantuan kepada Poktan dan Gapoktan terbaik di kabupatennya (Foto: istimewa)
Ponorogo, Jatim (B2B) - Sepeda motor menjadi andalan para penyuluh pertanian di seluiruh Indonesia, termasuk di Kabupaten Ponorogo, Provinsi Jawa Timur, dari 172 penyuluh pertanian lapangan (PPL) ternyata hanya 40 PPL yang sudah mendapat kendaraan bermotor roda dua tersebut. Bupati Ipong Muchlissoni mengaku prihatin atas kendala tersebut, karena menyadari peran penting PPL mendukung pembangunan pertanian di daerahnya, apalagi sebagian besar PPL terpaksa memakai aset pribadi untuk mendukung mobilitas tugasnya, dengan anggaran daerah maksimal Rp1 miliar.
Bupati Ipong M menyadari peran PPL mendampingi petani di Ponorogo meningkatkan produksi dan produktivitas pertanian, dan mobilitas PPL harus didukung pemerintah daerah untuk mencapai target maksimal pertanian yang dicanangkan pemerintah pusat dan daerah.
Menurutnya, saat ini hasil produksi padi Ponorogo mencapai 580.000 ton dari luasan lahan 73.000 hektar, atau lebih tinggi dari rata-rata hasil produksi di Jawa Timur maupun seluruh Indonesia.
"Kalau PPL bisa berperan lebih maksimal maka kemungkinan besar hasil produksi beras Ponorogo bisa naik minimal lima persen dari 580 ribu ton tersebut," kata Bupati Ipong M saat melakukan pembinaan pegawai negeri sipil (PNS) di kantor dinas pertanian Pemlkab Ponorogo, belum lama ini.
Fakta tersebut mencuat setelah sebagian besar PPL di Ponorogo mengeluhkan tidak adanya sepeda motor untuk mendukung tugas dan pekerjaan mereka, padahal kendaraan roda dua tersebut merupakan kunci utama mendukung mobilitas mereka, dan terpaksa menggunakan aset pribadi untuk kepentingan bangsa dan negara.
"Yahhh ... nanti diberi semua biar nggak iri. Kalau penyuluh tidak turun ke lapangan ya hasilnya tidak maksimal," katanya menjawab keluhan para PPL Ponorogo.
Setelah identifikasi dan menghitung ulang jumlah sepeda motor yang tersedia untuk PPL, ternyata dari 172 PPL hanya 40 orang yang sudah mendapatkan sepeda motor. Bupati Ipong M menawarkan solusi dengan mengambil dari aset daerah, berupa motor layak pakai.
"Kalau yang layak pakai kurang, nanti kita belikan yang baru, paling nggak sampai Rp1 miliar. Meskipun Pemkab sedang melakukan efisiensi APBD 2019, rencana pemberian sepeda motor untuk PPL tidak bisa ditunda lagi. PPL butuh ini untuk mendukung mobilitas," katanya.
Dia pun mengingatkan PPL untuk mencari informasi terbaru tentang pertanian modern dari internet, dengan memanfaatkan smartphone, "jangan hanya digunakan untuk chatting-an di WA saja, cari informasi sebanyak-banyaknya untuk mendukung pembangunan pertanian Ponorogio," katanya seperti dilansir Subbid Informasi dan Materi Penyuluhan di Pusat Penyuluhan Pertanian (Pusluhtan) BPPSDMP Kementan. (Liene)
Ponorogo of East Java (B2B) - Agricultural extensionist in Indonesia including in East Java province rely on motorbikes to meet farmers in remote areas, especially in Ponorogo regency. There are 172 agricultural extensionist or the PPL across the regency it turns out that only 40 PPL get motorbikes. Ipong Regent Muchlissoni said he was concerned because he realized the important role of PPL in supporting Ponorogo´s agricultural development from local budgets maximum IDR1 billion.
Regent Muchlissoni realized the role of PPL in supporting Ponorogo farmers to increase agricultural production and their mobility must be supported by local governments to achieve maximum agricultural production targets.
According to him, currently Ponorogo rice production reaches 580,000 tons of 73,000 hectares, or higher than the average production in East Java province or across the country.
"If the PPL can work more optimally, the Ponorogo rice production will increase at least five percent of 580 thousand tons," said Regent Muchlissoni while at a coordination meeting with civil servants at the district government agricultural office, recently.
It emerged after the most PPL in Ponorogo complained about no motorcycle to support the tasks and their jobs, even though the two-wheeled vehicle determines the success of their task, and was forced to use private motorbikes for the benefit of the nation and state.
"Yahhh ... will be given a motorcycle to the PPL who have not yet received it. If PPL doesn´t go down to the rice fields," he said in answer to their complaints.
After identification and recalculate the number of motorcycles available, in fact, out of 172 PPL only 40 got motorbikes. The Regent Muchlissoni offered of regional assets, especially used motorcycles.
"If the used motorcycles are lacking, we´ll buy a new ones, the budget is not up to IDR 1 billion. Even though the district government is currently regional budget efficiency, the plan to buy a motorcycle for PPL cannot be delayed," he said.
He also reminded PPL to find the latest information about modern agriculture from the internet by smartphones, "don´t just chat in social media, find as much information as possible to support Ponorogo agricultural development," he said as reported by public relations of the agriculture ministry´s Agriculture Extension Center.