KaBadan SDM: "Penyuluh Kreatif, Petani Siap Hadapi Segala Kesulitan"
Indonesia Needs Creative Agricultural Extensionists: Senior Offical
Editor : M. Achsan Atjo
Translator : Dhelia Gani

PUBLISHED: Rabu, 31 Juli 2019 , 01:08:00 WIB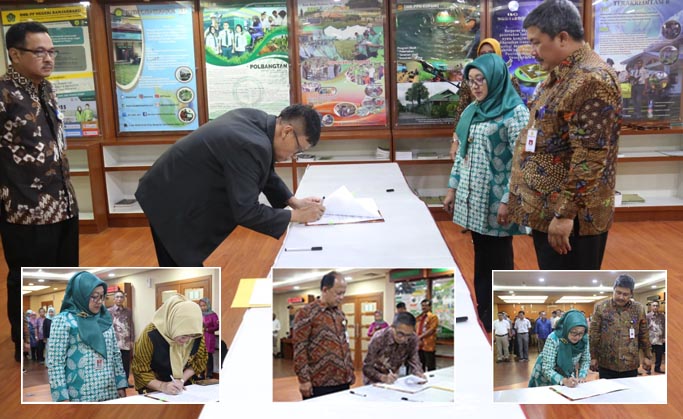 SERTIJAB ESELON DUA: prof Dedi Nursyamsi meneken Sertijab Prihasto Setyanto [kanan] pada Siti Munifah [foto utama] Sertijab Kapusluh Siti Munifah pada Leli Nuryati; Kresno Suharto pada Sumardi Noor [inset] Foto2: Pito/Eko
Jakarta [B2B] - Prof Dedi Nursyamsi mengaku concern pada penyuluhan pertanian modern sebagai penentu keberlanjutan sektor pertanian Indonesia - sebelum dirinya ditunjuk sebagai Kepala BPPPSDMP Kementan - karena peran penting penyuluh untuk meningkatkan kapasitas petani sebagai pelaku utama produksi pangan, menuntut hadirnya ´penyuluh kreatif´ untuk mendukung petani siap menghadapi segala kesulitan.
"Petani berdiri paling depan sebagai produsen pangan. Petani adalah eksekutor pembangunan pertanian. Kalau diibaratkan kancah pertempuran, petani harus tahan peluru. Berlari cepat. Lincah bergerak," kata Kepala BPPSDMP Kementan, Prof Dedi Nursyamsi, Selasa [30/7] dalam arahannya setelah serah terima jabatan [Sertijab] pejabat eselon dua unit kerja Badan Penyuluhan dan Pengembangan SDM Pertanian - Kementerian Pertanian RI [BPPSDMP Kementan].
Dia mengingatkan bahwa penyuluh harus mendukung petani mengembangkan potensi dan kapasitasnya sebagai pelaku utama pertanian di era industrialisasi 4.0, bukan lagi sekadar mengawal dan mendampingi tapi mampu berperan multifungsi sebagai ´teman, guru, motivator sekaligus konsultan´ petani milenial.
"Penyuluh harus diakui sangat kreatif, apalagi di era 4.0. Kinerja mereka didukung aneka aplikasi smartphone untuk penyuluh dan penyuluhan. Penyuluh akan lebih mudah mendorong petani mengakses informasi tentang pertanian," kata Prof Dedi Nursyamsi.
Dia pun merujuk pada aplikasi CyberExtention dan Apikluhtan yang dikembangkan Pusat Penyuluhan Pertanian [Pusluhtan] dapat diakses via komputer atau smartphone.
"Dukungan teknologi informasi menuntut penyuluh pertanian berkompetensi yang melek teknologi sehingga mereka bisa menularkan ilmunya kepada petani," kata mantan Staf Ahli Mentan bidang Infrastruktur Pertanian.
Sertijab eselon dua dilakukan oleh Siti Munifah yang promosi menjadi Sekretaris BPPSDMP Kementan menggantikan Prihasto Setyanto, promosi menjadi Dirjen Hortikultura, sementara Leli Nuryati promosi menjadi Kepala Pusluhtan menggantikan Siti Munifah. Hadir pula Sumardi Noor sebagai Kepala BBPP Ketindan menggantikan Kresno Suharto. [Cha]
Jakarta [B2B]: Senior official of Indonesian Agriculture Ministry acknowledges the concern for modern agricultural extension as the determinant success of Indonesia´s agricultural sector development because of important role of extensionist to increase the capacity of farmers as the as food producers demand the existence of ´creative extensionist´ to support farmers ready to face all difficulties.