Kementan Pantau Ps Beringharjo, Pangan di Yogya Siap Jelang Tahun Baru
Indonesia`s Yogya Ensure Stocks and Food Prices is Under Control
Reporter : Gusmiati Waris
Editor : Cahyani Harzi
Translator : Dhelia Gani

PUBLISHED: Jum'at, 29 Desember 2017 , 19:11:00 WIB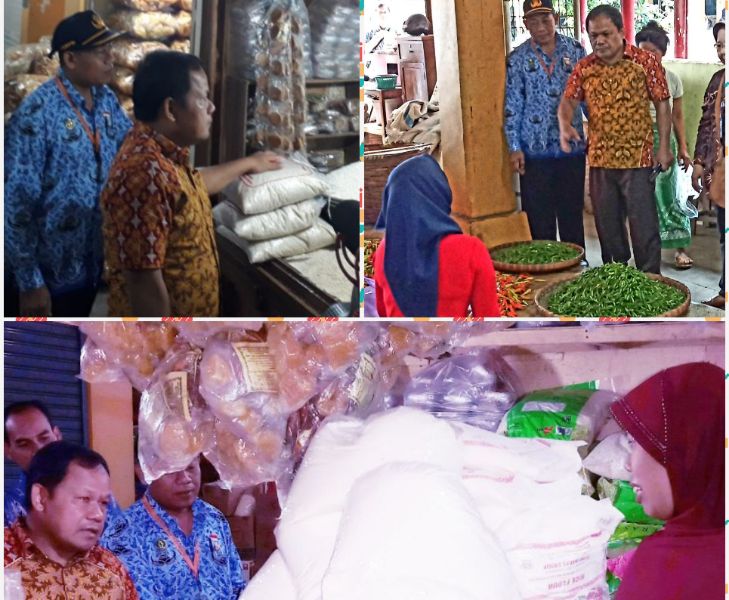 SIDAK BERINGHARJO: Kepala Pusat Distribusi dan Kerawanan Pangan di BKP Kementan, Riwantoro pantau stok dan fluktuasi harga pangan pokok di Yogyakarta (Foto: Humas BKP Kementan)
Yogyakarta, DIY (B2B) - Kementerian Pertanian RI memastikan stok dan harga beras maupun kebutuhan konsumsi rumah tangga di Yogyakarta terpantau cukup dan stabil, setelah Kepala Pusat Distribusi dan Kerawanan Pangan di Badan Ketahanan Pangan (BKP) Riwantoro memantau Pasar Beringharjo hari ini (29/12).
Riwantoro mengatakan stok beras di Yogya hari ini mencapai 563.000 ton dibanding kebutuhan sekitar 352.000 ton, dengan konsumsi 93 kg per kapita per tahun tercapai surplus 156.000 ton.
Harga pangan pokok per kg di Pasar Beringharjo pekan ini untuk beras medium Rp9.400, daging sapi Rp115.000, daging ayam Rp33.000, telur ayam Rp24.500, cabe merah keriting dan besar Rp38.000, bawang merah Rp17.000, bawang putih Rp20.000, dan gula pasir Rp11.400.
"Dari pemantauan kami hari ini, stok pangan cukup dan harga terkendali," kata Riwantoro.
Dia menambahkan, beberapa harga pangan jelang 2018 maka stok beras akan meningkat karena panen padi di banyak tempat, harga juga akan stabil bahkan cenderung turun," tambah Riwantoro.
Kepala Pasar Beringharjo, Sumarno mengatakan dari transaksi perdagangan terpantau permintaan konsumen sedikit meningkat beberapa pekan terakhir, namun saat ini mulai stabil seperti biasa.
"Kalau satu dua pekan lalu harga bergerak naik, karena meningkatnya permintaan beberapa pangan pokok seperti beras, daging ayam, telur dan cabe, namun saat ini mulai stabil apalagi menjelang panen padi Februari dan Maret," katanya.
"Khusus mengenai beras, kami mampu mencukupi dari daerah sendiri, bahkan tiap tahun surplus," kata Kepala Badan Ketahanan Pangan dan Penyuluhan Provinsi Yogyakarta, Arofah Noor Indriani.
Dia menambahkan, harga pangan pokok relatif stabil dan terkendali karena kami selalu melakukan pemantauan dengan instansi terkait.
Yogyakarta (B2B) - Indonesian Agriculture Ministry ensures the stock and food prices in Yogyakarta, capital of the province, are safe and under control making it easier for people to meet basic food needs, according to Indonesian senior official, after Director of the ministry´s Distribution Center and Food Insecurity, Riwantoro here on Friday (December 29).
Riwantoro said rice stock in Yogya today reached 563,000 tons compared to the requirement of about 352,000 tons with consumption of 93 kg per capita per year reached surplus of 156,000 tons.
The price of food per kg in the rupiah exchange rate at Beringharjo traditional market this week for medium rice is 9,400, beef 115,000, chicken meat 33,000, chicken eggs 24,500, chilli 38,000, shallot 17,000, garlic 20,000, and white sugar 11,400.
"From our monitoring today, the food stock is sufficient and the price is under control," Riwantoro said.
He said, some food prices ahead of 2018, rice stock will increase due to rice harvest in many places, prices will also be stable even tends to fall.
Director of Pasar Beringharjo, Sumarno, said that from the observed trade transaction, consumer demand has increased slightly in recent weeks, but now it is starting to stabilize as usual.
"If one week or two ago the price moves up, because demand for rice, chicken, eggs and chilli increases, but now it is stable because ahead of the rice harvest in February and March," he said.
Especially on rice, we can afford it from our own region, even annually surplus," said Head of Yogyakarta´s Food Security agency, Arofah Noor Indriani.
He said the staple food prices are relatively stable and controlled, because we always do monitoring with relevant agencies.