Kementan Dorong Materi Penyuluhan Pertanian Orientasi Ekspor
Indonesian Agricultural Extension Materials are Export-oriented
Editor : M. Achsan Atjo
Translator : Dhelia Gani

PUBLISHED: Minggu, 08 September 2019 , 19:11:00 WIB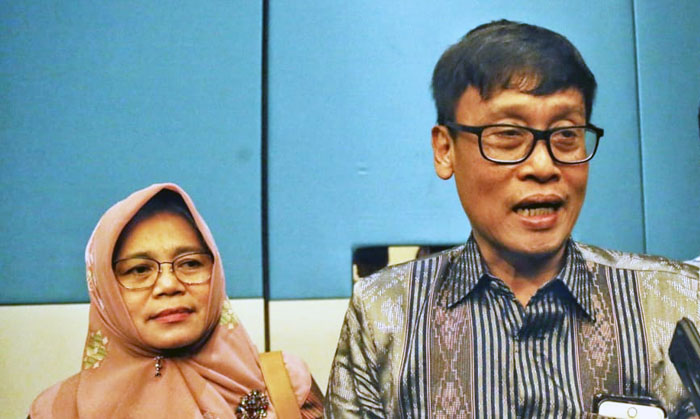 EKSPOR NONMIGAS: Kepala BPPSDMP Kementan, Prof [R] Dedi Nursyamsi menjawab pers didampingi Kepala Pusluhtan BPPPSDMP, Leli Nuryati [kiri] Foto: Humas/Pito
Yogyakarta, DIY [B2B] - Selama 4,5 tahun terakhir volume ekspor produk pertanian Indonesia meningkat 9 juta ton atau naik 26,9%, dari 33,5 juta ton pada 2013 menjadi 42,5 juta ton di 2018. Di era Joko Widodo - Jusuf Kalla, volume ekspor produk pertanian naik signifikan dalam tiga tahun, 33,5 juta ton pada 2013, tiga tahun kemudian melonjak ke 36,1 juta ton dan 40,4 juta ton. Selanjutnya pada 2017 dan 2018 meningkat ke 41,3 juta ton dan 42,5 juta ton.
Indonesia terbukti mampu mendulang devisa ekspor nonmigas dari sektor pertanian sebesar Rp415,0 triliun sepanjang 2018. Nilai devisa tersebut melambung dari Rp320,9 triliun pada 2013, setahun kemudian meningkat ke Rp368,4 triliun pada 2014 dan melonjak ke Rp375,5 triliun pada 2016. Trend positif ini berlanjut pada 2017 hingga Rp442,3 triliun mengacu pada data yang dilansir Pusat Data dan Informasi Pertanian - Kementerian Pertanian RI [Pusdatin].
Capaian tersebut berkat kerja keras petani didukung penyuluh pertanian yang berperan strategis sebagai advisor dan fasilitator untuk ´mengubah perilaku petani´ mengembangkan usaha tani orientasi ekspor setelah Indonesia mampu swasembada beras dan jagung maupun surplus produk perkebunan dan hortikultura.
"Sesuai instruksi dan arahan Mentan Amran Sulaiman, kita harus fokus mendorong ekspor produk pertanian ke mancanegara. Terobosan program dan kebijakan didukung inovasi dan bantuan pertanian bertujuan meningkatkan ekspor komoditas pertanian," kata Leli Nuryati, Kepala Pusat Penyuluhan Pertanian [Pusluhtan BPPSDMP Kementan] di sela kegiatan verifikasi dan validasi Simluhtan di Yogyakarta, Kamis pekan lalu [5/9].
Kepala BPPSDMP Kementan Prof Dedi Nursyamsi, menurutnya, berulang kali mengingatkan bahwa Indonesia memang memiliki potensi sumber daya alam yang luar biasa, tapi tentunya kekayaan sumber daya alam saja tidak cukup. Semua kelompok masyarakat yang terlibat dalam pembangunan pertanian harus bekerja keras dan cerdas, serta bersinergi mewujudkan kedaulatan pangan.
"Petani sebagai pelaku pembangunan pertanian, perlu didorong untuk tidak lagi menjadi pekerja atau buruh tani, tapi justru sebagai penggerak utama sektor pertanian," kata Leli Nuryati mengutip arahan Kepala BPPSDMP Kementan.
Menurutnya, seluruh jajaran Pusluhtan berupaya mendorong para penyuluh pertanian di seluruh Indonesia untuk mengajak petani tidak lagi sekadar meningkatkan produksi untuk dijual di pasar domestik.
"Apapun materi penyuluhan yang akan disampaikan oleh Penyuluh harus diselipkan tentang materi ekspor," kata Leli Nuryati. [Liene]
Yogyakarta [B2B] - During 4.5 years of Indonesian agricultural product export volume increased by 9 million tons, up 26.9%, 33.5 million tons in 2013 to 42.5 million tons in 2018. In the era of Joko Widodo´s administration, the volume of exports of agricultural products rose significantly in three years, 33.5 million tons in 2013, three years later surged to 36.1 million tons and 40.4 million tons. Furthermore, in 2017 and 2018, it rose again to 41.3 million tons and 42.5 million tons.