Penyuluh Gorontalo Kawal Petani Budidaya Kelapa Genjah
Indonesian Agriculture Anticipate Covid-19 by Weaker Health Systems
Editor : M. Achsan Atjo
Translator : Dhelia Gani

PUBLISHED: Jum'at, 01 Mei 2020 , 19:18:00 WIB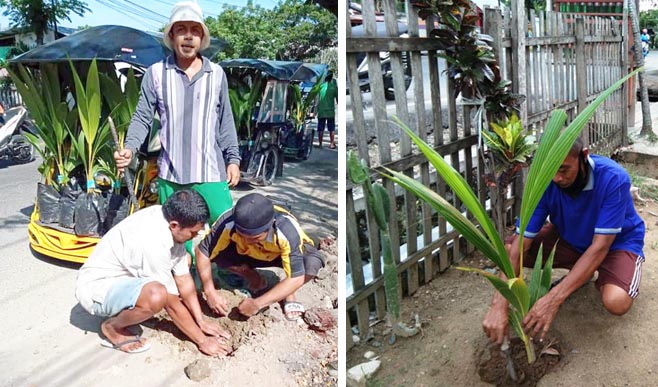 PENDAMPINGAN: Kunjungan door to door ke rumah petani, untuk memastikan bibit kelapa genjah yang telah disalurkan segera ditanam di tepi jalan dan pekarangan rumah [Foto2: Humas Pusluhtan]
Gorontalo [B2B] - Penyuluh pertanian di Kabupaten Gorontalo khususnya di Kecamatan Telaga Biru proaktif mendampingi petani dan rumah tangga, untuk menanam kelapa genjah di pekarangan rumah dan sepanjang jalan protokol yang menjadi program pemerintah daerah.
"Tujuan utamanya melestarikan dan mengembangkan potensi kelapa genjah di Kabupaten Gorontalo, selain itu untuk mendukung estetika lingkungan," kata Kepala Dinas Pertanian Kabupaten Gorontalo, Rahmad AW Pomalingo di Limboto, ibukota kabupaten belum lama ini.
Menurutnya, kelapa menjadi komoditas perkebunan utama di Kabupaten Gorontalo dengan luas lahan lebih dua juta hektar merujuk data Badan Pusat Statistik [BPS] yang akan dikembangkan dengan sistem pertanian terpadu melalui optimalisasi program integrated farming system [Optimis] berbasis kesadaran masyarakat.
"Pemerintah kabupaten akan optimalkan pemanfaatan sumber daya lokal, keanekaragaman usaha, pencapaian tingkat produksi yang stabil dan memadai dalam jangka panjang," kata Rahmad AW Pomalingo.
Dia mengharapkan tanaman kelapa tetap mendapatkan perhatian dari para petani, karena komoditas perkebunan dengan sejuta manfaat ini dapat meningkatkan pendapatan dan kesejahteraan petani setempat.
Penyuluh pusat di Kementerian Pertanian RI, Inang Sariyati selaku pendamping kegiatan penyuluhan pertanian Provinsi Gorontalo mengatakan kebijakan Pemkab Gorontalo sejalan dengan program Menteri Pertanian RI Syahrul Yasin Limpo agar petani mengembangkan potensi pertanian spesifik lokasi seperti kelapa di Kabupaten Gorontalo.
Koordinator Balai Penyuluhan Pertanian [BPP] Telaga Biru, Dewi S Mohammad menambahkan bahwa pihaknya melakukan pendampingan melalui kunjungan door to door ke rumah petani, untuk memastikan bibit kelapa genjah yang telah disalurkan kepada petani dapat segera ditanam di pekarangan rumah.
Menurut Dewi S Mohammad untuk penanaman di sepanjang jalan protokol dialokasikan pada tujuh desa yakni Pentadio Barat, Pentadio Timur, Timuato, Ulapato A, Tinelo, Tuladenggi, dan Pantungo. "Dari hasil kunjungan diketahui bahwa masyarakat tani penerima bibit merasa terbantu dengan bibit tersebut."
Dia menambahkan untuk mengantisipasi pandemi Covid-19 maka dirinya maupun penyuluh di Kabupaten Gorontalo berupaya mematuhi Protokol Kesehatan seperti diinstruksikan Mentan Syahrul Yasin Limpo dan disosialisasikan oleh Kepala BPPSDMP Prof Dedi Nursyamsi.
"Petani dan penyuluh dan pemangku kepentingan selama berada di lapangan wajib mengenakan masker, jaga jarak, hindari kerumunan dan sering cuci tangan pakai sabun untuk menangkal Corona," kata Dedi Nursyamsi. [Liene]
Gorontalo [B2B] - Indonesia´s Agriculture Ministry is in intensive care after testing positive for the novel coronavirus, as civil servants in head office and across the country were ordered to close over the health threat. The World Health Organization has said it is particularly concerned about high-risk nations with weaker health systems, which who may lack the facilities to identify cases.