Polbangtan YoMa Komitmen Dukung Sektor Pertanian Kabupaten Lingga
Indonesia`s Polbangtan YoMa Supports Regional Agricultural Development
Editor : M. Achsan Atjo
Translator : Dhelia Gani

PUBLISHED: Sabtu, 26 Oktober 2019 , 19:18:00 WIB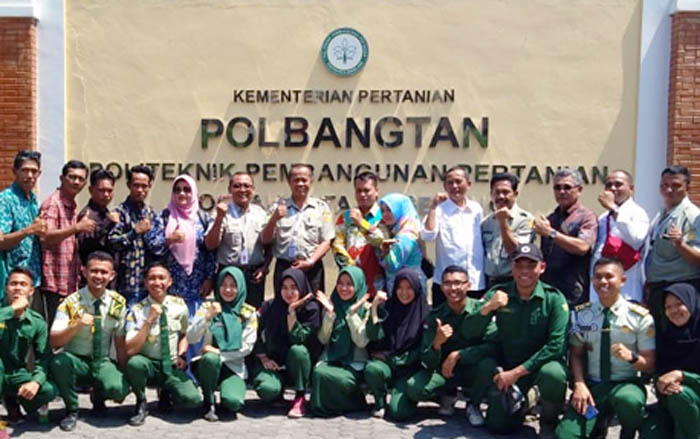 SINERGI LEMBAGA: Direktur Polbangtan YoMa, Dr Rajiman [berdiri, ke-6 kiri] dan Wakil Bupati Lingga, M Nizar [berdiri, ke-7 kanan] bersama jajarannya, civitas academica dan mahasiswa asal Kabupaten Lingga [Foto: Humas/Asnuri]
Yogyakarta, DIY [B2B] - Politeknik Pembangunan Pertanian Yogyakarta - Magelang [Polbangtan YoMa] menegaskan komitmennya mendukung pembangunan sektor pertanian Kabupaten Lingga di Provinsi Kepulauan Riau, selaras dengan target Lingga menjadi ´lumbung pangan´ di kawasan perbatasan dengan mengirimkan 34 mahasiswa/i untuk mengikuti pendidikan vokasi jurusan pertanian di Yogyakarta 23 orang, dan 11 orang di jurusan peternakan Magelang.
Hal itu dikemukakan oleh Direktur Polbangtan YoMa, Dr Rajiman saat menerima kunjungan Wakil Bupati Lingga, M Nizar didampingi Kepala Dinas Pertanian dan Ketahanan Pangan [PKP] Hernowo Andrianto; Kabid Pertanian, Amran Salim; Kasie Peningkatan Produksi Tanaman Pangan dan Hortikultura, Ahmad Zahari; Kasie Sarana Prasarana dan Pemasaran Hasil Pertanian, Camat Lingga, Yulius; Taufik SP selaku penyuluh pertanian dan petani Lingga, Kamis [24/10].
Dr Rajiman mengapresiasi komitmen Pemkab Lingga membangun pertanian sebagai sektor andalan ekonomi daerah, mengingat posisinya yang berbatasan langsung dengan negeri jiran. Hasil pertanian dimanfaatkan untuk memenuhi kebutuhan daerah secara mandiri, kelebihan produksi untuk ekspor ke negeri jiran, Singapura dan Malaysia.
"Ketahanan pangan adalah keniscayaan. Pertanian masa depan adalah pertanian modern, efektif dan efisien dengan aplikasi teknologi. Bukan lagi zamannya mengolah lahan pertanian dengan cangkul," katanya.
Pertemuan diisi dengan penyampaian informasi program dan kegiatan Polbangtan Yoma untuk mendukung pembangunan pertanian Kabupaten Lingga. Manfaat proses pembelajaran mahasiswa asal Kabupaten Lingga, pengenalan kampus dan kebun praktik, budidaya tanaman pangan dan pengelolaannya, serta kunjungan lapang di kelompok tani mitra.
Wakil Bupati M Nizar menyampaikan bahwa Pemkab Lingga bertekad menjadikan ´Bumi Bunda Tanah Melayu´ sebagai kawasan unggul sektor pertanian didukung kerjasama dengan sejumlah perguruan tinggi terkemuka, salah satunya adalah Polbangtan Yoma.
Pertemuan dengan para mahasiswa/i utusan Pemkab Lingga diisi diskusi tentang pengalaman kehidupan kampus dan pelaksanaan pendidikan.
Diharapkan, kunjungan wakil bupati beserta rombongan dapat memotivasi mahasiswa dan memperkuat sinergi antara Pemkab Lingga dengan Polbangtan YoMa, serta harapan kontribusi saat menjadi mahasiswa, maupun setelah lulus kelak dapat menjadi pelopor dan inovator sektor pertanian dan peternakan di Kabupaten Lingga mendukung pembangunan pertanian Indonesia. [IJS]
Yogyakarta [B2B] - Lingga district government of Riau Island province expects to improve education cooperation with the Polbangtan YoMa by supporting more high school graduates to take vocational higher education in the Yogyakarta and Magelang campuses, and the academic community of Polbangtan YoMa ready to support development of Bengkayang agricultural human resources, according to the Director Dr Rajiman.