Konsumsi Rimpang Naik, Petani dan Eksportir Raih Laba Plus
Indonesian Agriculture Anticipate Covid-19 by Weaker Health Systems
Reporter : Gusmiati Waris
Editor : Cahyani Harzi
Translator : Dhelia Gani

PUBLISHED: Kamis, 23 April 2020 , 19:25:00 WIB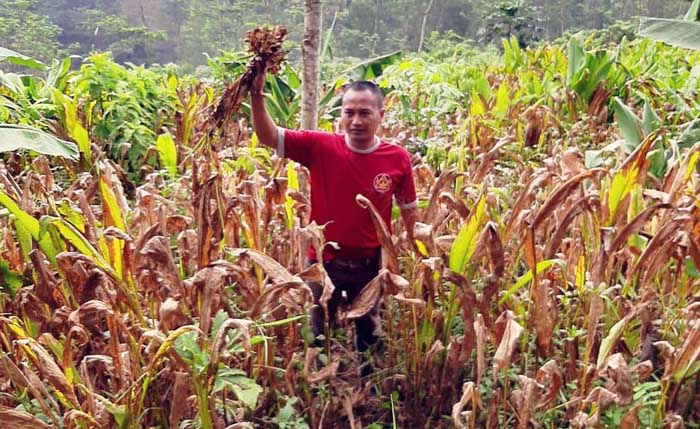 KONSUMSI KESEHATAN: Petani rimpang Tony Fajar Utama dari Wonogiri, Jateng ikut terimbas meningkatnya permintaan pasar domestik terhadap jahe, kunyit, kencur, temu lawak dan porang [Foto: Humas Pusluhtan]
Wonogiri, Jateng [B2B] - Pandemi Covid-19 memicu peningkatan konsumsi tanaman rimpang seperti jahe, temu lawak, kunyit, temu giring 'naik daun' yang diyakini ampuh menangkal virus Corona sehingga meningkatkan permintaan pasar yang memicu harga jual rimpang yang menguntungkan petani.
Petani rimpang Tony Fajar Utama dari Wonogiri, Jateng ikut terimbas meningkatnya permintaan pasar domestik terhadap jahe, kunyit, kencur, temu lawak dan porang. Sementara adiknya, Gigih Pratomo sukses menjadi eksportir rimpang khususnya kunyit ke India dengan mengirim empat kontainer kapasitas 80 ton per minggu.
Keduanya bermitra dengan 25 petani rimpang di Wonogiri, yang didukung penyuluh dan bimbingan dari perusahaan mitra dagang.
Kesadaran masyarakat untuk back to nature membuat petani rimpang lebih bergairah menanam, dan sesuai pesan Menteri Pertanian RI Syahrul Yasin Limpo bahwa petani sebagai produsen pangan, termasuk petani rimpang harus dipastikan memperoleh harga jual yang layak, untuk meningkatkan kesejahteraan petani.
Kepala BPPSDMP Kementan Prof Dedi Nursyamsi menyoroti dukungan instansi teknis di daerah untuk membekali penyuluh pertanian dengan pengetahuan plus keterampilan budidaya rimpang. "Tujuannya, agar petani rimpang lebih bergairah menanam karena sejahtera."
Setelah merintis bisnis tanaman rimpang sejak 1996 mengikuti jejak orangtuanya sebagai pedagang rimpang dengan membeli dua kuintal jahe, kunyit dan daun jeruk purut dari Pacitan dan Ponorogo kemudian dititipkan pada bus ke Surabaya, maksudnya irit biaya transportasi.
Usahanya terus berkembang, pada 2006, Tony membeli lahan empat hektar di Krismantoro, Wonogiri untuk ditanami alpukat, durian, pisang kirana, klengkeng new kristal yang dikelola secara tumpang sari dengan tanaman rimpang seperti jahe, kunyit, kencur, temu lawak dan porang. Ketela pohon, pepaya California dan berbagai sayuran juga dia tanam untuk mengantisipasi apabila harga rimpang jatuh. [Liene]
Wonogiri of Central Java [B2B] - Indonesia´s Agriculture Ministry is in intensive care after testing positive for the novel coronavirus, as civil servants in head office and across the country were ordered to close over the health threat. The World Health Organization has said it is particularly concerned about high-risk nations with weaker health systems, which who may lack the facilities to identify cases, according to senior official of Indonesian Agriculture Ministry.