Pabrik Gula di Seram Barat, Kementan Pastikan Langkah Swasembada
Indonesian Govt Invited Investors for Developing the Sugar Factory
Reporter : Gusmiati Waris
Editor : Cahyani Harzi
Translator : Dhelia Gani

PUBLISHED: Selasa, 10 Juli 2018 , 19:28:00 WIB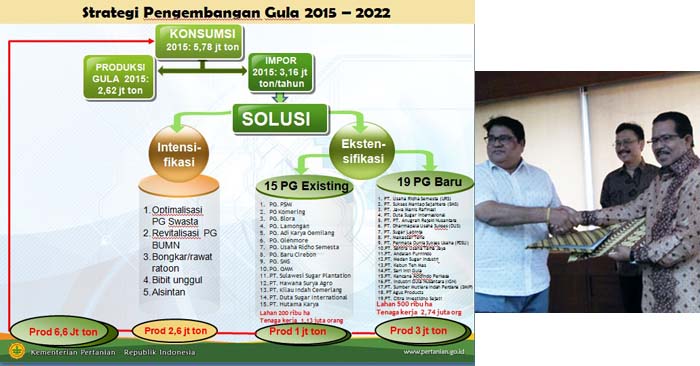 Tabel investasi gula di Indonesia, Bupati M Yasin Payapo menandatangani MoU dengan Direktur Hermes Sugar Indonesia, Parekat Vynat Shivanand disaksikan Sekjen Kementan, Syukur Iwantoro (Tabel & Foto: Kementan/B2B-Mya)
Jakarta (B2B) - Kementerian Pertanian RI memastikan pembangunan pabrik gula di Kabupaten Seram Barat, Provinsi Maluku akan berjalan sesuai target setelah Bupati M Yasin Payapo menandatangani MoU dengan Direktur Hermes Sugar Indonesia, Parekat Vynat Shivanand selaku investor pabrik gula di lahan 25 ribu hektar, kapasitas awal 10 ribu ton per hari. Penandatangan MoU disaksikan Sekjen Kementan, Syukur Iwantoro di Jakarta, Selasa (10/7).

Bupati Yasin Payapo memastikan komitmen pemerintah daerah untuk memberikan kemudahan kepada investor, yang mengemban misi untuk mendukung peningkatan kesejahteraan masyarakat di Seram Barat.

"Saat ini, keluarga miskin di Seram Barat sekitar 21 ribu jiwa, dan diharapkan kehadiran investor pabrik gula akan menggerakkan pertumbuhan ekonomi daerah," kata Bupati Seram Barat.

Parekat Vynat Shivanand mengatakan selain membangun pabrik gula, PT Hermes Seram Indonesia juga akan membangun pembangkit listrik ramah lingkungan 25 MW didukung 25.000 hektar lahan untuk perkebunan tebu.

"Nantinya kita juga akan menggunakan green energy, dengan memanfaatkan limbah tebu untuk mendukung zero waste," kata Shivanand.

Syukur Iwantoro menambahkan kehadiran PT Hermes Seram Indonesia di Seram Barat merupakan bagian dari upaya Kementerian Pertanian melibatkan 17 investor untuk membangun 17 pabrik gula baru di seluruh Indonesia.

"Total investasi 17 pabrik gula diperkirakan 41,44 triliun, dan lima pabrik gula sudah beroperasi, tiga di antaranya sedang dalam proses pembangunan. Selebihnya masih dalam proses perizinan terutama terkait pemanfaatan lahan pabrik dan perkebunan," kata Sekjen Kementan.

Dana Awal Rp1,5 Triliun
Pemerintah Indonesia melalui Kementerian Pertanian RI (Kementan) akan memfasilitasi investor yang serius ingin mengembangkan pabrik gula baru, asalkan mampu menyediakan dana awal Rp1,5 triliun sementara pabrik gula yang akan dibangun berkapasitas terpasang 10.000 ton tebu per hari atau ton cane per day (TCD) dengan nilai investasi Rp5 triliun.

Menteri Pertanian RI Andi Amran Sulaiman mengatakan fasilitasi bagi investor pabrik gula untuk memenuhi target pemerintah mengembangkan 10 pabrik gula baru di Kalimantan, Sumatera, Jawa dan daerah lain di luar Jawa.

"Pemerintah akan memberi kemudahan bagi investor asalkan sanggup sediakan dana awal Rp1,5 triliun, jangan sekadar datang dan mengaku siap menjadi investor tapi tidak punya dana awal," kata Mentan Amran Sulaiman kepada pers di Jakarta pada Selasa (19/4) usai pertemuan tertutup dengan Asosiasi Petani Tebu Rakyat Indonesia (APTRI).

Menurutnya, pembangunan 10 pabrik gula baru diharapkan dapat menekan impor gula dari Thailand, Australia dan Singapura untuk memenuhi kebutuhan gula di dalam negeri, "karena seharusnya kita mengimpor sesuai kebutuhan dan bukan karena keinginan."

Mentan menambahkan, untuk lahan perkebunan tebu bagi pabrik gula yang sudah ada, Kementan akan menggandeng Perum Perhutani dan saat ini proses perizinannya sedang berjalan dengan target 500.000 hektar.

Sementara dengan APTRI telah disepakati peningkatan produktivitas tanaman tebu hingga 100 ton per hektar, dengan rendemen 10% atau yang disebut Mentan sebagai Program 110.
Jakarta (B2B) - The Indonesian government to ensure development of sugar mills in West Seram regency, Maluku province will run on target after Regent M Yasin Payapo signed a memorandum of understanding (MoU) with Director of Hermes Sugar Indonesia, Parekat Vynat Shivanand as the investor. The signing of the MoU was witnessed by Secretary General of Agriculture Ministry, Syukur Iwantoro here on Tuesday (July 10).

Regent M Yasin Payapo ensures commitment of local governments to support investors for improvement of the welfare of residents of West Seram.

"Currently, the poor families in West Seram about 21 thousand people, sugar mill investors are expected to drive regional economic growth," said West Seram Regent.

Mr Shivanand said his company Hermes Seram Indonesia will also build a 25 MW eco-friendly power plant supported by 25,000 hectares of land for sugar cane plantations.

"We will also use green energy, utilizing sugar cane waste to support zero waste," he said.

Mr. Iwantoro added Hermes Seram Indonesia company investment in West Seram of the efforts of Indonesian Agriculture Ministry invites 17 investors to develop 17 new sugar mills across the country.

"The total investment of 17 sugar mills is estimated at 41.44 trillion rupiah, and five sugar factories are already operating, three factories are in the process of development. The rest is still in process of licensing, especially related to plant and plantation land," he said.

The Initial Fund
Indonesian government through the Agriculture Minister Jakarta will facilitate the investor who interested to develop a sugar factory, with the proviso have to afford provide an initial budget 1.5 trillion rupiah to build a plant of installed capacity 10,000 tons of cane per day (TCD) with a total investment of 5 trillion rupiah, according to the Indonesian minister.

Agriculture Minister Andi Amran Sulaiman said the facilitation refers Indonesia targets for developing 10 new sugar mills in Kalimantan, Sumatra, Java and other areas outside of Java.

"The government will provide convenience for investors who can provide initial funds 1.5 trillion rupiah, do not simply want, and claim to be ready to become an investor but did not have initial funding," Minister Sulaiman told reporters here on Tuesday (4/19) after meeting with Indonesian Sugar Farmers Association (APTRI).

According to him, the development of 10 new sugar mills are expected to reduce imports of sugar from Thailand, Australia and Singapore for meet the needs of the sugar in the country, "because we should import needs and not because the desire."

Mr. Sulaiman added for sugarcane plantations for existing sugar factories, the ministry will cooperate with an state enterprises, Perum Perhutani, and permitting process is running with a target of 500,000 hectares.

While the APTRI agreed to increase sugar cane production to 100 tonnes per hectare, with a yield of 10% or so-called 110 Program.