Padi Salibu, Teknologi Tanpa Olah Tanah di Kabupaten Tanah Datar
Indonesian`s Agricultural Extensionists Support Farmers to Increase Production
Reporter : Gusmiati Waris
Editor : Cahyani Harzi
Translator : Dhelia Gani

PUBLISHED: Kamis, 11 Juni 2020 , 19:03:00 WIB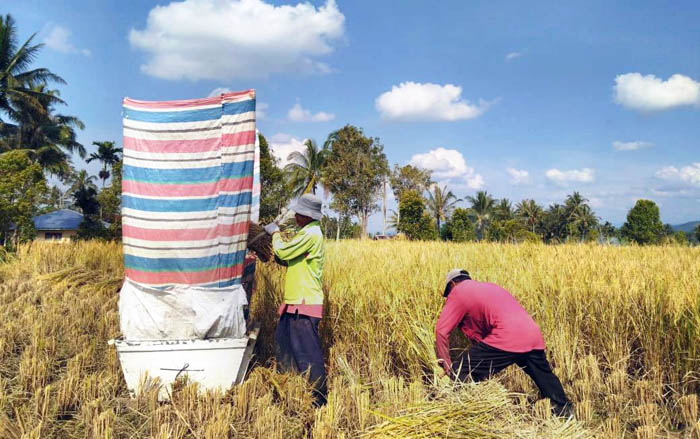 PRODUKTIF: Salibu merupakan kearifan lokal petani Nagari Tabek di Kecamatan Pariangan, Kabupaten Tanah Datar, yang kemudian dikembangkan di daerah lain seperti Nusa Tenggara Barat [NTB] dan provinsi lain [Foto: Humas Pusluhtan]
Tanah Datar, Sumbar [B2B] - Penyuluh pertanian Kabupaten Tanah Datar di Provinsi Sumatera Barat tiada henti mendorong petani padi meningkatkan produksi, dengan menerapkan teknologi Salibu. Keunggulan utama, tanpa olah tanah sementara manfaatnya adalah meningkatkan indeks panen hingga tiga atau empat kali satu tahun. Produktifitas sama dengan tanam perdana, sekitar enam hingga tujuh ton per hektar.
Salibu merupakan kearifan lokal petani Nagari Tabek di Kecamatan Pariangan, Kabupaten Tanah Datar, yang kemudian dikembangkan di daerah lain seperti Nusa Tenggara Barat [NTB] dan provinsi lain.
Penyuluh Nagari Tabek, Widya Erja Syafitri mengatakan bahwa teknologi Salibu menghemat biaya produksi sekaligus meningkatkan produktifitas dan pendapatan petani, karena dapat mengurangi biaya olah tanah.
"Salibu merupakan teknologi sederhana yang dimodifikasi dari kebiasaan petani Nagari Tabek. Jerami tidak dibakar sehingga peluang pengembalian bahan organik atau jerami lebih besar, terutama dari sisa potongan batang setelah panen," katanya melalui pernyataan tertulis yang dihimpun Pusat Penyuluhan Pertanian [Pusluhtan BPPSDMP].
Menurutnya, teknologi ini sangat bermanfaat bagi daerah yang kekurangan tenaga kerja sangat membantu proses produksi, karena sampai panen tiga kali [IP3] tanpa pengolahan tanah. Petani Nagari Tabek mengombinasikan dengan Jajar Legowo [Jarwo] 2:1 dan 4:1. Manfaatnya, cahaya matahari yang diterima tanaman lebih maksimal sehingga mendorong fotosintesa maksimal, ditandai dengan malai terisi sempurna [minimal gabah hampa].
"Rumpun padi pun bertambah, dengan adanya tanaman sisipan dalam baris. Memudahkan petani mengendalikan hama dan penyakit seperti tikus dan blast," kata Widya.
Penyuluh Pusat di Kementerian Pertanian RI, Edizal selaku pendamping penyuluhan pertanian Provinsi Sumatera Barat melaporkan kombinasi Salibu dengan Jarwo 2:1 dan 4:1 akan dilanjutkan dengan teknologi Salibu setelah panen. Diketahui, umur pertanaman padi di Nagari Tabek hingga awal Juni 2020 berkisar 85 hingga 95 hari setelah tanam.
Menurut Edizal, teknologi Salibu sejalan dengan instruksi Menteri Pertanian RI Syahrul Yasin Limpo kepada seluruh insan pertanian untuk melaksanakan dua langkah konkrit yakni penanaman lebih cepat dan bekerja lebih keras untuk memenuhi kebutuhan pangan rakyat di tengah pandemi Covid-19.
Arahan serupa dikemukakan Kepala BPPSDMP Prof Dedi Nursyamsi bahwa krisis pangan dapat kita tangkal. "Pertanian tidak boleh berhenti. Meskipun besok kiamat, kita harus tetap menanam. Petani tetap gas pol tanam. Pangan harus selalu tersedia. Tidak boleh ditunda apalagi dihentikan." [Liene]
Tanah Datar of West Sumatera [B2B] - Indonesia´s Agriculture Ministry is in intensive care after testing positive for the novel coronavirus, as civil servants in head office and across the country were ordered to close over the health threat. The World Health Organization has said it is particularly concerned about high-risk nations with weaker health systems, which who may lack the facilities to identify cases, according to official of the region.