Bebas Biaya, PJ Upsus Leli Nuryati Apresiasi Brigade Alsintan Pemprov Gorontalo
The Gorontalo Provincial Govt Lends Farm Machinery by FOC to Farmers
Editor : M. Achsan Atjo
Translator : Dhelia Gani

PUBLISHED: Kamis, 29 Agustus 2019 , 19:36:00 WIB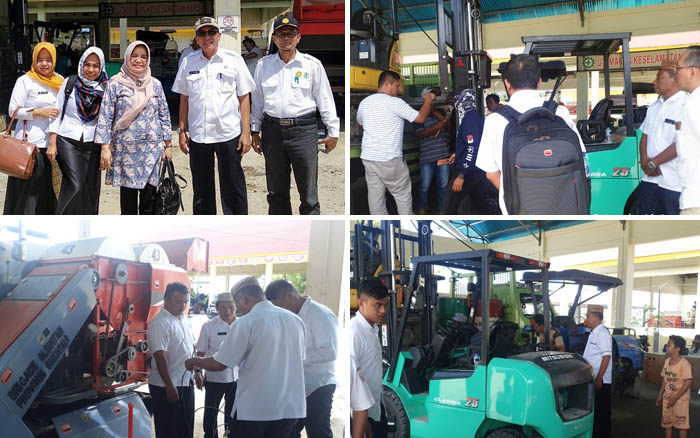 ALSINTAN GRATIS: Kepala Pusluhtan Leli Nuryati [hijab pink, inset kiri atas] bersama Kadistan Muljadi D Mario; Kepala BPTP Awaluddin Hippi dan Kabid Penyuluhan Distan Pemprov Gorontalo, Rina [Foto2: Humas Pusluhtan]
Bone Bolango, Gorontalo [B2B] - Kementerian Pertanian RI mengapresiasi peran Brigade Alsintan sebagai pengelola dan pengendali distribusi pemanfaatan alat mesin pertanian, sehingga petani dapat memanfaatkannya dengan sistem pinjaman untuk meningkatkan produksi pertanian mendukung program UPSUS Pajale di Provinsi Gorontalo.
Hal itu dikemukakan oleh Penanggung Jawab Upsus Pajale Gorontalo, Leli Nuryati saat meninjau Brigade Alsintan Pemprov Gorontalo di Kabupaten Bone Bolango didampingi Kabid Program dan Evaluasi - Pusluhtan BPPSDMP Kementan, Riza Fakhrizal pada Rabu [28/8]. Turut hadir Kepala Dinas Pertanian Pemprov Gorontalo, Muljadi D Mario; Kepala BPTP Gorontalo, Awaludin Hippi; dan Kabid Penyuluhan Dinas Pertanian Pemprov Gorontalo, Rina.
"Kami mengapresiasi Brigade Alsintan yang dikelola dinas pertanian, siapa pun boleh meminjam Alsintan, baik perorangan maupun kelompok tanpa dipungut bayaran atau gratis," kata Leli Nuryati, yang juga menjabat Kepala Pusat Penyuluhan Pertanian [Pusluhtan BPPSDMP Kementan] di Gorontalo.
Hampir 12.000 unit alat dan mesin pertanian [Alsintan], sebagian besar adalah wadah semai [seedling tray] sebanyak 10.750 unit; traktor roda dua [TR2] 186 unit; TR4 186 unit; 22 unit rice transplantert; 285 unit pompa air; 55 unit cultivator; tiga unit penyiang padi [power weder]; satu unit motor roda tiga Viar; dua eskavator; 30 unit power sprayer; 40 unit hand sprayer; dan 102 unit alat tanam jagung/kedelai.
Kadistan Muljadi D Mario mengatakan siapa saja boleh meminjam Alsintan dari Brigade Alsintan tanpa dipungut biaya, asalkan memenuhi ketentuan yang berlaku dengan mengajukan permohon peminjaman kepada Brigade Alsintan.
Hal itu mengacu pada latar belakang terbentuknya Brigade Alsintan Pemprov Gorontalo adalah untuk mengatasi penguasaan Alsintan lebih dominan ke perseorangan, tidak tersedianya biaya pemeliharaan, pendeknya umur guna, mahalnya biaya sewa, dan tidak berfungsinya mekanisme usaha pelayanan jasa Alsintan [UPJA].
Kabid Penyuluhan Rina menambahkan Brigade Alsintan juga untuk mengatasi kesulitan petani ketika Alsintan rusak dan membutuhkan perbaikan yang biayanya cukup besar, apalagi kalau suku cadang harus dipesan dari luar Gorontalo sehingga harus lama menunggu.
PJ Upsus Leli Nuryati mengharapkan Brigade Alsintan Pemprov Gorontalo dapat meningkatkan perannya untuk membantu dan memberikan pelayanan terbaik kepada petani untuk mendukung tercapainya peningkatan produksi pertanian.
"Petani juga diharapkan memiliki kemauan untuk meningkatkan kemampuan dan keterampilannya mengoperasionalkan Alsintan, kalau perlu dapat memperbaiki sendiri Alsintan yang rusak," katanya. [Liene]
Bone Bolango of Gorontalo [B2B] - Indonesian Agriculture Ministry appreciates the role of agricultural machinery rental services [Brigade Alsintan] in Gorontalo provincial government as manager of the Alsintan Brigade, so farmers can use agricultural machinery by borrowing for free to increase agricultural production in Gorontalo province, according to the senior official of Indonesian agriculture ministry.