Motivasi Petani, Penyuluh Kalbar Ikuti Bimtek Penilaian Kelas Kelompok Tani
West Borneo Agricultural Extensionists Increase the Ability of Farmer Groups
Editor : M. Achsan Atjo
Translator : Dhelia Gani

PUBLISHED: Kamis, 24 Oktober 2019 , 19:43:00 WIB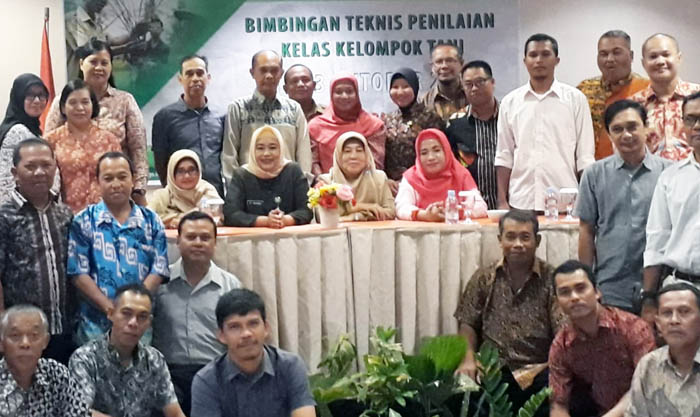 KEMAMPUAN POKTAN: Sebagian peserta Bimtek dari seluruh Kalbar bersama Penyuluh Pertanian Utama dari Pusluhtan BPPSDMP, Siti Nurjanah [duduk, ke-2 kiri] Foto: Humas Pusluhtan
Pontianak, Kalbar [B2B] - Sedikitnya 40 penyuluh pertanian dari 14 kabupaten/kota di Provinsi Kalimantan Barat mengikuti bimbingan teknis [Bimtek] 'penilaian kelas kelompok tani' di Pontianak selama tiga hari, 21 - 23 Oktober 2019. Kegiatan Bimtek digelar oleh Dinas Pertanian Tanaman Pangan dan Hortikultura [TPH] Kalbar menghadirkan narasumber, Siti Nurjanah, Penyuluh Pertanian Utama dari Pusat Penyuluhan Pertanian [Pusluhtan BPPSDMP Kementan].
"Tujuan Bimtek mendorong penyuluh pertanian dapat menilai, membina, dan memberdayakan kelompok tani atau Poktan sehingga dapat meningkatkan kemampuan usahatani dan agribisnis para petani yang menjadi anggota Poktan binaan masing-masing penyuluh," kata Kepala Dinas TPH Kalbar, Heronimus Hero saat membuka Bimtek di Pontianak, Senin [21/10].
Menurutnya, pembinaan terhadap Poktan sejalan dengan penerapan UU Pemerintah Daerah No 23/2014, yang mengamanatkan bahwa setiap penerima manfaat (bantuan) haruslah lembaga yang mendapat pengesahan, atau penetapan dari pimpinan instansi vertikal atau kepala satuan kerja perangkat daerah terkait sesuai dengan kewenangannya.
Hal ini tertuang pada Pasal 298 Ayat 4 dan 5, dan dipertegas oleh Peraturan Menteri Dalam Negeri Nomor 14/2016 tentang Perubahan Kedua Atas Peraturan Menteri Dalam Negeri Republik Indonesia Nomor 32/2011 tentang Pedoman Pemberian Hibah dan Bantuan Sosial Yang Bersumber dari Anggaran Pendapatan dan Belanja Daerah.
"Kebijakan tersebut sejalan dengan Instruksi Presiden saat membuka Rakernas Pembangunan Pertanian 2017 pada 5 Januari 2017 yang menginginkan efisiensi dan meningkatkan skala ekonomi petani, melalui clustering (klasifikasi) untuk selanjutnya di-korporasi-kan," kata Heronimus Hero.
Siti Nurjanah mengatakan kegiatan Bimtek 'penilaian kelas kemampuan Poktan' merupakan salah satu bentuk pembinaan penyuluh pertanian, untuk memberi motivasi pada Poktan agar lebih berprestasi mendukung pencapaian target produktivitas hasil pertanian yang dicanangkan pemerintah pusat maupun daerah, sekaligus mengetahui kelemahan Poktan, sehingga langkah pembinaan yang diterapkan bisa tepat sasaran.
"Penilaian kemampuan kelompok secara serentak oleh penyuluh pertanian di setiap kabupaten diharapkan mendapat data jumlah Poktan yang naik skor, maupun peningkatan kelas kelompok yang valid dan dapat di-update ke Simluhtan," kata Siti Nurjanah.
Sebagaimana diketahui, kelas kemampuan Poktan dibagi empat kelas: Pemula skornya 0 - 245; Lanjut [246 - 455]; Madya [456 - 700] dan Utama [701 - 1000]. Liene
Pontianak of West Borneo [B2B] - Indonesian Agriculture Ministry evaluates group farmers across the West Borneo province to increase motivation to members of farmer groups to achieve higher abilities, as well as knowing its weaknesses so as to facilitate the steps of development.