Toreh Prestasi, Mahasiswa Polbangtan Bogor Juara Lomba Debat Nasional
Millennial Farmers Development are the Target of Indonesia`s Polbangtan Bogor
Editor : Cahyani Harzi
Translator : Dhelia Gani

PUBLISHED: Kamis, 24 November 2022 , 19:46:00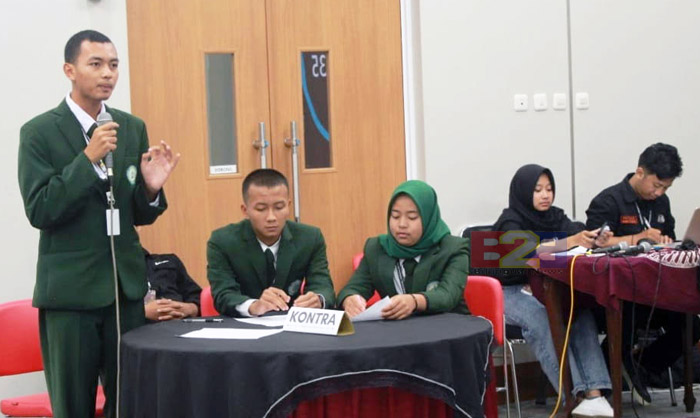 POLBANGTAN BOGOR: Tim Debat Polbangtan Bogor beranggotakan Hikmal Zaelani, Acep Anugrah, Arum Yunitawati dan Aditia Bukit menyisihkan rival dari lima perguruan tinggi yang lolos ke final Lomba Debat Nasional di Unsoed Purwokerto.
Purwokerto, Jateng [B2B] - Kementerian Pertanian RI apresiasi capaian mahasiswa Politeknik Pembangunan Pertanian [Polbangtan] dari Polbangtan berhasil meraih Juara II Lomba Debat Nasional dan Runner Up Esai Terbaik pada ajang Festival Jurnalistik Husbandry 2022 yang digelar Universitas Jenderal Soedirman Purwokerto [Unsoed] pekan lalu.
Tim Debat Polbangtan Bogor yang beranggotakan Hikmal Zaelani, Acep Anugrah, Arum Yunitawati, dam Aditia Bukit berhasil menyisihkan rival dari lima perguruan tinggi yang lolos ke final. Tahun ini, Universitas Andalas Padang [Unand] keluar sebagai juara pertama dan Unsoed sebagai juara ketiga.
Tidak hanya lomba debat, salah satu perguruan tinggi negeri ternama di Provinsi Jawa Tengah tersebut juga mengadakan Lomba Penulisan Esai. Mahasiswa Polbangtan Bogor kembali menjadi juara, sebagai Runner Up.
Tim Polbangtan Bogor digawangi oleh Fatkhurrozi, Anggun Iftita Rahmi, Gitana Arum Prastanika, dan Nur Aliza tidak pulang dengan tangan hampa.
Menteri Pertanian RI Syahrul Yasin Limpo meyakini kaum milenial yang inovatif dan memiliki gagasan yang kreatif mampu mengawal pembangunan pertanian yang maju, mandiri, modern.
Mentan meyakini pendidikan vokasi pada Polbangtan akan melahirkan petani milenial yang berkualitas.
"Transformasi pendidikan di sektor pertanian belumlah maksimal apabila hanya menyangkut kelembagaan, maka ada empat jurus jitu yang harus ditekankan dalam pendidikan vokasi yakni karakter, kompetensi, kritis dan kreatif karena pendidikan vokasi menuntut hadirnya generasi milenial yang tangguh berkarakter petarung," katanya.
Sementara Kepala Badan Penyuluhan dan Pengembangan SDM Pertanian Kementan (BPPSDMP) Dedi Nursyamsi, menuturkan bahwa pertanian harus didukung kalangan milenial sebagai generasi muda.
"Melalui pendidikan vokasi, Kementan melahirkan SDM yang kompetitif sebagai tenaga kerja pertanian andal dan unggul [job seeker] serta sebagai pengusaha pertanian milenial andal, kreatif, inovatif, profesional, serta mampu menyerap lapangan pekerjaan sektor pertanian sebanyak mungkin [job creator]," kata Dedi.
Keberhasilan Polbangtan Bogor sebagai juara kedua pada Lomba Debat Nasional, tidak serta-merta tanpa usaha. Unit Kegiatan Mahasiswa Debat [UKM] melaksanakan latihan rutin dan melahirkan debater hebat berprestasi, agar anggota UKM dapat menjadi pemenang di ajang debat nasional dan internasional.
Ketua UKM Debat Polbangtan Bogor, Aditia Bukit menyatakan bangga atas prestasi yang telah diraih. Diharapkan, ke depan akan lebih banyak lagi prestasi yang diraih, seraya mengapresiasi Polbangtan Bogor yang mendukung dan memfasilitasi banyak hal untuk pencapaian yang luar biasa.
Acep Anugrah selaku perwakilan tim debat bersyukur dengan pencapaian prestasi yang diraih. "Saya dan teman-teman bisa menjadi juara pada ajang Lomba Debat Nasional ini, harapan saya agar anggota UKM debat Polbangtan Bogor bisa lebih termotivasi dan lebih banyak menorehkan prestasi untuk almamater Polbangtan Bogor." [wisda/timhumaspolbangtanbogor]
Purwokerto of Central Java [B2B] - The role of agricultural vocational education in Indonesia such as the the Agricultural Development Polytechnic or the Polbangtan, to support Indonesian Agriculture Ministry seeks to maximize its efforts to produce millennial entrepreneur.
Youth Enterpreneurship And Employment Support Services Program or the YESS, to support Indonesian Agriculture Ministry seeks to maximize its efforts for the millennial entrepreneur.
Indonesian Agriculture Minister Syahrul Indonesia Yasin Limpo stated that the government´s commitment to developing agriculture, especially in the development of advanced, independent and modern agricultural human resources.
"The goal is to increase the income of farming families and ensure national food security. Farmer regeneration is a commitment that we must immediately realize," Minister Limpo said.
He reminded about the important role of vocational education, to produce millennial farmers who have an entrepreneurial spirit.
"Through vocational education, we connect campuses with industry so that Polbangtan graduates meet their needs and are ready for new things," Limpo said.