Korporasi Petani, Pusluhtan Gelar Temu Teknis Penyuluh Muara Enim
Indonesian Govt Supports Farmers to Develop Cooperatives into Corporations
Editor : M. Achsan Atjo
Translator : Dhelia Gani

PUBLISHED: Sabtu, 01 Desember 2018 , 19:51:00 WIB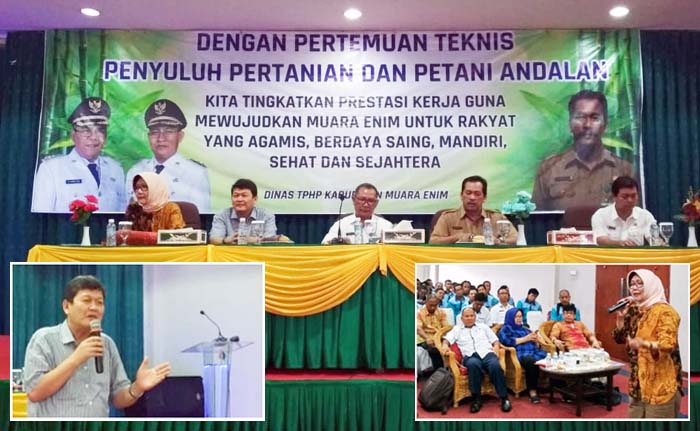 INSTRUKSI JOKOWI: Temu teknis diikuti 120 penyuluh pertanian Muara Enim, Kabid Penyelenggaraan Penyuluhan Pertanian Pusluhtan, Zahron Helmy (kiri bawah) dan Kabid PHPP Pemprov Sumsel Dwiritakesuma W (Foto2: Humas Pusluhtan/Purnomojati A)
Muara Enim, Sumsel (B2B) - Presiden RI Joko Widodo mengatakan bahwa ke depan, bukan politik dan hukum yang akan menjadi panglima melainkan masalah pangan, sehingga Indonesia harus mengubah paradigma pertanian agar tidak kalah bersaing, dengan meningkatkan nilai tambah petani melalui korporasi petani agar mendapatkan keuntungan maksimal dari komoditas yang mereka tanam.
Hal itu mengemuka dari ´temu teknis sosialisasi penumbuhkembangan korporasi petani´ berbasis kawasan dan berskala ekonomi di Kabupaten Muara Enim, Provinsi Sumatera Selatan yang dihadiri 120 penyuluh pertanian dari seluruh kabupaten, belum lama ini.
Temu teknis dibuka oleh Asisten Daerah II, Amrullah J dan dihadiri oleh Kepala Bidang Pengolahan Hasil dan Penyuluhan Pertanian (PHPP) Pemprov Sumsel, Dwiritakesuma Wardani. Narasumber dari Badan Penyuluhan dan Pengembangan SDM Pertanian (BPPSDMP) di Kementerian Pertanian RI adalah Kepala Bidang Penyelenggaraan Penyuluhan Pertanian - Pusat Penyuluhan Pertanian (Pusluhtan), Zahron Helmy.
Amrullah J menegaskan pentingnya penyamaan persepsi, kerangka berfikir dan perumusan kebijakan pembangunan pertanian antara pemerintah pusat dan daerah terkait dengan peningkatan produksi dan kesejahteraan petani dengan mengembangkan korporasi petani.
"Penyuluh pertanian berperan penting dalam pembangunan pertanian di Muara Enim, khususnya dalam upaya pendampingan dan pengawalan mendukung pencapaian swasembada pangan dan kesejahteraan petani," kata Amruillah J.
Zahron Helmy mengingatkan tentang pentingnya temu teknis tersebut sebagai ajang sosialisasi kebijakan penyuluhan pertanian, yang menekankan pada dua hal sebagai visi dan misi utama Kementan, yakni kedaulatan pangan dan kesejahteraan petani.
Pusluhtan BPPSDMP Kementan mencanangkan 2018 sebagai ´gerakan penyuluh pertanian membangun korporasi petani´ sesuai instruksi Presiden Jokowi kepada Menteri Pertanian Andi Amran Sulaiman.
"Gerakan ini dalam rangka menumbuhkembangkan kelembagaan ekonomi petani berbasis kawasan dan berskala ekonomi. Korporasi dapat dibentuk dari kumpulan kelompok tani, gabungan kelompok tani, dan unit usaha yang diarahkan berbadan hukum melalui koperasi atau perseroan terbatas," kata Zahron H.
Menurutnya, koperasi petani yang dikelola secara profesional seperti korporasi, memberi peluang kepada petani mendapatkan laba, karena skala bisnisnya yang lebih besar dengan biaya produksi yang lebih efisien.
"Koperasi petani akan tersedia benih, Alsintan dan pupuk, jadi koperasi petani seperti perusahaan besar atau korporasi tapi milik petani," kata Zahron H.
Zahron menambahkan pemerintah pusat telah mengeluarkan Peraturan Menteri Pertanian (Permentan) Nomor 18 Tahun 2018 tentang Pedoman Pengembangan Kawasan Pertanian Berbasis Korporasi Petani. (Liene)
Muara Enim of South Sumatera (B2B) - Indonesian President Joko Widodo said in the future, not politics and law that will become commander but a food problem, so that Indonesia must change the agricultural paradigm to compete with other countries, by increasing the added value of farmers through corporate farmers to get the maximum benefit of the agricultural commodities.
It was revealed of technical meeting on socialization of farmers´ corporate development regionally based and economically scale´ in Muara Enim district of South Sumatra province which was attended by 120 agricultural extensionist across the districts, recently.
The technical meeting was opened by the Regional Assistant II, Amrullah J and and was attended by the Head of Agriculture Office of provincial government, Hj Dwiritakesuma Wardani. Also present were Head of Institution for Agricultural Extension of Agricultural Extension Center, Zahron Helmy as the third echelon official of the Directorate General of Extension and Agricultural HR Development in Indonesian Agriculture Ministry.
Amrullah stressed the importance of equating perception, framework for thinking and formulating agricultural development policies between the central and regional governments related to increasing production and welfare of farmers by developing farmers´ corporations.
"Agricultural extensionist play an important role in agricultural development in Muara Enim, especially in assisting farmers to support achievement of food self-sufficiency and the welfare of farmers," he said.
Mr Helmy reminded about importance of technical meetings for dissemination of agricultural extension policies, which emphasizes food sovereignty and farmers´ welfare.
The agriculture ministry launched 2018 as the ´agricultural extension movement to develop farmers´ corporations´ according to President Widodo´s instructions to Agriculture Minister Andi Amran Sulaiman.
"The policy is to develop regional and economically based farmers´ economic institutions. Farmers´ corporations are formed of farmer group, farmer groups combined, and business units directed towards legal entities through cooperatives or private company," Mr Helmy said.
He reviews about farmer cooperatives that are managed professionally such as corporations, provide opportunities for farmers to make a profit, because the scale of the business is larger with efficient production costs.
"Farmer cooperatives will have seeds, agricultural machinery and fertilizers, so farmers ´cooperatives will develop like big companies or farmers´ corporations," Mr Helmy said.
He said the central government had issued Minister of Agriculture Regulation No. 18 of 2018 concerning Guidelines for the Development of Corporate-based Agricultural Areas.