Jaga Jarak, Bupati Agam Ajak Warga Berkebun di Rumah Taati PSBB
Indonesian Agriculture Anticipate Covid-19 by Weaker Health Systems
Editor : M. Achsan Atjo
Translator : Dhelia Gani

PUBLISHED: Jum'at, 24 April 2020 , 20:15:00 WIB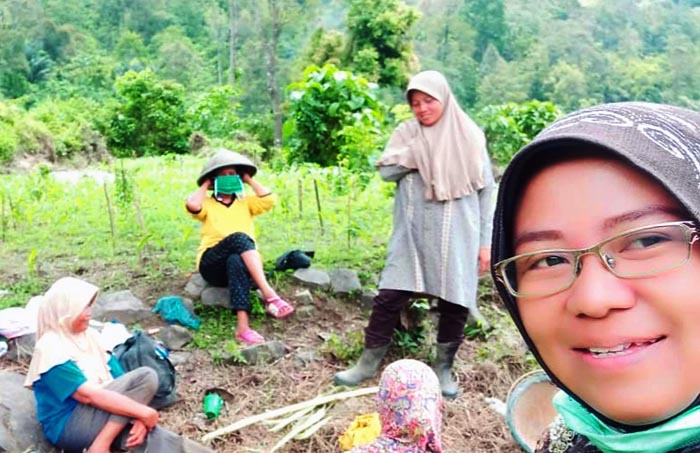 SEMANGAT KWT AGAM: Penyuluh Agam, Tawari Hayati selfie dengan kaum ibu anggota KWT Anggrek Nagari Tanjung Sani usai berkebun di pekarangan [Foto: Humas Pusluhtan]
Agam, Sumbar [B2B] - Bupati Agam Indra Catri memberi solusi kepada warga untuk betah 'di rumah saja' dengan membagikan gratis bibit sayuran.
Kegiatan membagikan bibit sayuran oleh Pemerintah Kabupaten Agam di Provinsi Sumatera Barat dicanangkan Bupati Indra Catri melalui program Agam Menyemai.
Seruan 'jaga jarak dan hindari kerumunan' bukan cuma jargon tanpa solusi di tengah pandemi Covid-19. Bupati Agam bermaksud memberi kegiatan untuk menghindari kejemuan selama di rumah. Setelah panen, hasilnya dapat dipetik untuk kebutuhan dapur tanpa harus sering berbelanja ke pasar.
Program ini ditindaklanjuti oleh para penyuluh pertanian Agam, salah satunya adalah Tawari Hayati. Penyuluh di Nagari Maninjau, Kecamatan Tanjung Raya ini mendampingi dan membina kelompok wanita tani [KWT] binaannya untuk berkebun di pekarangan rumah.
Seruan tersebut selaras dengan ajakan Menteri Pertanian RI Syahrul Yasin Limpo [SYL] untuk memanfaatkan pekarangan sebagai kawasan rumah pangan lestari, karena bertani bukan hanya di sawah tapi dapat dimulai dari pekarangan rumah.
Sementara Kepala BPPSDMP Kementan Prof Dedi Nursyamsi mengimbau penyuluh setia mendampingi petani dan warga untuk giat bertani. "Kesehatan dan daya tahan tubuh didapat dari konsumsi sayuran dan buah-buahan sebagai sumber vitamin."
Penyuluh Tawari Hayati menggelorakan semangat berkebun di pekarangan rumah dengan jargon 'nan di laman untuak dimakan, nan diparak baok ke pakan' atau tanaman di pekarangan untuk dimakan, tanaman di ladang untuk dijual.
Penyuluh Tawari mengubah pola pikir 40 anggota KWT Anggrek Nagari Tanjung Sani yang semula hanya mengonsumsi dengan membeli menjadi pola berproduksi.
"Mereka sudah bisa menjual tanaman hasil pekarangannya dengan jalan berkeliling ke rumah-rumah warga yang membutuhkan. Tetap dirumah, dan terus manfaatkan pekarangan," kata Tawari Hayati melalui pernyataan tertulis yang disarikan penyuluh pusat Edizal dan dihimpun oleh Pusat Penyuluhan Pertanian [Pusluhtan BPPSDMP Kementan].
Sederhana, namun ini membuktikan 'bahwa pertanian tidak akan pernah berhenti dalam kondisi sesulit apa pun'. [Liene]
Agam of West Sumatera [B2B] - Indonesia´s Agriculture Ministry is in intensive care after testing positive for the novel coronavirus, as civil servants in head office and across the country were ordered to close over the health threat. The World Health Organization has said it is particularly concerned about high-risk nations with weaker health systems, which who may lack the facilities to identify cases, according to senior official of Indonesian Agriculture Ministry.