Obral Cabai, Toko Tani Kementan Suplai Pasar hingga Harga Stabil
Indonesian Govt Held a Chili Sale to Reduce Prices on the Market
Reporter : Gusmiati Waris
Editor : Cahyani Harzi
Translator : Dhelia Gani

PUBLISHED: Minggu, 14 Juli 2019 , 20:16:00 WIB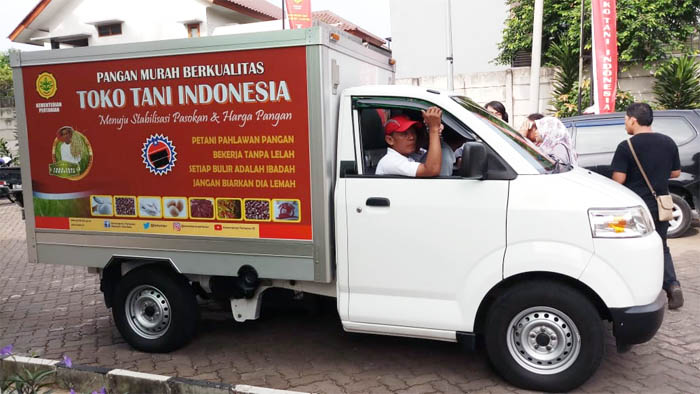 HARGA KONSUMEN: Toko Tani Indonesia Center menyuplai 14 ton cabai setiap hari ke pasar tradisional di Jabodetabek, untuk mempengaruhi harga pasar dan memenuhi kebutuhan masyarakat [Foto: Humas BKP Kementan]
Jakarta [B2B] - Sebanyak 14 ton cabai digelontorkan oleh Toko Tani Indonesia [TTI] untuk mengantisipasi lonjakan harga di Jabodetabek melalui Gelar Cabai Murah [GCM] pada 30 gerai Toko Tani Indonesia [TTI] sejak pekan lalu, dengan harga Rp35.000 per kg untuk cabai merah keriting dan cabai rawit merah yang digelar Badan Ketahanan Pangan - Kementerian Pertanian RI [BKP Kementan] untuk mempengaruhi harga pasar dan memenuhi kebutuhan masyarakat hingga harga cabai stabil di tingkat konsumen.
Kepala Pusat Distribusi dan Cadangan Pangan - BKP Kementan, Risfaheri mengatakan TTI melakukan GCM hingga harga stabil, mengacu pada hasil pantauan dari beberapa pasar tradisional di Jabodetabek, harga cabai terpantau belum beranjak turun di tingkat petani maupun pedagang.
"Harga cabai merah keriting rata-rata nasional di tingkat produsen Rp41.750 per kg, cabai rawit merah Rp33.800 perkg sementara di DKI Jakarta rata-rata Rp65.276 per kg dan Rp66.361 per kg," kata Risfaheri, di Jakarta, Sabtu [13/7].
Menurutnya, TTI yang dikembangkan Kementan dapat menjual cabai segar dengan harga terjangkau masyarakat, karena bekerjasama dengan gabungan kelompok tani [Gapoktan] yang dibina BKP Kementan.
"Kami terus berupaya melayani masyarakat memenuhi pangan murah, khususnya cabai seperti saat ini. Mudah-mudahan dalam waktu dekat harga cabai kembali stabil," kata Risfaheri.
Sebelumnya, Kepala BKP Kementan, Agung Hendriadi menekankan tugas dan fungsi TTI sebagai pasok pangan murah termasuk cabai. Kementan melalui TTIC mendistribusikan cabai dari petani langsung ke TTI yang tersebar di Jabodetabek dengan, tujuan menjaga stabilisasi harga cabai agar kembali stabil dan normal kembali.
"BKP Kementan menggelar GCM untuk membantu masyarakat untuk mendapatkan cabai dengan harga murah," katanya.
Salah satu TTI binaan BKP Kementan yang ramai dikunjungi konsumen adalah TTI Selly di Poris, Tangerang Selatan, Provinsi Banten, yang memesan melalui aplikasi online untuk memperbanyak pasokan, dan setiap pesanan tiba, langsung habis di serbu pembeli.
"Saya pesan 100 kg ke TTIC sehari langsung habis. Saya berterima kasih sekali pada Kementan yang sudah menggelar cabai murah, sehingga saya bisa membantu masyarakat menjual cabai murah. Ada kebanggaan tersendiri bagi saya bisa membantu masyarakat menjual cabai murah," kata Yati pemilik TTI Selly.
Menurut Yati, cabai yang di belinya hanya sebentar sudah langsung habis.
"Alhamdulillah berkah sekali toko saya, karena banyak pembeli berdatangan membeli cabai murah Rp35.000 per kg. Pembelinya ibu-ibu majelis taklim, pemilik rumah makan padang, tukang warteg dan tetangga sekitar," kata Yati.
Jakarta [B2B] - At least 14 tons of chilli are supplied to the market by Indonesian Farmers Stores [TTI] managed by the central government through agriculture ministry for stabilizing chili prices at the consumer level in Jakarta, capital of Indonesia after the price of chili surged to IDR66,361 per kg.