Tangkal Corona, KostraTani Wawo Kawal Petani Bima Panen Kunyit Super
Indonesian Agriculture Anticipate Covid-19 by Weaker Health Systems
Editor : M. Achsan Atjo
Translator : Dhelia Gani

PUBLISHED: Senin, 11 Mei 2020 , 20:24:00 WIB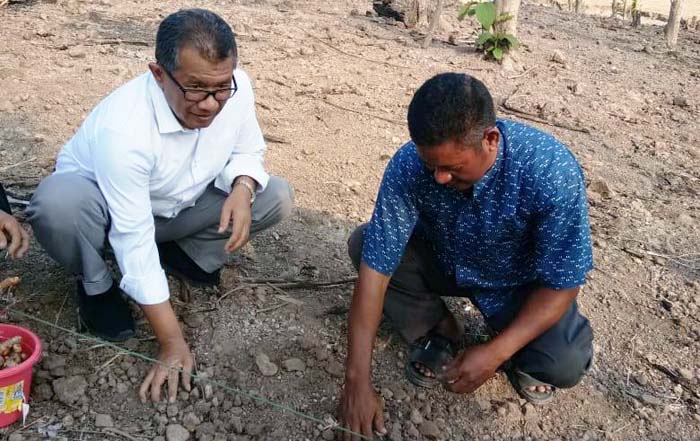 PENYULUH PUSAT: Penyuluh pusat di Kementerian Pertanian RI, Edizal [kiri] selaku pendamping kegiatan penyuluhan pertanian Provinsi NTB bersama penyuluh BPP Wawo di Kabupaten Bima [Foto: Humas Pusluhtan]
Bima, NTB [B2B] - Petani kunyit di Kabupaten Bima, Provinsi Nusa Tenggara Barat [NTB] khususnya di Desa Ntori, Kecamatan Wawo bersiap memasuki masa panen Juni hingga Agustus 2020 setelah ditanam petani pada September 2019, sebelum musim hujan di lahan seluas 50 hektar dengan produktifitas rata-rata sekitar 10 - 12 ton per hektar.
Koordinator KostraTani Wawo, Ermi mengatakan komoditas kunyit Wawo diminati produsen kosmetik di Pulau Jawa, yang dijual seharga Rp3.000 hingga Rp6.000 di tingkat petani.
"Masa pertanaman kunyit umumnya delapan hingga 10 bulan, namun di Bima sampai 12 bulan atau satu tahun untuk mendapatkan kualitas super," kata Ermi melalui pernyataan tertulis yang dihimpun Pusat Penyuluhan Pertanian [Pusluhtan BPPSDMP].
Menurutnya, saat panen sejumlah pengepul dan pedagang berdatangan dari luar NTB, biasanya dari Jawa yang bermaksud membeli hasil panen petani kunyit Wawo terlebih di masa pandemi Covid-19. Kunyit diyakini meningkatkan imunitas tubuh menangkal virus Corona seperti halnya jahe, sere, lengkuas dan sejumlah tanaman empon-empon lainnya.
Sebagaimana diketahui kunyit berkhasiat menyejukkan, membersihkan, mengeringkan, menghilangkan gatal, dan menyembuhkan kesemutan. Digunakan sebagai bahan obat tradisional, bahan baku industri jamu dan kosmetik, bahan bumbu masak, dan bahan baku pangan dalam industri peternakan. Hal itu pula yang mendorong peningkatan konsumen kunyit di seluruh Indonesia.
Penyuluh pusat di Kementerian Pertanian RI, Edizal selaku pendamping kegiatan penyuluhan pertanian Provinsi NTB mengatakan semangat dan kerja keras petani kunyit di Bima, sejalan dengan program Menteri Pertanian RI Syahrul Yasin Limpo agar petani mengembangkan potensi pertanian spesifik lokasi seperti kunyit di Kabupaten Bima.
"Petani dan penyuluh dan pemangku kepentingan selama berada di lapangan wajib mengenakan masker, jaga jarak, hindari kerumunan dan sering cuci tangan pakai sabun untuk menangkal Corona," pesan Kepala BPPSDMP Kementa, Prof Dedi Nursyamsi.
Kepala Pusat Penyuluhan Pertanian [Pusluhtan BPPSDMP] Leli Nuryati mengapresiasi dukungan penyuluh pertanian yang setia mendampingi petani kunyit Bima. "Kunyit sebagai komoditas empon-empon berkhasiat meningkatkan imunitas tubuh menangkal virus Corona." [Liene]
Bima of West Nusa Tenggara [B2B] - Indonesia´s Agriculture Ministry is in intensive care after testing positive for the novel coronavirus, as civil servants in head office and across the country were ordered to close over the health threat. The World Health Organization has said it is particularly concerned about high-risk nations with weaker health systems, which who may lack the facilities to identify cases.