PJ Upsus Gorontalo, Realisasi LTT Padi 5 Kabupaten Tunjukkan Trend Positif
Realization Indonesia`s Gorontalo Rice Plant Shows Positive Trend
Editor : M. Achsan Atjo
Translator : Dhelia Gani

PUBLISHED: Sabtu, 31 Agustus 2019 , 20:46:00 WIB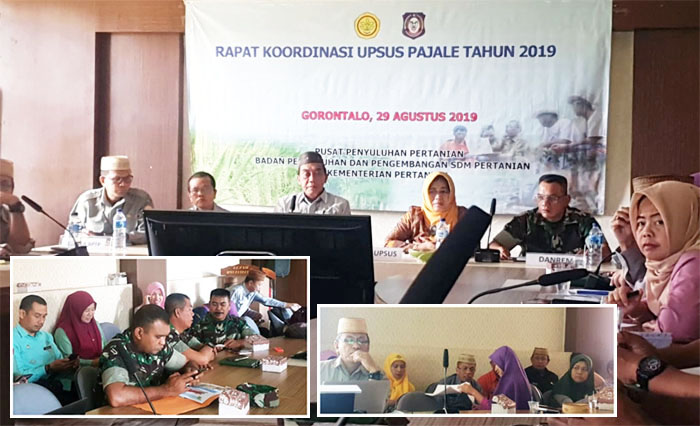 RAKOR & EVALUASI: PJ Upsus Kalbar, Leli Nuryati [hijab kuning, foto utama] memimpin Rakor didampingi Kadistan Gorontalo, Mulyady D Mario diikuti para Kadistan kabupaten dan Babinsa se-Gorontalo [Foto2: Humas Pusluhtan]
Kota Gorontalo, Gorontalo [B2B] - Capaian luas tambah tanam [LTT] padi di Provinsi Gorontalo hingga 31 Agustus 2019 menunjukkan trend positif, melampaui target Penanggung Jawab Upaya Khusus [PJ Upsus Pajale]. Realisasi tertinggi di Kabupaten Pohuwato seluas 117 ha dari target 45 ha [meningkat 260%]; Gorontalo seluas 835 ha, target 735 ha [113%]; Gorontalo Utara 154 ha, target 125 ha [123%]; Bone Bolango 296 ha, target 278 ha [106%] sementara capaian Boalemo terendah, hanya 1.726 ha, target 2.837 ha [60,8%] mengingat luasnya wilayah Boalemo, sedangkan Kota Gorontalo nihil.
Sementara trend positif realisasi LTT Jagung Gorontalo hanya tercatat di Kabupaten Boalemo sebagai yang tertinggi yakni 1.600 ha dari target 1.500 ha [meningkat 106,6%]; dan Pohuwato 1.001 ha, target 1.000 ha [100%]. Realisasi LTT jagung terendah di Bone Bolango, hanya 50 ha dari target 250 ha [20%]; Gorontalo 750 ha, target 1.250 ha [60%]; Gorontalo Utara 854 ha, target 1.000 ha [85,45] dan Kota Gorontalo lagi-lagi nihil.
Capaian dan realisasi target LTT tersebut dikemukakan oleh Kepala Dinas Pertanian Provinsi Gorontalo, Mulyady D Mario pada Rapat Koordinasi dan Evaluasi Upsus Pajale yang dibuka oleh PJ Upsus Gorontalo, Leli Nuryati di Kota Gorontalo pada Kamis [29/8].
Leli Nuryati mengingatkan para kepala dinas pertanian kabupaten untuk menjabarkan tantangan dan kendala LTT hingga ke kecamatan dan desa, sehingga memudahkan pemantauan capaian dan realisasi didukung pendampingan dan pengawalan bintara pembina desa [Babinsa] di tiap komando rayon militer [Koramil] untuk membantu LTT di seluruh desa yang telah direkap dari masing-masing kabupaten.
Komandan Korem 133/Nani Wartabone Kolonel Czi Arnold Ritiauw dalam paparannya yang disampaikan Pasiter Kapten Sapto Iriyanto mengimbau kepada petani dan masyarakat untuk tidak membakar ladang di tengah musim kemarau saat ini, karena mudah terbakar dan meluas.
"Babinsa di tiap Koramil siap membantu dan mengawal pencapaian Upsus Pajale, dan jangan segan-segan berkoordinasi karena hal itu sudah menjadi tugas dan tanggung jawab TNI AD dan harapan Pemprov Gorontalo untuk mencapai surplus padi dan jagung," kata Kapten Sapto Iriyanto.
Leli Nuryati mengingatkan LTT padi dan jagung memang digagas dan didukung oleh Kementan, tapi hasil dan manfaatnya untuk kepentingan petani dan rakyat Gorontalo, sehingga bisa memenuhi kebutuhan pangan provinsi dan surplus produksi untuk ekspor.
"Musim kemarau ini jangan menjadi hambatan, tapi jadikan sebagai pengalaman untuk mengatasi masalah sehingga di musim hujan nanti lebih mudah menanam dan mengolah tanaman," kata Leli Nuryati yang juga menjabat Kepala Pusat Penyuluhan Pertanian [Pusluhtan BPPSDMP Kementan].
Kadistan Pemprov Gorontalo, Mulyady D Mario menyimpulkan hasil Rakor Upsus Pajale akan melakukan pemantauan dan evaluasi [cross check] keberadaan lahan, tanaman padi dan jagung di-breakdown per kecamatan hingga desa, penetapan target LTT per kecamatan, dan pembagian peran yang harus dilakukan oleh kabupaten, provinsi dan pemerintah pusat. [Liene]
Gorontalo City of Gorontalo [B2B] - Realization of rice crop extensification in Gorontalo province until August 31, 2019 shows a positive trend, exceed the target of the Indonesian Agriculture Ministry. The highest realization Pohuwato district covering 117 hectares of target 45 hectares [up 260%]; Gorontalo 835 hectares, target of 735 hectares [up 113%]; North Gorontalo 154 hectares, target 125 hectares [up 123%]; Bone Bolango 296 hectares, target 278 hectares [up 106%] while Boalemo´s was the lowest, only 1,726 hectares, target 2,837 hectares [up 60.8%] because Boalemo´s agricultural land is the largest in Gorontalo, while Gorontalo City is nil, according to the senior official of Indonesian agriculture ministry.