Skor PPH 90,1: Kementan Dorong Konsumsi Pangan Sehat dan Bergizi
Indonesian People`s Food Patterns are still Below World Standards: Ministry
Editor : M. Achsan Atjo
Translator : Dhelia Gani

PUBLISHED: Kamis, 22 Maret 2018 , 20:52:00 WIB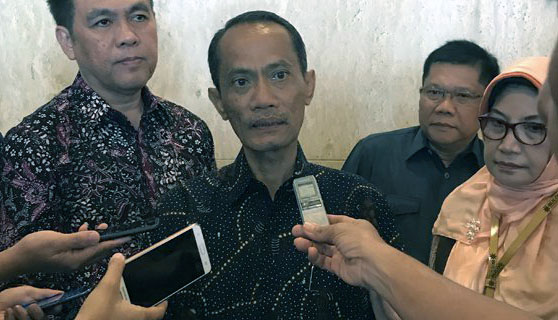 Kepala BKP Kementan, Agung Hendriadi menjawab pers (Foto: istimewa)
Jakarta (B2B) - Kementerian Pertanian RI menargetkan pengembangan diversifikasi pangan akan meningkatkan konsumsi pangan hewani, kacang-kacangan, dan sayur-sayuran, karena skor 90,1 pada pola pangan harapan (PPH) 2017 di Indonesia masih didominasi konsumsi padi-padian, minyak, lemak, dan gula.

Kepala Badan Ketahanan Pangan (BKP) Kementan, Agung Hendriadi mengatakan konsumsi kelompok pangan hewani, kacang-kacangan, sayuran dan buah masih kurang dari jumlah yang dianjurkan.

"PPH merupakan indikator capaian konsumsi pangan beragam, bergizi seimbang dan aman dikonsumsi," kata Agung Hendriadi saat membuka lokakarya ´Pengembangan Pangan Lokal 2018´ di Bogor, Selasa malam (20/3).

Menurutnya, pengembangan diversifikasi pangan dari hulu ke hilir berbasis industri rumah tangga di 13 provinsi yang menjadi pelaksana pengembangan pangan pokok lokal (P3L) diharapkan dapat mendukung mengatasi kendala di daerah rentan rawan pangan dan kemiskinan khususnya di pedesaan.

"Artinya, P3L juga memberikan dampak ekonomis dan peningkatan nilai tambah secara berkelanjutan," kata Agung yang didampingi Sekretaris BKP Kementan, Mulyawan Hendiadi dan Kepala Pusat Penganekaragaman Konsumsi dan Keamanan Pangan, Tri Agustin Satriani.

Dia mengharapkan peserta workshop P3L dari 13 provinsi dapat berpartisipasi aktif mengikuti diskusi sehingga dapat dihasilkan rumusan yang aplikatif untuk diterapkan di daerah masing-masing.

Kegiatan lokakarya P3L diikuti 13 perwakilan dinas ketahanan pangan provinsi sasaran P3L di antaranya Banten, Bali, Nusa Tenggara Barat (NTB), Nusa Tenggara Timur (NTT), Sulawesi Tenggara, Sulawesi Tengah, Maluku, Riau, Sumatera Selatan, Papua, Gorontalo, Kalimantan Utara, dan Sulawesi Barat.
Bogor of West Java (B2B) - The Indonesian Ministry of Agriculture targets the development of food diversification will increase consumption of animal foods, beans and vegetables, the score of 90.1 in the people´s food pattern or PPH 2017 in Indonesia is dominated by consumption of whole grains, oils, fats, and sugar.

Director General of Food Security Agency Agung Hendriadi said consumption of animal protein, nuts, vegetables and fruit is still less than the recommended amount.

"People´s food pattern is an indicator of food consumption is diverse, balanced and safe to eat," said Mr Hendriadi while opened workshop of ´Local Food Development 2018´ on Tuesday night (March 20).

According to him, the development of food diversification upstream to downstream of home industry in 13 provinces that are implementing the development of local staple food or P3L, is expected to support overcome obstacles in vulnerable areas of food insecurity and poverty, especially in rural areas.

"It means that P3L also provides economic impact and continuous value added," said Mr Hendriadi who was accompanied by by Secretary of BKP Mulyawan Hendiadi and Head of the Center for Food Consumption and Safety Diversification, Tri Agustin Satriani.

He expects P3L workshop participants from 13 provinces to actively participate in the discussion so that it can produce an applicable formula to be applied in their respective regions.

Workshop activities were attended by 13 representatives of food security offices of P3L target provinces including Banten, Bali, West Nusa Tenggara), East Nusa Tenggara, Southeast Sulawesi, Central Sulawesi, Maluku, Riau, South Sumatera, Papua, Gorontalo, North Kalimantan, and West Sulawesi.