Petani Berorientasi Wirausahawan, Kementan gelar ToT Proposal Bisnis
Millennial Farmers Development are the Target of Indonesia`s Grant Program
Editor : Cahyani Harzi
Translator : Dhelia Gani

PUBLISHED: Minggu, 19 Juni 2022 , 20:59:00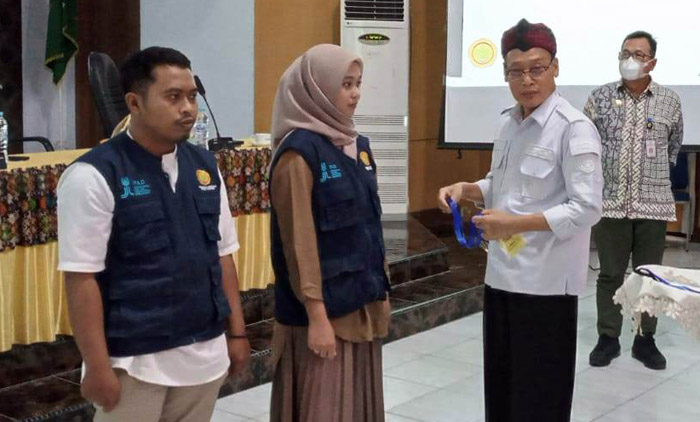 PROGRAM YESS: Kepala BPPSDMP Kementan, Dedi Nursyamsi [kanan] menyematkan tanda kepesertaan pada pembukaan ToT Proposal Bisnis yang digelar oleh Program YESS di Gowa, Sulsel selama tiga hari, 17 - 19 Juni 2022
Gowa, Sulsel [B2B] - Dalam upaya mengakomodir kreativitas pemuda tani untuk berkarya dan berwirausaha di sektor pertanian, Kementerian Pertanian RI bersama International Fund for Agricultural Development [IFAD] mencanangkan program bagi regenerasi petani melalui Youth Enterpreneurship and Employment Support Services Programme [YESS].
Fokus pada pengembangan kualitas SDM pertanian, Program YESS bertujuan mencetak petani milenial dan meningkatkan kapasitas maupun kompetensinya serta mengembangkan kemampuan wirausaha bagi generasi milenial.
Menteri Pertanian RI Syahrul Yasin Limpo berulang kali mengingatkan, apabila pertanian ingin terus maju maka harus disiapkan kemampuan, keterampilan, pengalaman, kerjasama untuk menyongsong kebangkitan pertanian.
"Upaya tersebut bertujuan mewujudkan Indonesia menjadi lumbung pangan dunia pada 2045, melalui ekspor komoditas pertanian," katanya.
Dedi Nursyamsi selaku Kepala Badan Penyuluhan dan Pengembangan SDM Pertanian [BPPSDMP] mengingatkan hal serupa bahwa hanya SDM yang andal, profesional, mandiri, berdaya saing dan berjiwa wirausahawan yang akan menghasilkan produk pertanian yang berkualitas.
Maka diharapkan para staf BDSP seperti penyuluh dapat membantu untuk membangun pertanian lebih maju demi kemajuan petani milenial dipelosok tanah air.
Berbagai upaya pun dilakukan, mulai dari pelatihan, permagangan, akses permodalan, hingga peningkatan jejaring pemasaran. Dari sejumlah upaya tersebut, satu di antaranya melalui pelatihan yang baru-baru ini digelar berupa Training of Trainer Proposal Bisnis [ToT] bagi Staf Business Development Service Provider [BDSP], mobilizer, fasililtator muda dan financial advisor pada empat kabupaten di Provinsi Sulawesi Selatan.
Kegiatan pelatihan bertujuan meningkatkan kemampuan untuk menjadi trainer [pelatih] serta pendamping ke petani, dengan mengimplementasikan bagaimana cara membuat proposal yang baik agar bisa mengakses Kredit Usaha Rakyat [KUR].
Kegiatan ToT berlangsung di BBPP Batangkaluku selama tiga hari, 17 - 19 Juni, diikuti sebanyak 64 peserta dari Kabupaten Maros, Bone, Bantaeng dan Bulukumba.
Pada kesempatan berbeda, Project Manager Program YESS, Inneke Kusumawati mengatakan bahwa sebagaimana diketahui program YESS tidak memberikan bantuan modal semata, namun lebih menekankan pada peningkatan kualitas pemuda di pedesaan sebagai penerima manfaat program YESS.
"Mereka akan kita latih. Kita tingkatkan kemampuan dalam berbudidaya hingga mengelola usahanya dalam skala bisnis yang profesional" katanya. [Yess]
Gowa of South Sulawesi [B2B] - The role of agricultural vocational education in Indonesia such as the the Agricultural Development Polytechnic or the SMKPPN, to support Indonesian Agriculture Ministry seeks to maximize its efforts to produce millennial entrepreneur.
Youth Enterpreneurship And Employment Support Services Program or the YESS, to support Indonesian Agriculture Ministry seeks to maximize its efforts for the millennial entrepreneur.
Indonesian Agriculture Minister Syahrul Indonesia Yasin Limpo stated that the government´s commitment to developing agriculture, especially in the development of advanced, independent and modern agricultural human resources.
"The goal is to increase the income of farming families and ensure national food security. Farmer regeneration is a commitment that we must immediately realize," Minister Limpo said.
He reminded about the important role of vocational education, to produce millennial farmers who have an entrepreneurial spirit.
"Through vocational education, we connect campuses with industry so that Polbangtan graduates meet their needs and are ready for new things," Limpo said.