Susut Pascapanen Hortikultura, BI dan ADB Akui Kendala Rantai Pasok Pangan
ADB and Bank Indonesia Recognized Horticultural Supply Chain Detrimental to Farmers
Editor : M. Achsan Atjo
Translator : Dhelia Gani

PUBLISHED: Kamis, 13 September 2018 , 21:05:00 WIB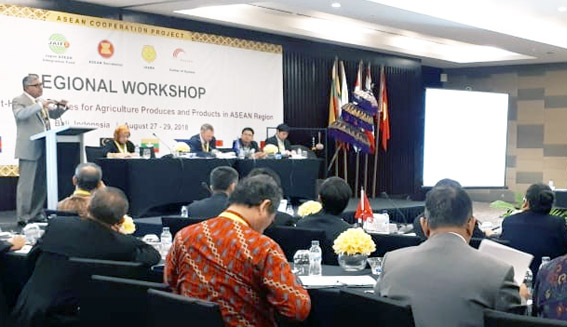 Regional Workshop ASEAN Cooperation Project di Bali, 28 Agustus 2018 (Foto: Center of System)
PERSOALAN pasca panen dalam bisnis hortikultura di ASEAN mempengaruhi fluktuasi harga yang tinggi. Informasi asimatris juga terjadi di masyarakat, sehingga dapat meningkatkan laju inflasi, harga di tingkat petani yang rendah dan harga di konsumen yang tinggi. Hal ini terjadi karena praktik permainan harga oleh para tengkulak.
Direktur Departemen Pengembangan UMKM Bank Indonesia, Yunita Resmi Sari mengatakan terobosan pengendalian harga komoditas ´volatile food´ melalui peningkatan kesejahteraan petani.
"Langkah yang telah dilakukan Bank Indonesia dengan hilirisasi klaster komoditas. Bank Indonesia bersama Center of System membangun industri pengolahan komoditas hortikultura guna mengurangi susut pasca panen serta meningkatkan nilai tambah," kata Yunita.
Industri dikelola oleh lembaga ekonomi petani (BUMP) agar terdapat jaminan pembelian produk petani melalui kontrak tani yang menjamin harga di tingkat petani dan pasokan komodita baik bagi industry maupun konsumen.
Model hilirisasi komoditas volatile food ini juga mendapat sambutan dari Dr Akmal Siddiq, Chief Rural Development and Food Security Thematic Group-ADB. Pada kesempatan Regional Workshop ASEAN Cooperation Project di Bali, 28 Agustus 2018 diungkapkan pentingnya mengembangkan sistem rantai pasok untuk mengurangi susut pasca panen.
Penerapan teknologi penyimpanan dingin dan rantai dingin sangat mutlak diperlukan guna penanganan produk hortikultura yang mudah rusak (perishable products). Menurutnya post-harvest losses tidak hanya kehilangan berat (kuantitas produk), tetapi juga kehilangan nilai atau uang dalam bisnisnya.
Pak Soekam sebagai pengelola Paskomnas (Pasar Komoditi Pangan Nasional) di Tangerang sependapat yang disampaikan Dr Akmal Siddiq. Menurutnya perlu penguatan kemitraan pemerintah dan swasta melalui bisnis inklusif dan fair trade. Dibutuhkan distribution center yang terintegrasi dalam suatu system rantai pasok dan rantai dingin.
Fasilitas ini merupakan solusi untuk pengendalian harga serta pengurangan susut pasca panen.
ADB siap mendukung keberlanjutan ASEAN Cooperation Project dengan inovatif program yang sesuai dengan kebijakan masing-masing negara anggota ASEAN. Implementasinya fokus pada meningkatkan ketersediaan pangan dan peningkatan produksi; memperkuat infrastruktur rantai nilai prioritas; mendukung pendirian pembiayaan sektor pertanian; memperkuat rantai pasokan pada distribusi, logistik dan perdagangan; menghasilkan peluang kerja dan pendapatan bagi petani.
POST-HARVEST problems in the horticulture business in ASEAN affect the high price fluctuations. Asymmetric information also triggers inflation, Food commodity prices are low at the farm level but soar at the consumer level.
Director of the Bank Indonesia SME Development Department, Yunita Resmi Sari said the breakthrough in controlling commodity prices of ´volatile food´ through improving the welfare of farmers.
"The steps taken by Bank Indonesia by downstreaming commodity clusters. Bank Indonesia together with the Center of System built a horticultural commodity processing industry to reduce post-harvest losses and increase added value," Sari said.
Industry is managed by farmer economic institutions or the BUMP to guarantee the purchase of farmers´ products through farm contracts which guarantees prices at the farm level and supply of commodities for industry and consumers.
The downstream model of volatile food commodities is also supported by Dr. Akmal Siddiq, ADB´s Chief Rural Development and Food Security Thematic Group. At the Regional Workshop on ASEAN Cooperation Project in Bali, 28 August 2018 it was revealed the importance of developing supply chain systems to reduce post-harvest losses.
The application of cold storage and cold chain technology is needed for handling horticultural products as perishable products. According to him, post-harvest losses not only lose weight (quantity of products), but also lose value or money.
Pak Soekam is the manager of the National Food Commodity Market or Paskomnas in Tangerang claimed to agree as said by Dr. Akmal Siddiq. According to him, it is necessary to strengthen public and private partnerships through inclusive and fair trade businesses. An integrated distribution center is needed in a supply chain and cold chain system.
The facility is a solution for controlling prices and reducing post-harvest losses.
ADB is ready to support the ASEAN Cooperation Project on innovative programs according to the policies of each ASEAN member states. The implementation focuses on enhancing food availability and production improvement; strengthening priority value chain infrastructure; support agriculture sector financing establishment; strengthening supply chain on distribution, logistics and trading; generate farmers job opportunities and income.