APHENet, 10 Negara ASEAN Luncurkan Aliansi Jejaring Pakar Pascapanen di Bali
10 Government of ASEAN Role on Post-harvest Losses Reduction in Indonesia`s Bali
Editor : M. Achsan Atjo

PUBLISHED: Kamis, 30 Agustus 2018 , 23:54:00 WIB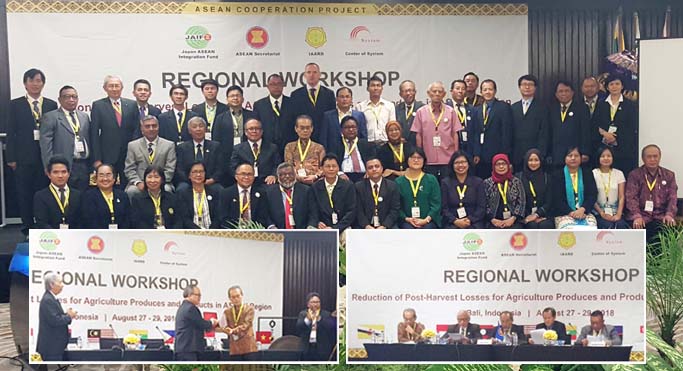 ASEAN PHL-PROJECT: Peserta regional workshop di Bali (atas), Karoren Kementan, Kasdi Subagyono menerima cenderamata dari Prof Dr Yasuyuki Sagara disaksikan Prof Dr Eriyatno dan Prof Dr Rishaferi (bawah kiri)
Denpasar, Bali (B2B) - Upaya mengatasi pemenuhan kebutuhan pangan, khususnya menekan kerugian kehilangan produksi pertanian pascapanen disingkat PHL ditempuh oleh 10 negara anggota Perhimpunan Negara Asia Tenggara (ASEAN) melalui rencana aksi dan rekomendasi kebijakan di masa mendatang, yang dilakukan pada Lokakarya Regional ASEAN pada Senin (27/8) dan berakhir pada Rabu (29/8).
Regional Expert the ASEAN PHL-Project, Prof Dr Eriyatno mengatakan lokakarya dilanjutkan peluncuran Aliansi Jejaring Pakar Pascapanen disingkat APHENet, untuk mempertahankan perbaikan keberlanjutan dan mempertimbangkan pengembangan jaringan kolaborasi masa depan sebagai wadah bagi ilmuwan dan praktisi pascapanen.
"Peluncuran APHENet bertujuan mempertahankan perbaikan berkelanjutan dari misi proyek, yang terbaik untuk mempertimbangkan membangun jaringan kolaborasi masa depan untuk ilmuwan pasca-panen serta praktisi. Ide ini mengacu pada output bahwa mekanisme jaringan informasi pada pengurangan PHL akan diperkuat, melalui konsolidasi, berbagi, dan pertukaran informasi," kata Prof Dr Eriyatno.
Ini keahlian bersama dan upaya berbasis pengetahuan di APHENet didukung oleh platform teknologi digital modern akan membuat kesejahteraan yang lebih baik bagi petani, profitabilitas untuk agribisnis, efisiensi dalam rantai pasokan dan keberlanjutan untuk lingkungan di kawasan ASEAN, kata Prof Eriyatno sebagai pakar regional.
Lokakarya regional ASEAN dihadiri oleh 10 negara anggota ASEAN. Kegiatan regional ini dihadiri oleh Dr Akmal Siddiq dari Bank Pembangunan Asia (ADB), Anthony Bennet dari Organisasi Pangan Internasional (FAO), Yunita Resmi Sari dari Bank Indonesia dan pakar pascapanen seperti Prof Yasuyuki Sagara dari Jepang dan pakar regional Prof Eriyatno. Lokakarya dibuka oleh Kepala Biro Perencanaan Kementerian Pertanian RI, Kasdi Subagyono.
"Pertanian Indonesia didominasi oleh agribisnis skala kecil, area budidaya tersebar, dengan permintaan besar di daerah perkotaan. Kondisi ini membutuhkan sistem logistik terintegrasi dari pusat produksi ke pusat distribusi," kata Kasdi Subagyono.
Menurutnya, pemetaan fasilitas pergudangan online yang disesuaikan dengan kapasitas permintaan dan karakteristik produk juga perlu dilakukan. Gudang skala besar semacam itu dapat ditempatkan di pusat-pusat ekonomi.
Prof Dr Risfaheri sebagai Koordinator Pemimpin Proyek Kerjasama ASEAN menguraikan tentang strategisnya dan manfaat dari proyek pengurangan susut pascapanen yang disponsori oleh JAIF.
"Pentingnya jejaring antara para ahli tentang pengurangan kerugian pasca panen; Implementasi teknologi tepat guna pada peningkatan efisiensi rantai pasok; Praktik penanganan yang baik untuk petani dan usaha bisnis pascapanen; Pengembangan berbagi pengetahuan berbasis web pada isu-isu strategis PHL," kata Rishaferi.
Menurutnya, pada 2015-2017 Kementerian Pertanian RI telah mendistribusikan mesin pascapanen untuk mengurangi kerugian untuk tanaman pangan termasuk padi, jagung, kedelai dan produk hortikultura secara besar-besaran. Sebanyak 46.317 unit mesin seperti combine harvester, power thresher, dryer, RMU telah dikirim ke kelompok petani untuk pertanian padi, jagung, dan kedelai.
Kemudian pada 2018, 10.854 unit mesin pasca panen telah dikirimkan dengan fokus pada mendistribusikan pengering vertikal. Untuk produk hortikultura pada 2016-2018, 79 unit penyimpanan pasca panen dan 478 mesin pasca panen telah berada di lapangan.
"Dukungan langsung pada penanganan pasca panen ini diyakini dapat menjawab masalah efisiensi, menambah nilai dan pada akhirnya kesejahteraan petani," kata Rishaferi.
Kasdi Subagyono menambahkan bahwa Kementerian Pertanian RI telah melakukan beberapa kebijakan terkait dengan kerugian pasca panen, seperti menetapkan hukum dan peraturan untuk melaksanakan penanganan pascapanen dengan benar; mendistribusikan mesin pasca panen dan mengoptimalkan penggunaan dan aplikasi, meningkatkan kajian teknologi pascapanen melalui Pusat Penelitian dan Pengembangan Pascapanen Pertanian Indonesia (ICAPRD); memberikan panduan tentang standardisasi kualitas produk pertanian, pascapanen dan pengolahan; menerbitkan buku atau manual pasca panen pertanian; menyediakan Standar Nasional Indonesia untuk produk pertanian; Memfasilitasi pasca panen dan pengolahan hasil pertanian untuk petani.
Denpasar of Bali (B2B) - Success in overcoming gaps and needs, specifically reducing post-harvest losses can be identified through those activities and knowledge sharing during various meeting. For future action plans and policy recommendations, these objectives were shared among ASEAN Member States at the Regional Workshop on August 27-29, 2018 in Bali, Indonesia.
Regional Expert the ASEAN PHL-Project, Prof Dr Eriyatno said this event will also conduct launching of the Alliances of Postharvest Expert Networking or the APHENet. In order to maintain continuous improvement of the project mission, its best to consider setting up future collaboration network for Post-Harvest scientist as well as practitioners.
"This idea refers to the Project's output that information network mechanism on PHL reduction to be strengthened, through consolidate, sharing and exchange of information," Prof Dr Eriyatno said here on Wednesday (August 29).
This joint expertise and knowledge based efforts in APHENet supported by modern digital technologies platform will make better prosperity for farmers, profitability for agro-business, efficiency in supply chain and sustainability for environment within ASEAN region, said Prof Eriyatno as Regional Expert.
The ASEAN regional workshop was attended by 10 ASEAN member countries. On this event also attended by Dr. AkmalSiddiq from ADB, Anthony Bennet from FAO, YunitaResmi Sari from Bank Indonesia and postharvest experts such as Prof. YasuyukiSagara from Japan and Prof Eriyatno from ASEAN Regional. The workshop was opened by Head of the Planning Bureau of the Indonesian Agriculture Ministry, Dr Kasdi Subagyono.
"Indonesian agriculture is dominated with small scale agribusiness, cultivation area is scattered, with big demand in urban areas. This condition requires integrated logistic system from production center to distribution center," Mr Subagyono said.
According to him, the mapping of online warehousing facilities tailored to the demand capacity and product characteristics also needs to be done. Such large-scale warehousing can be placed in economic centers.
Prof Dr Risfaheri as the ASEAN Cooperation Project Lead Coordinator delivered the key and learning from the postharvest shrinkage reduction project sponsored by JAIF.
"The importance of networking between experts on post-harvest losses reduction; Implementation of appropriate technology on supply chain efficiency improvement; Good Handling Practices for farmers and post-harvest business enterprises; Development of web based knowledge sharing on PHL strategic issues," Prof Dr Rishaferi.
According to him, in the year of 2015-2017 Ministry of Agriculture has distributed post-harvest machineries in order to reduce losses for food crops including paddy, maize, soybeans and horticultures products massively. A total of 46.317 unit machines such as combine harvester, power thresher, dryer, RMU have been delivered to the farmer groups for paddy, maize, and soybeans farming.
And then in 2018, 10.854 unit of post-harvest machineries have been delivered with focus on distributing vertical dryer. For horticultural products in 2016-2018, 79 unit of post-harvest storages and 478 post-harvest machineries have been in the field.
"These direct supports on post-harvest handlings have been believed could answer the problems of efficiency, adding values and at the end farmers' welfare," he said.
Mr Subagyono said Indonesian Agriculture Ministry has undertaken some policies deal with post-harvest losses, such as establishing law and regulation to implement post-harvest handling properly; Distributing post-harvest machineries and optimizing the uses and applications; Improving post-harvest technology studies through the Indonesian Center for Agriculture Postharvest Research and Development (ICAPRD); Providing guidance on standardization of agricultural product quality, post-harvest and processing; Published agricultural post-harvest books or manuals; Providing Indonesian National Standard for agriculture products; Facilitating post-harvest and processing of agriculture products for farmers.