Pendataan Petani di Tengah Wabah Corona #pertaniantidakpernahberhenti
Indonesian Agriculture Ministry Anticipate Covid-19 by Weaker Health Systems
Editor : M. Achsan Atjo
Translator : Dhelia Gani

PUBLISHED: Kamis, 02 April 2020 , 02:11:00 WIB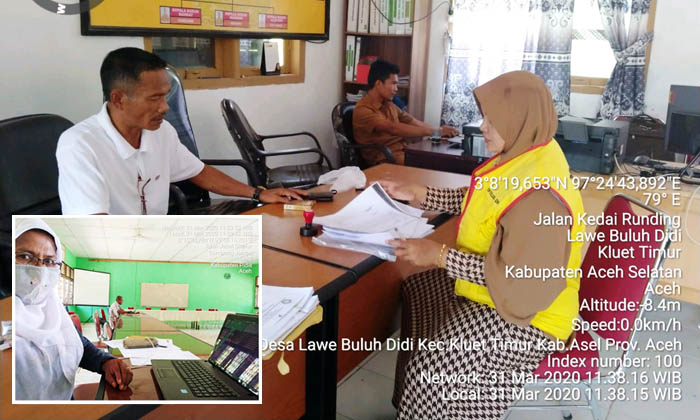 BURUH TANI: KostraTani Kluet Timur, Kabupaten Aceh Selatan giat dan semangat mendata petani penggarap dan buruh tani seraya mengindahkan Protokol Kewaspadaan WHO [Foto2: Humas Pusluhtan]
Banda Aceh, Aceh [B2B] - Data itu mahal tapi membangun tanpa data lebih mahal. Data menjadi vital setelah kebijakan pembangunan pertanian Indonesia memilih penyuluh pertanian sebagai ´garda terdepan´ pengumpulan data. Wabah Corona, tak menghentikan derap langkah mereka bekerja menyelesaikan pendataan terhadap petani penggarap dan buruh tani, seperti penyuluh di Provinsi Aceh memilih tetap bekerja meski diintai Covid-19.
Penyuluh di Aceh bekerja membuktikan tagar #pertaniantidakpernahberhenti bukan sekadar ´tanda pagar´ yang menyesaki server Twitter. Sebutlah sejumlah penyuluh di KostraTani Kluet Timur, Kabupaten Aceh Selatan. Di antaranya adalah Talyani, Ninik Erlina dan Ayubsyah dari balai penyuluhan pertanian [BPP] setempat tetap giat dan semangat melaksanakan pendataan terhadap petani penggarap dan buruh tani.
Boleh dibilang, selama Kementerian Pertanian RI berdiri, seluruh kebijakan dan program pemerintah ditujukan pada petani pemilik lahan, sejauh ini tidak ada program khusus untuk buruh tani. Barulah di era Syahrul Yasin Limpo [SYL] sebagai Menteri Pertanian RI ke-28, mereka dilirik sebagai bagian dari SDM pertanian yang mendukung pembangunan pertanian nasional.
Kendati begitu, mereka tetap mengindahkan Protokol Cegah Tangkal yang direkomendasikan Badan Kesehatan Dunia [WHO] seperti dianjurkan Mentan SYL untuk jaga jarak [social distancing], hindari kerumunan [physical distancing], mengenakan masker, cuci tangan dengan sabun dan gunakan hand sanitizer apabila tidak ada air.
Hal senada kerapkali diingatkan Kepala BPPSDMP Kementan, Prof Dedi Nursyamsi yang disosialisasikan oleh Kepala Pusat Penyuluhan Pertanian [Pusluhtan] Leli Nuryati bahwa "pertanian tidak berhenti bekerja dan bertani mencegah Covid-19, tapi tetap patuhi protokol WHO tentang kesehatan."
Sebagaimana diketahui, dalam situasi stagnan setelah Presiden RI Joko Widodo menetapkan Pembatasan Sosial Berskala Besar [PSBB] maka petani penggarap dan buruh tani diperkirakan merasakan langsung dampak penurunan Nilai Tukar Petani [NTP] karena penurunan daya beli, sementara diketahui bahwa NTP adalah tolok ukur tingkat kesejahteraan petani.
Salah satu penyebab turunnya NTP adalah berkurangya indeks harga hasil produksi pertanian. Hasil jual pertanian yang didapat berkurang, sehingga penerimaan terpangkas karena harga dan volume penjualan turun.
"Data tersebut akan melengkapi data SDM pertanian yang akan menjadi prioritas bantuan Kementan melalui crash program bersama Kementerian Sosial dalam upaya antisipasi pandemi global Covid-19," kata Kabid Penyelenggaraan Penyuluhan - Pusluhtan BPPSDMP, I Wayan Ediana. [Liene]
Banda Aceh of Aceh [B2B] - Indonesia´s Agriculture Ministry is in intensive care after testing positive for the novel coronavirus, as civil servants in head office and across the country were ordered to close over the health threat. The World Health Organization has said it is particularly concerned about high-risk nations with weaker health systems, which who may lack the facilities to identify cases, according to official of the region.