Evaluasi Dana Dekon, Pusluhtan BPPSDMP Percepat Capai Target 2019
Indonesian Govt Supports the Regional Agricultural Extension Budget
Editor : M. Achsan Atjo
Translator : Dhelia Gani

PUBLISHED: Selasa, 25 Juni 2019 , 21:15:00 WIB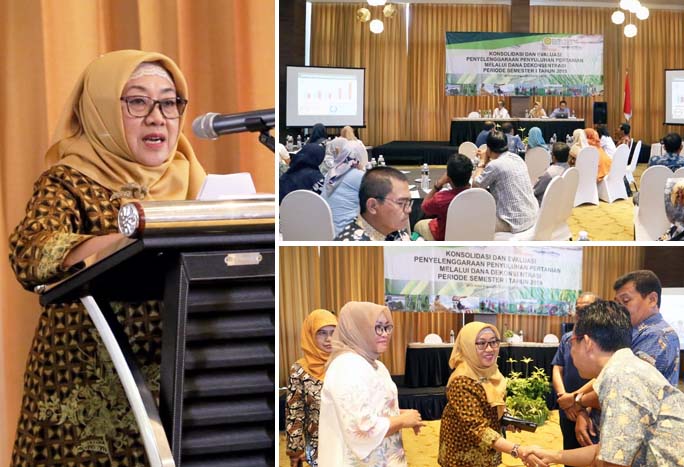 KONSOLIDASI & EVALUASI: Kepala Pusluhtan BPPSDMP Siti Munifah [kiri] saat membuka rapat di Bogor yang dihadiri hampir 150 peserta dari seluruh Indonesia [Foto2: Humas Pusluhtan/Bima]
Bogor, Jabar [B2B] - Pusat Penyuluhan Pertanian di Kementerian Pertanian RI [Pusluhtan BPPSDMP Kementan] bekerja keras dan sangat serius mengawal Dana Dekonsentrasi [Dekon], karena output-nya akan menjadi pertimbangan rencana anggaran 2020 oleh Badan Perencanaan Pembangunan Nasional [Bappenas] yang bersifat direktif melalui dana alokasi khusus [DAK].
Kepala Pusluhtan BPPSDMP Siti Munifah mengatakan hingga akhir Semester I 2019, 25 Juni 2019, serapan anggaran Dekon baru mencapai 34%, artinya dengan aktifitas minimal seharusnya sudah mencapai 60%.
"Tampaknya anggaran Dekon belum mencapai target, karena 2019 adalah tahun politik dengan adanya pemilihan umum presiden dan legislatif," kata Siti Munifah dalam sambutannya di Bogor, Selasa siang [25/6] saat membuka ´Rapat Konsolidasi dan Evaluasi Penyelenggaraan Penyuluhan Pertanian melalui Dana Dekon Semester I 2019´.
Dia menambahkan capaian calon petani dan calon lahan [CPCL] untuk 2019 yang sudah masuk baru mencapai 73%, apabila hingga akhir Juli 2019 target CPCL tidak tercapai maka anggaran untuk sekolah lapang [SL] akan ditarik oleh pemerintah pusat untuk dialihkan ke provinsi yang lebih siap.
"Capaian CPCL itu menjadi indikator keseriusan daerah menerima dan melaksanakan program, karena SL membutuhkan waktu CPCL 90 hari," kata Munifah di hadapan sekitar 150 peserta terdiri atas pengelola dana Dekon, kepala bidang dan kepala subbidang program dan evaluasi dan admin dari 34 provinsi.
Tampak hadir Kabag Evaluasi dan Pelaporan BPPSDMP Kementan, Titin Gartini mewakili Sekretaris BPPSDMP Prihasto Setyanto. Sementara dari Pusluhtan BPPSDMP antara lain Kabid Program dan Kerjasama, Riza Fakhrizal; Kabid Ketenagaan dan Kelembagaan, Joko Samiyono; dan Kabid Penyelenggaraan Penyuluhan, I Wayan Ediana yang diwakili Kasubbid Informasi dan Materi Penyuluhan, Septalina Pradini dan Kasubbid Pemberdayaan Kelembagaan Petani, Yoyon Haryanto serta Kasubbid Evaluasi, Hafsah Husas sebagai penyelenggara. [Liene]
Bogor of West Java [B2B] - Indonesian´s Agricultural Extension Center of Agriculture Ministry [Pusluhtan BPPSDMP] working hard to realize agricultural extension funds across the country [Dekon] because the output will be a consideration for 2020 budget plan by Indonesia National Development Planning Agency [Bappenas] through special allocation funds [DAK].
Director of Pusluhtan BPPSDM, Siti Munifah said until the end of the first semester of 2019, June 25, 2019, Dekon´s budget utilization has only reached 34%, meaning that with minimum activity it should have reached 60%.
"It seems that Dekon´s budget has not yet reached its target, because 2019 is a political year, presidential and legislative elections," said Siti Munifah in her speech here, Tuesday afternoon [June 25].
He said the target of developing agricultural land by farmers [CPCL] for 2019, it has reached 73%, if until the end of July 2019 the CPCL target is not reached, the budget will be withdrawn by the central government for other provinces.
"The CPCL target is a seriousness indicator of the regions implementing agricultural development programs," Munifah said.