Promosikan Pangan Nusantara, GPN 2018 Bukan sekadar Seremonial: Kementan
The 2018 Indonesian Food Exhibition Important for Local Food Diversity
Reporter : Gusmiati Waris
Editor : Cahyani Harzi
Translator : Dhelia Gani

PUBLISHED: Minggu, 29 Juli 2018 , 21:20:00 WIB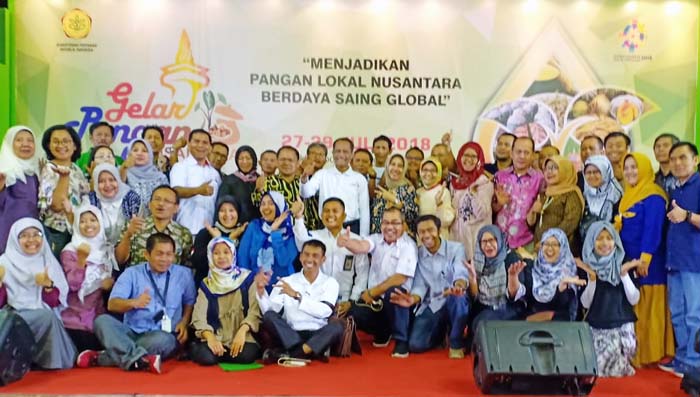 Kepala BKP Kementan, Agung Hendriadi bersama panitia dan peserta Gelar Pangan Nusantara 2018 (Foto: B2B/Mya)
Jakarta (B2B) - Rangkaian kegiatan Gelar Pangan Nusantara 2018 (GPN) bukan sekadar seremonial, namun kegiatan tahunan sejak 2016 bertujuan mempromosikan pemanfaatan dan pengembangan keanekaragaman pangan nusantara, serta menggali peluang dan membangun kerja sama dengan seluruh stakeholders untuk mendukung pangan nusantara bersaing di pasar global.
"Dengan berakhirnya GPN 2018 bukan berarti upaya Kementerian Pertanian terhenti hanya sampai di sini, melainkan menjadi momentum untuk mendorong dan meningkatkan penganekaragaman pangan berbasis sumber daya lokal," kata Kepala Badan Ketahanan Pangan (BKP) Kementan, Agung Hendriadi kepada pers, Minggu (29/7) usai menutup GPN yang berlangsung di Balai Kartini sejak Jumat lalu (27/7).
GPN 2018 menarik perhatian ribuan pengunjung untuk mengetahui dan mengenal potensi pangan lokal di seluruh Indonesia yang dikemas dalam bentuk pameran, keragaan, diskusi, talkshow, dan aneka lomba.
"Banyaknya pengunjung diharapkan mampu mensosialisasikan potensi bahan pangan lokal, sekaligus mengubah paradigma masyarakat dalam mengonsumsi pangan khususnya pangan beragam, bergizi seimbang dan aman dikonsumsi," kata Agung Hendriadi.
Fakta menarik yang terkuak dari GPN 2018 tentang faedah dan peluang bisnis dari daun kelor sebagai pangan olahan dan kesehatan sebagai alternatif pengobatan.
Serangkaian acara GPN antara lain adalah Gerakan Cinta Makanan Indonesia, temu bisnis, pameran pangan nusantara, talkshow, bazar pangan murah dan Toko Tani Indonesia Centre (TTIC), pojok icip-icip, wisata edukasi, dan aneka lomba.
Jakarta (B2B) - The series of activities of the 2018 Indonesian Food Exhibition or the GPN is not just ceremonial, but annual activities since 2016 aim to promote the benefits and development of Indonesia´s food diversity, and develop opportunities and cooperation with stakeholders, according to senior ministry official.
"The GPN 2018 is closed, does not mean efforts of the agriculture ministry to stop here, but as a momentum to increase food diversification based on local food sources," the Director General of Food Security Agency or the BKP, Agung Hendriadi told the press here on Sunday (July 29).
Thousands of visitors came to GPN 2018 at Balai Kartini Jakarta to find out and know the potential of local food across the country, in various activities such as exhibitions, performances, discussions, talk shows, and various competitions.
"The number of visitors is expected to socialize the potential of local food, and change the paradigm of society in food consumption is diverse, balanced and safe to eat," Mr Hendriadi said.
Interesting fact of GPN 2018 about the benefits and business opportunities of Moringa leaves as processed food and health.