Workshop APO, Kementan Bidik Peluang Milenial Garap Pertanian Daerah
Indonesian Govt Commitment Support Program of Asian Productivity Organization
Editor : M. Achsan Atjo
Translator : Dhelia Gani

PUBLISHED: Rabu, 07 April 2021 , 21:21:00 WIB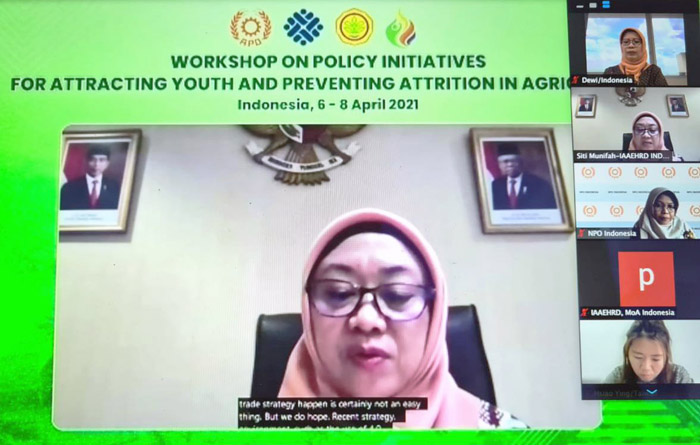 LOKAKARYA INTERNASIONAL: Sekretaris BPPSDMP Siti Munifah mewakili Indonesia menyampaikan komitmen dan upaya Pemerintah RI mendukung pengembangan petani milenial di sektor pertanian pada Workshop APO [Foto: BPPSDMP]
Jakarta [B2B] - Pemerintah RI khususnya Kementerian Pertanian RI [Kementan] dengan menggandeng Asian Productivity Organization [APO] berkomitmen menyiapkan investasi generasi muda untuk mengembangkan pertanian di daerah, seperti halnya Indonesia, tengah menyiapkan 2,5 juta SDM wirausahawan pertanian hingga 2024.
Komitmen dan dukungan Indonesia pada Organisasi Produktivitas Asia [APO] yang berkantor pusat di Tokyo tersebut, dikemukakan Sekretaris BPPSDMP Kementan, Siti Munifah pada Workshop APO bertajuk ´Inisiatif Kebijakan untuk Menarik Generasi Muda dan Mencegah Atrisi di Pertanian´ di Jakarta, Rabu [7/4] yang diikuti secara virtual oleh 33 peserta dari Kamboja, Bangladesh, India, Indonesia, Iran, Pakistan, Filipina, Taiwan, Srilangka dan Turki.
Mewakili Kepala BPPSDMP Dedi Nursyamsi, Siti Munifah menegaskan komitmen Indonesia untuk terus berproduksi guna memenuhi kebutuhan pangan 270 juta jiwa, sekaligus meningkatkan kesejahteraan petani dan meningkatkan ekspor komoditas pertanian.
"Kementan juga berkomitmen mempersiapkan SDM pertanian yang berjiwa wirausaha melalui penciptaan 2,5 juta wirausaha pertanian milenial hingga 2024," kata Siti Munifah pada workshop yang berlangsung secara daring [online] sejak Selasa [6/4] hingga Kamis [8/4].
Secara terpisah, Dedi Nursyamsi selaku Kepala Badan Penyuluhan dan Pengembangan SDM Pertanian [BPPSDMP] mendukung kegiatan workshop APO untuk mempelajari serta meninjau inisiatif dan skema kebijakan, selain menarik generasi muda ke pedesaan dan bekerja di sektor pertanian.
"Melalui workshop, kita identifikasi dan promosikan praktik-praktik terbaik yang mendukung ketertarikan generasi muda ke pertanian, dan mendiskusikan peluang dan tantangan dalam mempromosikan keterlibatan pemuda di sektor pertanian," kata Dedi Nursyamsi.
Menurutnya, hal itu, sejalan instruksi dan arahan Menteri Pertanian RI Syahrul Yasin Limpo yang mengharapkan adanya tranformasi ilmu dari Workshop APO, bisa menjadi ajang sharing dan berbagi ilmu bagi kemajuan pertanian di Indonesia maupun Asia. "Termasuk tentunya peningkatan kualitas SDM pertanian."
Sebelumnya, pada sesi pembukaan Workshop APO, Ratna Sari Dewi, Perwakilan National Productivity Organization [NPO] Indonesia yang berkedudukan di Kementerian Ketenagakerjaan, menyampaikan apresiasi pada BPPSDMP Kementan dan Sekretariat APO yang telah menggelar workshop tersebut.
Menurutnya, merujuk pada Buku Data Produktivitas APO [2020] diketahui bahwa sektor pertanian masih mendominasi di sebagian besar negara Asia - Pasifik, menyumbang 31% dari total lapangan kerja pada 2018, diikuti oleh manufaktur 16% dan jasa 16%.
"Mayoritas penduduk berbasis pertanian ini bertempat tinggal di daerah perdesaan, menunjukkan bahwa pertanian merupakan salah satu sumber utama lapangan kerja bagi kaum muda," kata Ratna SD.
Narasumber Workshop di antaranya Idha Widi Arsanti dari BPPSDMP mewakili Indonesia, Tomomi Ishida, [FAO Italia], Federica Emma [IFAD, Italia], Joselito C. Bernardo [International School of Sustainable Tourism, Filipina], AA Gede Agung Wedhatama [Bali Organik Subak, Indonesia], Dr Sheng-jang Sheu [National University of Kaohsiung, Taiwan] dan Kit Chan [K-Farm Sdn. Bhd., Malaysia].
Siti Munifah menambahkan berinvestasi pada generasi muda di pedesaan menjadi kunci, selain pembentukan ekosistem strategis yang mendukung seperti penggunaan teknologi 4.0, pemasaran digital, akses finansial dan penggunaan teknologi modern di paska panen.
"Melalui lokakarya ini, para peserta diharapkan dapat mengetahui bagaimana melibatkan kembali pemuda di bidang pertanian," katanya.
Utamanya, kata Siti Munifah, bagaimana program penyuluhan, pelatihan dan pendidikan dapat membekali pemuda pedesaan dengan keterampilan dan wawasan yang dibutuhkan untuk terlibat dalam pertanian dan mengadopsi pertanian ramah lingkungan, serta inisiatif dan pendekatan yang digunakan oleh negara lain dalam menarik pemuda di bidang pertanian.
Kepala Pusat Pendidikan Pertanian [Kapusdiktan] Idha Widhi Arsanti selaku keynote presenter mengurai tentang peluang dan tantangan pelibatan generasi muda ke sektor pertanian. Tantangannya, sektor pertanian menyediakan lapangan kerja bagi lebih 38 juta orang di Indonesia, namun hampir 80% berusia di atas 45 tahun.
"Sedangkan di Indonesia terdapat 65 juta pemuda, usia rata-rata 28 tahun, yang dalam hal ini jumlah pemuda tidak sejalan dengan partisipasi pemuda di sektor pertanian. Rendahnya minat pemuda menjadi tantangan, baik dalam pekerjaan maupun kewirausahaan on farm maupun off farm; dan setiap tahun jumlah petani menurun 500 ribu orang," katanya.
Kapusdik Idha WA menjelaskan adanya kebutuhan 81 juta petani, yang hanya separuhnya terpenuhi, 38 jutaan petani yang ada. Indonesia membutuhkan lebih 42 juta pemuda untuk mengembangkan pertanian di era industri 4.0, serta menggantikan petani tua, berdaya saing, lebih tanggap terhadap teknologi, lebih adaptif dan kreatif.
"Kaderisasi petani dengan dukungan pendidikan dan teknologi holistik merupakan salah satu solusi kunci, sementara ada tiga hal penting yang dibutuhkan dalam menyusun kebijakan strategis yaitu kolaborasi, inklusivitas, konstruktif," katanya lagi. [Cha]
Jakarta [B2B] - The Indonesian government, especially the Ministry of Agriculture, is collaborating with the Asian Productivity Organization (APO), is committed to preparing the investment of the younger generation to develop agriculture in the regions, such as Indonesia, preparing 2.5 million HR agricultural entrepreneurs until 2024.
Indonesia´s commitment and support for APO was conveyed by the Siti Munifah as the Executive Secretary Indonesian Agency for Agricultural Extension and Human Resource Development of Indonesian Agriculture Ministry [BPPSDMP] at the APO Workshop entitled ´Workshop on Policy Initiatives for Attracting Youth and Preventing for Attrition in Agriculture´ here on Wednesday [April 7] which was attended by virtually 33 participants from Cambodia, Bangladesh, India, Indonesia, Iran, Pakistan, the Philippines, Taiwan, Sri Lanka and Turkey and the head office of APO in Tokyo, Japan.
Siti Munifah emphasized Indonesia´s commitment to continue producing in order to meet the food needs of 270 million people, while increasing the welfare of farmers and increasing the export of agricultural commodities.
"Indonesia is also committed to developing 2.5 million millennial agricultural entrepreneurs by 2024," Munifah said at the online workshop.
Dedi Nursyamsi as the Director General of Indonesia´s BPPSDMP said support for APO workshop to study and review policy initiatives and schemes, in addition to attract the younger generation to the countryside and work in agriculture.
"Through workshops, we identify and promote best practices that support young people´s interest in agriculture, and discussion of opportunities and challenges promoting the involvement of young people in the agricultural sector," Mr Nursyamsi said.
According to him, this is in line with the instructions of Indonesian Agriculture Minister, Syahrul Yasin Limpo, who expect transformation of knowledge of the APO Workshop, as a sharing of information and knowledge for agriculture in Indonesia and Asia.
Previously, at the opening session of APO Workshop, Ratna Sari Dewi, Representative of Indonesian National Productivity Organization [NPO] based at the Indonesian Manpower Ministry, expressed his appreciation to Indonesian Agriculture Ministry and the APO Secretariat for held the workshop.
According to her, referred to the APO Productivity Data Book (2020), it is known that the agricultural sector still dominates in most Asia-Pacific countries, contributing 31% of total employment in 2018, followed by manufacturing 16% and services 16%.
"The majority of the population based on agriculture live in rural areas, indicating that agriculture is one of the main sources of employment for the younger generation," Ratna Sari Dewi said.
Workshop speakers among others Idha Widi Arsanti of BPPSDMP representing Indonesian government, Tomomi Ishida, [FAO Italy], Federica Emma [IFAD, Italy], Joselito C. Bernardo [International School of Sustainable Tourism, Philippines], AA Gede Agung Wedhatama [Organic Bali Subak, Indonesia], Dr. Sheng-jang Sheu [National University of Kaohsiung, Taiwan] and Kit Chan [K-Farm Sdn. Bhd., Malaysia].
Siti Munifah said the participation of young people in rural areas is the key to agricultural development, in addition to the formation of strategic ecosystems through technology 4.0, digital marketing, financial access and the use of modern technology in post-harvest agriculture.
"Through this workshop, the participants are expected to know how to re-engage the younger generation in the agricultural sector," she said.
The main thing, said Siti Munifah, is how extension, training and education programs can support the rural young generation with the skills and insights needed to engage the agricultural sector and the adoption of sustainable agriculture and other country initiatives and approaches to attracting young people back to farming.