Panen Raya, Kapus BKP Kementan Desak Bulog Serap Jagung Pacitan
Indonesian Govt Urged the Bulog to Quickly Buy Corn Farmers
Reporter : Gusmiati Waris
Editor : Cahyani Harzi
Translator : Dhelia Gani

PUBLISHED: Sabtu, 02 Maret 2019 , 02:12:00 WIB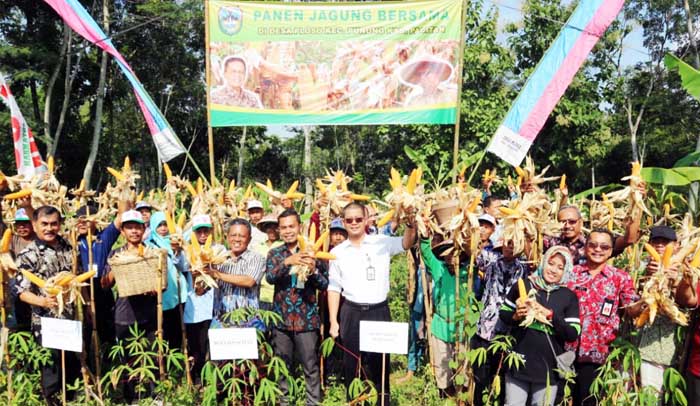 PANEN JAGUNG: Kepala Pusat Ketersediaan dan Kerawanan Pangan BKP Kementan, Andriko Noto Susanto (kemeja putih) panen jagung bersama Bupati Indartatodi (batik kehitaman) Foto: Humas BKP Kementan
Pacitan, Jatim (B2B) - Perum Badan Urusan Logistik (Bulog) didesak segera mengantisipasi anjloknya harga jagung Pacitan di tingkat petani sudah menyentuh Rp3.200 per kg padahal dua pekan sebelumnya masih sekitar Rp3.600 hingga Rp3.800 per kg, sehingga Bulog harus segera hadir di tengah petani setelah Kementerian Perdagangan RI menetapkan harga acuan pembelian pemerintah di tingkat petani Rp3.150 per kg, sedangkan di tingkat konsumen atau pabrik pakan Rp4.000 per kg.
"Bulog mesti bergerak cepat apabila harga jagung petani di bawah harga acuan pemerintah. Bulog sebagai wakil pemerintah harus hadir di tengah petani, khususnya saat panen raya yang berpotensi harga jatuh karena produksi jagung melimpah," kata Andriko Noto Susanto, Kepala Pusat Ketersediaan dan Kerawanan Pangan Badan Ketahanan Pangan Kementerian Pertanian (BKP Kementan) kepada pers usai panen jagung bersama Bupati Indartatodi di Kecamatan Pucung, Kabupaten Pacitan, Provinsi Jawa Timur pada Jumat (1/3).
Dinas Pertanian Pacitan menyebutkan luas panen jagung di Pacitan untuk Februari dan Maret mencapai 12.824 hektar. Hingga akhir Februari 2019 sudah panen sekitar tujuh ribu hektar, sisanya sekitar lima ribu hektar akan dipanen dalam dua pekan ke depan. Produktivitas rata-rata enam sampai tujuh ton per hektar atau total hasil panen jagung mencapai 70.000 ton.
Bupati Indartatodi mewakili petani menyampaikan tuntutan pada Bulog segera menyerap jagung petani agar harga tetap stabil di tengah panen raya.
"Cuma satu permintaan saya untuk mewakili para petani jagung, yaitu harga jagung tetap stabil saat panen raya," kata Bupati Indartatodi.
Setelah panen jagung di Desa Ploso, Kecamatan Pucung tersebut, sekitar 300 ton jagung petani dibeli Gapoktan yang bergerak di usaha perdagangan jagung dengan harga Rp3.200 per kg.
Andriko NS mengingatkan petani melalui kelompok taninya menjual langsung hasil panen jagung ke pabrik pakan untuk mendapat margin yang cukup menguntungkan. "Hal ini karena perbedaan harga di tingkat petani dan pabrik minimal Rp700 per kg."
Pacitan of East Java (B2B) - The Indonesian Logistics Agency or the Bulog is urged to quickly anticipate the price of Pacitan corn at the farm level of IDR3,200 per kg whereas two weeks ago it was still around IDR3,600 to IDR3,800 per kg, so that Bulog acted quickly after the Trade Ministry set a reference price for government purchases of IDR3,150 per kg at the farm level, while at the consumer level or feed factories IDR4,000 per kg.
"The Bulog must move quickly if the price of farmers´ corn is below the government´s reference price. The Bulog as a government institution must be present in the middle of farmers, especially corn prices at harvest because of the abundant corn production," Andriko Noto Susanto, Director of the Center for Food Availability and Insecurity - Food Security Agency at the Indonesian Agriculture Ministry told the press here, after the corn harvest with Regent Indartatodi in Pucung subdistrict of Pacitan district, East Java province, Friday (March 1).
The Pacitan agriculture office said that the harvested area of corn in all districts in February and March reached 12,824 hectares. Until the end of February 2019, around seven thousand hectares have been harvested, around five thousand hectares will be harvested in the next two weeks. Productivity averages six to seven tons per hectare or a total of 70,000 tons of harvested corn.
"Just one of my requests to represent corn farmers to Bulog, the price of corn remained stable at harvest," said Regent Indartatodi.
After harvesting in Ploso village of Pucung subdistrict, around 300 tons of farmers´ corns were bought IDR3,200 per kg by farmer groups managing the corn business.
Susanto reminded farmers through farmer groups to sell directly corn crops to feed mills to get high margins. "The minimum price difference between farmers and factories should be IDR 700 per kg."