Pemasaran Produk Pertanian, Penyuluh Harus Faham Aplikasi TIK
Indonesian Agricultural Extension Workers should Understand IT
Editor : M. Achsan Atjo
Translator : Dhelia Gani

PUBLISHED: Kamis, 04 Juli 2019 , 21:02:00 WIB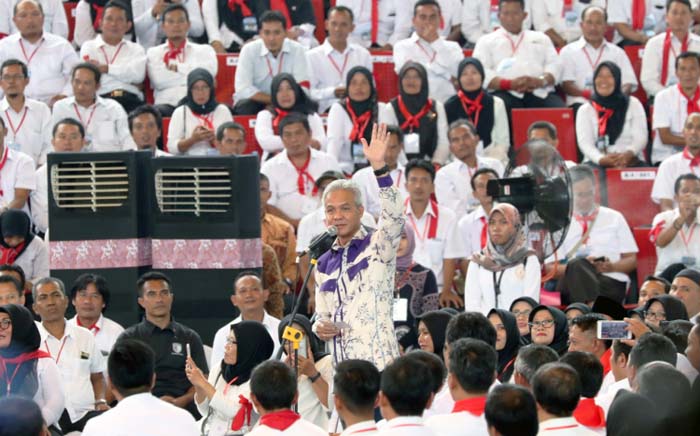 PERTEMUAN PENYULUH JATENG: Gubernur Jateng Ganjar Pranowo berbicara di depan ribuan penyuluh di Semarang, Jateng di sela pertemuan dengan Presiden RI Joko Widodo [Foto: istimewa]
Semarang, Jateng [B2B] - Penyuluh pertanian di era industrialisasi 4.0 jangan hanya fokus meningkatkan hasil produksi pertanian, juga harus faham memasarkan komoditas pangan dari hulu ke hilir, dengan memanfaatkan aplikasi Android seperti Kartu Tani, SiHati [Sistem Informasi Harga dan Produksi Komoditi Prov Jawa Tengah] dan RegoPantes untuk memangkas jalur distribusi penjualan aneka komoditas pertanian.
"Satu bentuk adaptasi pertanian dengan era 4.0 seperti Kartu Tani, digitalisasi untuk memudahkan pemantauan petani mengakses informasi Saprodi. Begitu pula aplikasi SiHati dan RegoPantes maka penyuluh dapat memanfaatkan teknologi untuk memudahkan tugas mendampingi para petani," kata Gubernur Jateng Ganjar Pranowo di Salatiga, Selasa [2/7].
Menurut Ganjar, pertanian modern tidak hanya memikirkan tentang peningkatan hasil produksi pertanian, juga mengetahui tentang pemasaran produk pangan dari hulu hingga hilir, maka SiHati dan RegoPantes misalnya untuk mengetahui ´harga terbaik´ dari hasil kinerja petani.
Gubernur Jateng mengingatkan bahwa saat ini Indonesia tidak cukup hanya berfikir tentang pangan, karena bonus demografi berdampak pada meningkatnya kebutuhan pangan melalui manajemen pertanian modern. "Nah, di sinilah pekerjaan rumah bagi perguruan tinggi untuk melakukan riset."
"Ke depan, Pemprov akan mengembangkan model penta helix untuk perguruan tinggi mengambil perannya dalam satu bidang. Bisa penanggulangan kemiskinan, pendidikan, penanganan sampah dan pertanian," kata Ganjar Pranowo pada Konser Karya Ilmiah Nasional 2019 (KKIN) di Universitas Kristen Satya Wacana, yang dihadiri 1.016 penyuluh dari seluruh Jateng.
Semarang of Central Java [B2B] - Indonesian agricultural extension workers in era of industrialization 4.0 should not only focus of increasing agricultural production, also understand the marketing of food commodities of upstream to downstream, by utilizing Android applications such as Kartu Tani, SiHati and RegoPantes.