Transformasi STPP, Dua Tahun BPPSDMP Kementan Siapkan Polbangtan
Indonesian Govt for Two Years Prepared of Agricultural Development Polytechnics
Reporter : Gusmiati Waris
Editor : Cahyani Harzi
Translator : Dhelia Gani

PUBLISHED: Selasa, 18 September 2018 , 21:26:00 WIB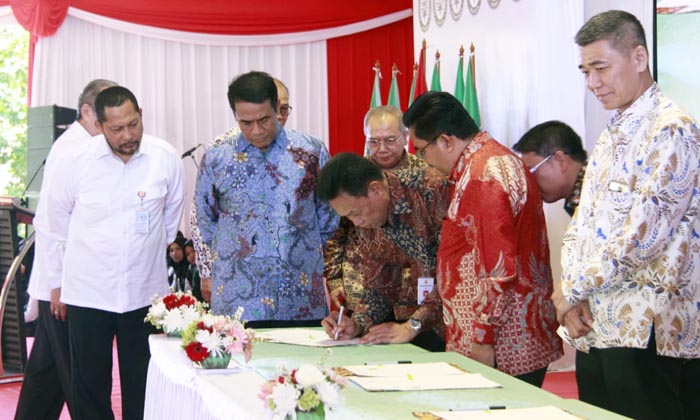 KERJASAMA: Kepala BPPSDMP Kementan, Momon Rusmono menandatangani MoU disaksikan Mentan Amran Sulaiman (batik biru) dan Dirut Bulog Budi Waseso (kemeja putih) Foto: Humas BPPSDMP Kementan/Saputra Eko
Bogor, Jabar (B2B) - Badan Penyuluhan dan Pengembangan SDM Pertanian (BPPSDMP) Kementerian Pertanian RI membutuhkan waktu dua tahun menyiapkan transformasi Sekolah Tinggi Penyuluhan Pertanian (STPP) menjadi Politeknik Pembanguan Pertanian (Polbangtan) mulai dari penyiapan SDM baik dosen dan tenaga kependidikan secara bertahap, memperluas jaringan kerjasama dengan perguruan tinggi, lembaga penelitian, dunia usaha dan industri.

"Transformasi STPP menjadi Polbangtan tidak sekedar perubahan nama, namun lebih dari itu adalah bagaimana mengelola Polbangtan ini menjadi perguruan tinggi vokasi yang menghasilkan lulusan kompeten di bidang pertanian sesuai profil lulusan program studi yang disusun dengan berbagai pihak, baik dari Kementan, Kemenristek Dikti, dunia usaha dan industri serta para pemangku kepentingan lainnya," kata Kepala BPPSDMP Kementan dalam laporannya kepada Menteri Pertanian RI Andi Amran Sulaiman pada peluncuran Polbangtan di Bogor, Selasa (18/9).

Momon Rusmono melaporkan bahwa penyiapan SDM Polbangtan dilakukan melalui perekrutan dosen, menyekolahkan dosen dan tenaga kependidikan melalui tugas belajar dan ijin belajar serta melakukan pemagangan bagi dosen dan tenaga kependidikan pada pendidikan tinggi vokasi pertanian baik di luar maupun di dalam negeri.

"Menyiapkan dan melengkapi prasarana dan sarana pendidikan, mulai dari perkantoran untuk rektorat, perpustakaan, asrama, fasilitas praktek dan praktikum utama yaitu teaching factory disingkat TeFa, yang merupakan ciri khas pendidikan vokasi melalui kerjasama dengan dunia usaha dan industri," kata Momon.

Menurutnya, kalau STPP hanya meluluskan penyuluh pertanian dan peternakan dari tiga program studi atau Prodi, maka Polbangtan mengusung 13 Prodi untuk meningkatkan pengembangan pendidikan dan kualitas sarjana terapan sesuai visi dan misi Polbangtan.

Dari 13 Prodi, sembilan di antaranya dengan jenjang sarjana terapan disingkat S.Tr antara lain Penyuluh Pertanian Berkelanjutan, Penyuluh Perkebunan Presisi, Teknologi Produksi, Penyuluhan Peternakan dan Kesehatan Hewan, Agribisnis Hortikultura, Teknologi Benih, Teknologi Pakan Ternak, Produksi Ternak, dan Agribisnis Peternakan.

"Empat Prodi lainnya dengan jenjang diploma tiga disingkat D III antara lain Kesehatan Hewan, Mekanisasi Pertanian, Budidaya Hortikultura, Budidaya Ternak," kata Momon Rusmono.

Dukungan Swasta
Mentan Amran Sulaiman mengapresiasi dukungan perusahaan swasta terkemuka untuk menandatangani kerjasama dengan BPPSDMP Kementan pada penyelenggaraan TeFa dalam pemagangan dan pelatihan, sesuai konsep pembelajaran Polbangtan yang menekankan praktik 70% pada TeFa dan teori 30%.

Keenam perusahaan dimaksud adalah PT Astra Agro Lestari Tbk; PT Samporna Agro Tbk; PT Charoen Phokphan; PT Japfa Comfeed; PT East West Seed; dan PT Sabila Farm.

"Kami berharap kepada beberapa perusahaan yang bergerak di bidang pertanian dan perusahaan lainnya nantinya menjalin kerjasama dengan Polbangtan agar turut mendukung Polbangtan sebagai institusi pendidikan pertanian yang maju dan modern," kata Mentan usai menjadi saksi kerjasama BPPSDMP Kementan dengan pihak swasta.

Mentan menambahkan kerjasama tersebut merupakan langkah penting untuk membangun regenarasi petani, yang kelak berperan aktif mendukung pembangunan pertanian menuju kedaulatan pangan nasional dan mewujudkan Indonesia sebagai Lumbung Pangan Dunia 2045.
Bogor of West Java (B2B) - The Directorate General of Agency for Agricultural Extension and Human Resources Development or BPPSDMP it took two years to prepare the transformation of the Agricultural Extension College or STPP becomes become a Agricultural Development Polytechnic or Polbangtan began to prepare the human resources of both lecturers and education staff gradually, expand the network of cooperation with universities, research institutions, businesses and industries, according to the senior Indonesian official.

"The transformation of STPP into Polbangtan not just change the name, but how to manage Polbangtan is a vocational college according to the profile of graduates of study programs compiled with various parties," said the Director General of BPPSDMP Momon Rusmono in his report to the Indonesian Agriculture Minister Andi Amran Sulaiman here on Tuesday morning (September 18).

Mr Rusmono reported that the preparation of human resources for Polbangtan was carried out through the recruitment of lecturers, improve the ability of lecturers and education personnel through learning assignments
and conduct apprenticeship for lecturers and education personnel in agricultural vocational education at home and abroad.

"Preparing and completing educational infrastructure and facilities, starting from offices for rectorates, libraries, dormitories, practical facilities and practicum for teaching factory or the TeFa which is a characteristic of vocational education for collaboration with business and industry," said Rusmono said.

According to him, if the STPP is only education for agricultural and livestock extensionist with three study programs or the Prodi, then Polbangtan carries 13 Prodi to improve the of polytechnic education in agricultural development.

Of the 13 study programs, nine of them with the applied bachelor degree abbreviated as S.Tr, among others Sustainable Agriculture Extensionist, Precision Planting Extensionist, Production Technology, Livestock and Animal Health Extensionist, Horticultural Agribusiness, Seed Technology, Animal Feed Technology, Animal Production, and Livestock Agribusiness.

"Four other study programs with three diploma levels abbreviated as D III include Animal Health, Agricultural Mechanization, Horticultural Cultivation, Livestock Cultivation," Mr Rusmono said.

Support of Private Companies
Minister Sulaiman appreciated the support of Indonesia´s leading private companies for cooperation with the ministry to the TeFa in apprenticeship and training, according to the Polbangtan learning concept which emphasizes 70% practice on TeFa and 30% theory.

The six companies referred to are PT Astra Agro Lestari Tbk; PT Samporna Agro Tbk; PT Charoen Phokphan; PT Japfa Comfeed; PT East West Seed; and PT Sabila Farm.

"We look forward to several companies engaged in agriculture and other companies will establish cooperation with Polbangtan to support educational institutions of advanced and modern farming," Minister Sulaiman said.

Minister Sulaiman said that the collaboration was an important step to develop the farmers´ regeneration, which later supports agricultural development towards national food sovereignty.