Panen Cabai, Pemkab Bone Bolango Apresiasi Penyuluh, Petani Tangkal Corona
Indonesia`s Agriculture Anticipate Covid-19 by Weaker Health Systems
Editor : M. Achsan Atjo
Translator : Dhelia Gani

PUBLISHED: Rabu, 22 April 2020 , 21:29:00 WIB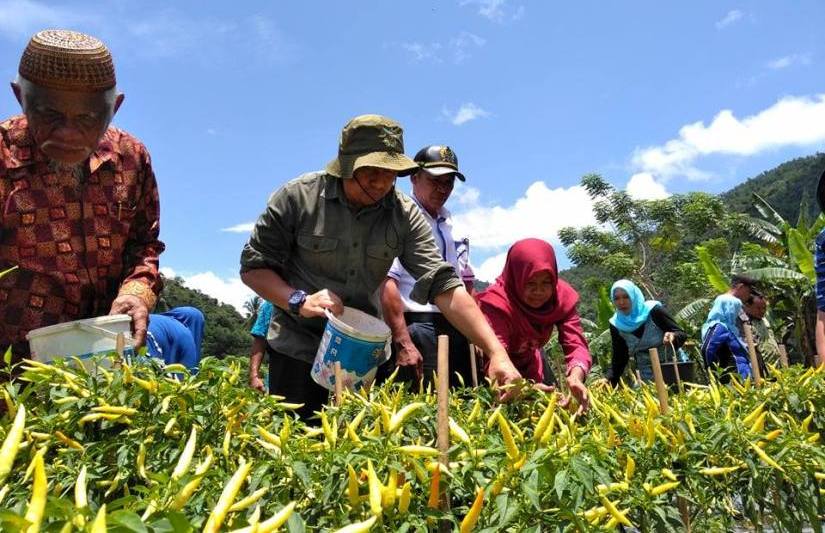 Produksi cabai besar Kabupaten Bone Bolango dapat memenuhi kebutuhan Provinsi Gorontalo setelah surplus 123.331 ton meski di tengah pandemi Covid-19 [Foto: istimewa]
Bone Bolango, Gorontalo [B2B] - Pandemi Covid-19 tidak menghalangi penyuluh pertanian Provinsi Gorontalo mendampingi petani Bone Bolango melakukan panen raya cabai, dengan mematuhi Protokol Kesehatan dalam menangkal virus Corona. Hal itu sejalan instruksi Menteri Pertanian RI Syahrul Yasin Limpo agar petani dan penyuluh tetap ke lapangan untuk mendukung ketersediaan pangan pokok.
Kepala Dinas Pertanian dan Peternakan Kabupaten Bone Bolango Roswaty Agus mengapresiasi kinerja penyuluh dan petani setempat mendukung pencapaian mandiri pangan, khususnya cabai pada kegiatan panen oleh kelompok tani [Poktan] Maju Bersama pada pertengahan April lalu di Desa Tunas Jaya, Kecamatan Bonepantai.
"Produksi cabai besar Kabupaten Bone Bolango dapat memenuhi kebutuhan Provinsi Gorontalo setelah surplus 123.331 ton meski di tengah pandemi Covid-19. Selisih hasil panen musim tanam pertama 2020 sebesar 138.419 ton dengan 5.654 ton kebutuhan konsumen lokal.
"Begitu pula cabai rawit surplus 6.982 ton lantaran hasil panen mencapai 15.088 ton sedangkan kebutuhan konsumen hanya 8.106 ton," kata Roswaty Agus usai panen, pekan lalu.
Koordinator Balai Penyuluhan Pertanian [BPP] Bonepantai, Zulkifli Rauf melaporkan panen cabai di Bone Bolango berlangsung hingga akhir April 2020 seperti dilakukan Poktan Maju.
"Kehadiran para pejabat kabupaten telah mematuhi Protokol Kesehatan untuk mengenakan masker, jaga jarak, hindari kerumunan dan cuci tangan dengan sabun di air yang mengalir," kata Zulkifli Rauf melalui pesan tertulis yang disarikan oleh penyuluh pusat, Inang Sariyati dan dihimpun oleh Pusat Penyuluhan Pertanian [Pusluhtan BPPSDMP].
Langkah tersebut selaras instruksi Menteri Pertanian RI Syahrul Yasin Limpo [SYL] agar petani dan penyuluh tetap ke lapangan mendukung produksi pangan tanpa mengabaikan Protokol Kesehatan. Hal itu disosialisasikan Kepala BPPSDMP, Prof Dedi Nursyamsi kepada petani dan penyuluh melalui Agriculture War Room - Komando Strategis Pembangunan Pertanian [AWR KostraTani].
Roswaty Agus mewakili Bupati Bone Bolango, Nurdin Mokoginta mengapresiasi dukungan petani dan penyuluh sehingga Provinsi Gorontalo mencapai mandiri pangan, khususnya cabai yang kerap memicu inflasi di luar Gorontalo lantaran fluktuasi harga.
"Mewakili bupati, kami apresiasi komitmen dan kinerja petani dan penyuluh Bone Bolango," kata Roswaty Agus. [Liene]
Bone Bolango of Gorontalo [B2B] - Indonesia´s Agriculture Ministry is in intensive care after testing positive for the novel coronavirus, as civil servants in head office and across the country were ordered to close over the health threat. The World Health Organization has said it is particularly concerned about high-risk nations with weaker health systems, which who may lack the facilities to identify cases.