Agung Hendriadi: "Petani dan Distan Lapor Dandim Kalau Panen, Bulog Siap Beli Gabah"
Indonesian Farmers are Guaranteed by Government to Sell Rice to the Bulog
Reporter : Gusmiati Waris
Editor : Cahyani Harzi
Translator : Dhelia Gani

PUBLISHED: Sabtu, 03 Maret 2018 , 21:36:00 WIB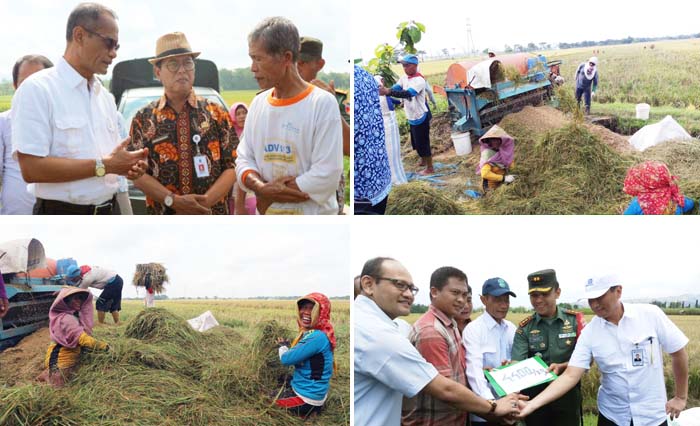 Ketua Tim Sergap Agung Hendriadi (kemeja putih) memimpin pembelian gabah petani di Purworejo (Foto2: Humas BKP Kementan)
Purworejo, Jawa Tengah (B2B) - Ketua Tim Serap Gabah Petani (Sergap) Agung Hendriadi mengingatkan pemerintah daerah di tingkat provinsi/kabupaten/kota di seluruh Indonesia untuk melaporkan areal persawahan di daerahnya yang akan melakukan panen padi, maka petani dikoordinir dinas pertanian (Distan) setempat dapat melapor ke komandan dari komando distrik militer (Kodim) atau bintara pembina desa (Babinsa) di komando rayon militer (Koramil) untuk mengorganisir pembelian gabah oleh Perum Badan Urusan Logistik (Bulog) yang didukung Bank BRI.

"Kalau ada daerah-daerah yang akan melakukan panen, petani dikoordinir dinas pertanian daerah dapat melapor ke Dandim agar nantinya dapat dilakukan pembelian bersama-sama Bulog. Petani dan Distan lapor Dandim kalau akan panen, Bulog siap beli gabah langsung dari petani," kata Agung Hendriadi yang juga menjabat Kepala Badan Ketahanan Pangan (BKP) Kementan kepada pers di desa Pundensari, Kecamatan Purwodadi, Kabupaten Purworejo, Jawa Tengah, Jumat (2/3).

Safari Sergap yang dipimpin oleh Agung Hendriadi di setiap lokasi pembelian gabah didukung oleh pejabat Bulog dan pimpinan Bank BRI setempat, kepala dinas pertanian daerah, para petani yang tergabung dalam kelompok tani (Poktan) dan dihadiri oleh Dandim maupun Danramil untuk memastikan pembelian gabah Bulog berjalan tanpa kendala.

Dia menambahkan, pihaknya saat ini memantau transaksi pembelian gabah petani oleh ulog di Kabupaten Purworejo, Provinsi Jawa Tengah untuk memastikan harga gabah tidak jatuh menjelang dan saat panen raya, sekaligus mengisi cadangan beras pemerintah.

"Pemerintah bergerak cepat untuk membantu petani dalam menjual gabahnya, agar petani tidak rugi. Kasihan petani, harus kita bantu, makanya pemerintah hadir disini," katanya.

Menurutnya, petani memiliki sumbangsih besar terhadap pengadaan cadangan beras pemerintah yang disimpan melalui Bulog, karena itu Sergap terus dilakukan sebagai upaya memberikan jaminan harga pembelian gabah yang wajar atau tidak merugikan petani.

"Kalau cadangan beras pemerintah kuat, kedaulatan pangan kita akan semakin kokoh, maka sekarang inilah saatnya gudang-gudang Bulog diisi oleh petani," kata Agung.
Purworejo of Central Java (B2B) - Head of the farmers´ grain purchasing coordinator or Sergap, Agung Hendriadi Agung Hendriadi reminded local governments across the country to report the area of paddy fields in the area that will rice yield, then the farmer will be coordinated by the local agricultural office can report to the military district command or Dandim to organize grain purchases by the Logistics Agency supported by state banks, BRI Bank.

"If there is an area that will rice yield, farmers coordinated the local agricultural service can report to the Dandim for rice yield purchased by Bulog. Farmers report Dandim if going to rice yield, Bulog ready to buy grain directly from farmers," Mr Hendriadi who is also the Director General of Food Security Agency (BKP) in the agriculture ministry told the press here on Friday (February 2).

Mr Hendriadi´s activities at every grain purchasing location are supported by Bulog officials and head of the local BRI Bank, head of the regional agricultural service, farmers from farmer groups and attended by the Dandim to ensure the purchase of grain by Bulog went smoothly.

He added that his side is currently monitoring transaction of grain purchases of farmers by Bulog in Purworejo district, Central Java province to ensure the price of grain does not fall before and during the harvest, as well as fill the government´s rice reserves.

"The government is moving quickly to help farmers in selling grain, so farmers do not lose, then the government is here," he said.

According to him, farmers have a contribution to the procurement of government rice reserves kept by Bulog, therefore the purchase of grain continues to be done in an effort to provide grain price guarantee that benefits farmers.

"If the government´s rice reserve is strong, our food sovereignty will be stronger, then it is time for Bulog warehouses to be filled with rice," Mr Hendriadi said.