Sergap Lampung, Ini Strategi BKP Kementan Capai Target 81.358 Ton Beras
Indonesia`s Lampung Provincial Govt Supports Farmers Selling Rice to Bulog
Editor : M. Achsan Atjo
Translator : Dhelia Gani

PUBLISHED: Sabtu, 09 Februari 2019 , 02:14:00 WIB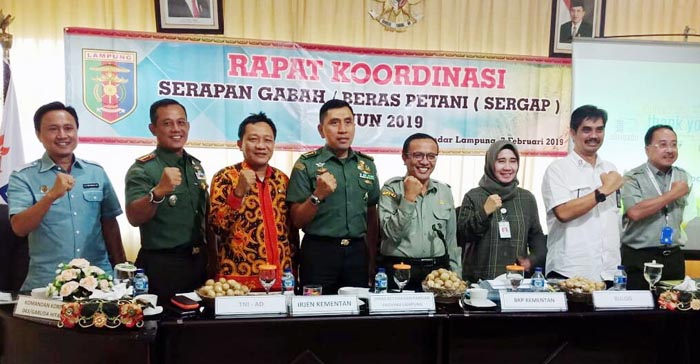 KOMITMEN BULOG: Kadivre Bulog Lampung, M Attar Rizal (ke-2 kanan), Kapus BKP Kementan, Tri Agustin (ke-3 kanan), PJ Upsus Pajale Lampung, Justan Siahaan (ke-4 kanan) dan para peserta Rakor Lampung (Foto: Humas)
Bandar Lampung, Lampung (B2B) - Tim Serap Gabah/Beras (Sergap) Provinsi Lampung meningkatkan koordinasi dengan Gapoktan penerima bantuan Alsintan dari Kementerian Pertanian RI, menerapkan metode ´jemput bola´ ke titik-titik panen raya padi, mengoptimalkan penggilingan beras, dan gudang Bulog tetap beroperasi di hari libur, untuk mencapai target Sergap 81.358 ton gabah hingga Maret 2019, sementara saat ini baru mencapai 157 ton atau sekitar 15,38% dari target Sergap Januari.
Hal itu dikemukakan oleh Tri Agustin, Kepala Pusat Penganekaragaman Konsumsi dan Keamanan Pangan pada Badan Ketahanan Pangan Kementerian Pertanian RI (BKP Kementan) pada rapat koordinasi (Rakor) Tim Sergap Lampung di Bandar Lampung, Kamis (7/2) yang dihadiri oleh Kepala Dinas Ketahanan Pangan Provinsi Lampung, Kusnardi; Kepala Divre Bulog Lampung, M Attar Rizal; Penanggung Jawab Upsus Pajale Lampung, Justan Siahaan; Komandan Korem 043 Garuda Hitam/Lampung, Kolonel Inf Taufik Hanafi; Tim Sergap dari Mabes TNI AD, Kolonel Inf Nasrullah Nasution; dan Ketua Persatuan Penggilingan Padi dan Pengusaha Beras Indonesia (Perpadi) Lampung, Midi Iswanto.
"Strategi utama mengejar target Sergap Lampung adalah koordinasi dengan kelompok tani penerima bantuan Alsintan dari Kementan. Kami terus melakukan pendekatan kepada para petani atau Gapoktan, dan mereka inilah yang kita dorong agar menjual berasnya kepada Bulog," kata Tri Agustin.
Strategi berikutnya adalah meningkatkan pelayanan dengan metode ´jemput bola´, "kita akan terjun langsung ke titik-titik yang menjadi target serap gabah, kami harapkan gudang Bulog tetap buka dan melakukan pembelian meskipun hari libur."
Justan Siahaan menambahkan pihaknya sebagai PJ Upsus Lampung akan mengurai data Upsus sebagai dasar upaya menyerap beras petani lebih terarah.
"Target besar dari Sergap selain untuk memenuhi cadangan beras nasional, juga untuk ekspor.
Kita tidak perlu khawatir nanti berasnya mau disalurkan kemana, karena setelah target Sergap tercapai, akan kita lakukan ekspor," kata Justan S, yang juga menjabat Inspektur Jenderal Kementan.
Attar Rizal menyatakan kesanggupan Bulog Divre Lampung mendukung target Sergap, sekitar 120.000 ton hingga akhir 2019, maka 40% akan dipenuhi dari beras premium dan 60% beras medium.
"Untuk saat ini kita akan penuhi dulu dari yang premium mengingat harga masih tinggi," kata Attar R.
Midi Iswanto menyatakan akan mengerahkan anggota Perpadi untuk mendukung Sergap agar dapat mengoptimalkan serapan gabah petani.
Kolonel Inf Nasrullah Nasution meminta jajaran TNI AD di Lampung di bawah kendali Danrem Kolonel Inf Taufik Hanafi untuk mengoptimalkan pendampingan dan pengawalan terhadap petani untuk menjual berasnya kepada Bulog.
Bandar Lampung of Lampung (B2B) - Indonesian Agriculture Ministry is optimistic that the program to buy grain of rice farmers or the Sergap in Lampung province by improve coordination with farmer groups recipient of agricultural machinery assistance of Indonesian government come to the farmer who owns the rice fields who will do the rice harvest, optimize rice milling, and Bulog´s warehouse remains open even though it´s a holiday, to reach the target of 81,358 tons of grain until March 2019, while currently only reached 157 tons or 15.38% of the January target.
It was stated by Tri Agustin, Director of Diversity in Food Consumption and Safety at the ministry´s Director General of Food Security Agency or the BKP Kementan at the Lampung Sergap Team coordination meeting here on Thursday (February 7) which was attended by Head of Lampung Province Food Security Agency, Kusnardi; Head of Lampung Logistics Agency, M Attar Rizal; Person in Charge of Upsus Pajale Lampung, Justan Siahaan; Commander of Lampung Military Command, Colonel Inf Taufik Hanafi; Sergap Team of Army Headquarters, Colonel Inf Nasrullah Nasution; and Chair of the Lampung Rice Entrepreneurs Association or the Perpadi, Midi Iswanto.
"The main strategy to achieve the Lampung Sergap target is coordination with farmer groups that receive agricultural machinery assistance of the ministry. We continue to approach the farmers, and they are what we encourage to sell the rice to Bulog," Agustin said.
The next strategy is to improve services with the ´pick up´ method, "we will go directly to the points that are the target of rice production, we hope that Bulog´s warehouse will remain open and make purchases even though it is a holiday."
Justan Siahaan added that his party would break down the Lampung production center data as a basis to encourage farmers to sell their rice to Bulog.
"Sergap´s big target is to fulfill national rice reserves, also for exports. We don´t need to worry about where the rice will be distributed, because after the Sergap target is reached, we will do export rice," said Siahaan who also served as the Inspector General of the ministry.
Attar Rizal stated that the Lampung Logistics Agency to support the Sergap target, around 120,000 tons by the end of 2019, then 40% will be fulfilled of premium rice and 60% medium rice.
"For now, we will meet first from premium rice because the price is still high," said Rizal.
Midi Iswanto stated that he would mobilize Perpadi members to support the government´s target to optimize the sale of farmers´ rice production to the Bulog.
Colonel Inf Nasrullah Nasution asked the ranks of the Indonesian Army in Lampung to optimize rice farmers sell their products to the Bulog.