Diversifikasi Pangan, Agung Hendriadi Dorong Pangan Lokal Tersaji Menarik
Indonesian Govt Support Regions to Develop Exciting Packaged Local Food
Editor : M. Achsan Atjo
Translator : Dhelia Gani

PUBLISHED: Kamis, 22 Maret 2018 , 21:59:00 WIB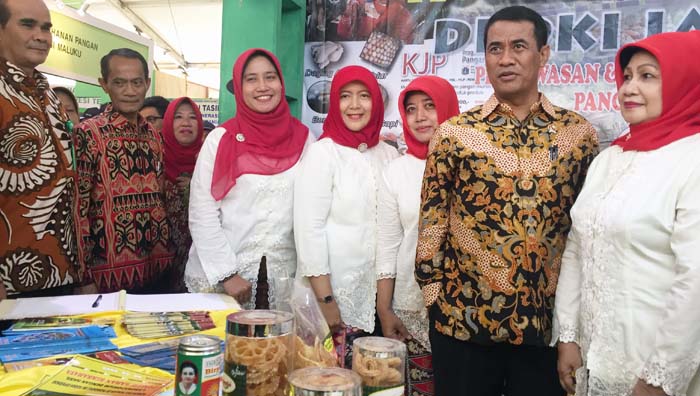 Mentan Andi Amran Sulaiman (ke-2 kanan) dan Kepala BKP Kementan, Agung Hendriadi (ke-2 kiri) (Foto: istimewa)
Bogor, Jabar (B2B) - Indonesia sangat kaya akan ragam bahan pangan lokal maka harus disajikan menarik sehingga memiliki daya tarik untuk meningkatkan nilah tambahnya, karena diversifikasi pangan menjadi tema penting dalam pembangunan ketahanan pangan di Indonesia.

Kepala Badan Ketahanan Pangan (BKP) Kementerian Pertanian RI, Agung Hendriadi mengatakan keragaman pangan lokal tersaji menarik harus memicu ketertarikan, strategi utama adalah memperbaiki olahannya, khususnya bagaimana mengolah bahan baku pangan lokal di seluruh Indonesia memiliki daya saing dan menarik minat konsumen.

"Untuk menimbulkan ketertarikan, strategi utama yang perlu dilakukan adalah kita perbaiki olahannya, dan bagaimana mengolah bahan baku pangan lokal yang kita miliki agar mempunyai daya saing baik dari segi tampilannya yang menarik, rasa yang digemari dan harga yang bersaing" kata Agung Hendriadi saat membuka lokakarya ´Pengembangan Pangan Lokal 2018´ di Bogor, Selasa malam (20/3).

Menurutnya, diversifikasi pangan menjadi salah satu tema penting dalam pembangunan ketahanan pangan di Indonesia. Upaya peningkatan diversifikasi pangan ditujukan untuk meningkatkan ketersediaan dan konsumsi pangan yang beragam, bergizi seimbang dan aman dalam mendukung terwujudnya sumber daya manusia yang sehat, aktif dan produktif.

"Indonesia sangat kaya akan ragam bahan pangan lokal, ini harus disajikan menarik sehingga memiliki daya tarik untuk meningkatkan nilai tambah," kata Agung yang didampingi Sekretaris BKP Kementan, Mulyawan Hendiadi dan Kepala Pusat Penganekaragaman Konsumsi dan Keamanan Pangan, Tri Agustin Satriani.

Kegiatan Pengembangan Pangan Pokok Lokal (P3L) yang mulai di garap pada tahun 2018 ini menurut Agung akan dilaksanakan di 15 kabupaten pada 13 provinsi.

"15 kabupaten menjadi prioritas utama karena telah memiliki bahan baku lokal yang sekarang sudah mempunyai olahan yang sederhana" katanya.

Agung menegaskan bahwa fokus kegiatan akan dimulai dari hilir terlebih dahulu, setelah produk olahan pangan lokal memiliki daya saing sehingga orang memiliki keinginan untuk mengonsumsi, kemudian baru akan dilakukan peningkatan produksinya seperti ganyong, gembili dan lainnya.

Adapun 15 kabupaten yang menjadi lokasi sasaran adalah pengembangan sagu di Bengkalis, Polewali Mandar, Maluku Tengah dan Mimika. Singkong di Musi Rawas, Lombok Tengah, Nunukan, Kolaka, Buton Selatan dan Bone Bolango; jagung di Buleleng; sorgum di Flores Timur; ubi dan jagung di Banggai dan Tojo Una Una; dan talas beneng di Pandeglang.
Bogor, West Java (B2B) - Indonesia is very rich in local variety of food and should be presented interesting, so it has the allure to increase its value added, because food diversification is an important issue of Indonesia´s food security development.

Director General of Food Security Agency Agung Hendriadi said the diversity of local food presented well to be interesting. The first strategy is to improve processing, especially how to process local foodstuffs across the country to attract consumers.

"To generate interest, the main strategy that needs to be done is we improve the processed, and how to process local food raw materials of Indonesia in order to have a good competitiveness in terms of looks interesting, taste of interest and competitive price," said Mr Hendriadi while opened workshop of ´Local Food Development 2018´ on Tuesday night (March 20).

According to him, food diversification becomes one of the important issues of development of food security in Indonesia. Efforts to increase food diversification are aimed at increasing the availability and consumption of diverse food, balanced and safe nutrition to support the realization of healthy, active and productive human resources.

"Indonesia is very rich in the variety of local foodstuffs, it should be presented attractively so it has the appeal to increase the added value," said Mr Hendriadi who was accompanied by by Secretary of BKP Mulyawan Hendiadi and Head of the Center for Food Consumption and Safety Diversification, Tri Agustin Satriani.

Local food development activities or P3L starting 2018, said Mr. Hendriadi will be implemented in 15 districts in 13 provinces.

"15 districts are the top priority because they already have local raw materials that already have a simple process" he said.

Mr Hendriadi said the focus of activities will start from downstream after local processed food products are able to compete, so consumers want to consume, then increase their production.

The 15 districts targeted are sago development in Bengkalis, Polewali Mandar, Central Maluku and Mimika. Cassava in Musi Rawas, Central Lombok, Nunukan, Kolaka, Southern Buton and Bone Bolango; corn in Buleleng; sorghum in East Flores; sweet potatoes and corn in Banggai and Tojo Una Una; and taro beneng at Pandeglang.