Info Grup WA, Penyuluh Remboken di Minahasa Dampingi Petani Panen Jagung
WA Group Helps Indonesian Agricultural Extensionist Exchange Info with Farmers
Editor : M. Achsan Atjo
Translator : Dhelia Gani

PUBLISHED: Senin, 18 Februari 2019 , 02:19:00 WIB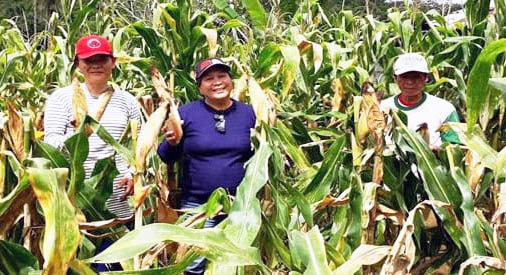 KOLABORASI PETANI & PENYULUH: Koordinator Penyuluh BPP Remboken, Anita Kolondam (kaos biru) mendukung kegiatan petani panen jagung (Foto: Pusluhtan)
Minahasa, Sulut (B2B) - Informasi melalui Grup WA menjadi rujukan bagi liaison officer (LO) Pajale dari BPTP Balitbangtan Sulawesi Utara mengetahui panen jagung di Kabupaten Minahasa, setelah Koordinator Penyuluh BPP Remboken, Anita Kolondam mem-posting sejumlah foto panen jagung di Desa Leleko.
LO Pajale BPTP Sulut pun mengonfirmasi penyuluh pertanian Remboken, yang memastikan sedang mendampingi petani setempat melakukan panen jagung, belum lama ini. Ternyata lokasi panen jagung tidak hanya di satu titik, tetapi mencakup beberapa titik lokasi.
"Syukur pada Tuhan cuaca cerah. Cuaca sangat membantu petani melakukan panen jagung," kata Anita K saat dikonfirmasi.
Dia mengaku petani dan penyuluh sempat khawatir kondisi cuaca menghambat kegiatan panen jagung, setelah sebelumnya khawatir pada anomali cuaca padahal mendekati masa panen jagung.
Penyuluh Remboken, Jean Ngantung menguraikan tentang pemupukan mengacu pada pengelolaan tanaman terpadu (PTT) yang dianjurkan penyuluh pertanian maupun rekomendasi dari BPTP Sulut. (Tris)
Minahasa of North Sulawesi (B2B) - Information through the WA Group is a reference for liaison officer of agriculture ministry in North Sulawesi Province found out about corn harvest in Minahasa district, after the Extension Coordinator of Remboken District, Anita Kolondam posted some photos about corn harvest in Leleko village.
The information was confirmed, it turned out that it was true that the subdistrict agricultural extensionist were assisting local farmers to harvest corn, recently. The location of harvesting corn is not only at one point, but covers many places.
"Thank God for the sunny weather. The weather is very helpful for farmers," Kolondam said while confirmed.
He claimed that farmers and agricultural extensionist were worried that weather conditions would hamper corn harvesting activities, after worried about weather conditions even though it would harvest corn.
Remboken agriculture extentionist, Jean Ngantung explains about fertilization refers to integrated plant management recommended by agriculture extensionist and recommendations of the ministry.