Pola Pangan Harapan, GPN 2018 Dukung Perbaikan Skor PPH Masyarakat
The 2018 Indonesian Food Exhibition Support Nutritious Food Consumption Scores
Reporter : Gusmiati Waris
Editor : Cahyani Harzi
Translator : Dhelia Gani

PUBLISHED: Jum'at, 27 Juli 2018 , 22:06:00 WIB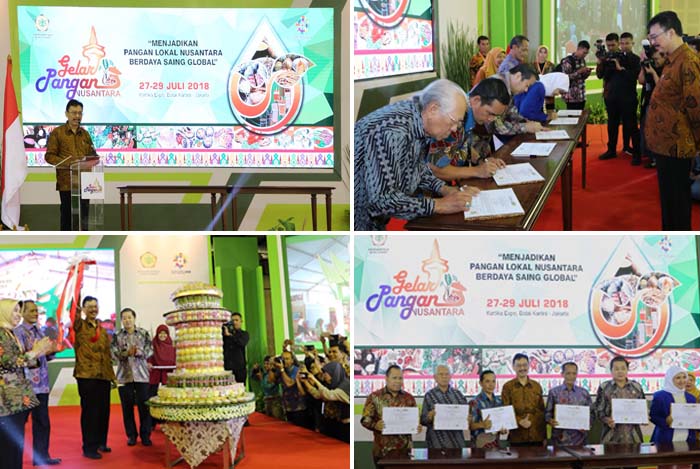 Sekjen Kementan Syukur Iwantoro membuka Gelar Pangan Nusantara 2018 didampingi Kepala BKP Kementan, Agung Hendriadi (Foto2: Humas BKP Kementan)
Jakarta (B2B) - Penganekaragaman pangan dari sisi konsumsi mendukung perbaikan kualitas konsumsi pangan, yang tercermin dari peningkatan skor Pola Pangan Harapan (PPH) dari 86,0 pada 2016 menjadi 90,4 pada 2017, sehingga kegiatan Gelar Pangan Nusantara 2018 berperan strategis untuk mempromosikan dan mengembangkan keanekaragaman konsumsi pangan kaya protein, vitamin dan mineral, bukan sekadar sumber karbohidrat.
"Pada prinsipnya, penganekaragaman pangan bukan hanya dari sumber karbohidrat, tetapi bagaimana mendorong konsumsi pangan yang beragam dan bergizi seimbang termasuk untuk sumber protein, vitamin, dan mineral," kata Sekjen Kementerian Pertanian RI, Syukur Iwantoro saat membuka Gelar Pangan Nusantara - GPN 2018 di Jakarta pada Jumat (27/7).
Dia mengharapkan kegiatan GPN 2018 dapat membangkitkan kembali kekayaan pangan nusantara sehingga mampu bersaing di era global, meningkatkan pengembangan kerjasama antara petani, lembaga riset, dan dunia usaha.
Sementara itu Bupati Kepulauan Meranti, Irwan Nasir sebagai Ketua Asosiasi Penghasil Sagu berharap agar pemerintah dapat menggandeng Badan Urusan Logstik (Bulog) untuk menampung produksi sagu sehingga merangsang petani sagu untuk terus berproduksi dan memiliki nilai jual.
"Saya juga berharap pemerintah dapat memasukan sagu sebagai bahan pangan pokok alternatif di Indonesia, sehingga sagu menjadi tuan rumah di negeri sendiri" kata bupati dari Provinsi Riau tersebut.
Dalam kesempatan tersebut ditandatangani kesepakatan (MoU) pengembangan pangan lokal oleh Kepala Badan Ketahanan Pangan (BKP) Kementan, Agung Hendriadi dengan Forum Komunikasi Kabupaten Penghasil Sagu Seluruh Indonesia (Fokus Kapassindo), Masyarakat Singkong Indonesia (MSI), Asosiasi Petani Organik Bumi Pasundan (Asetna Bunda), Gabungan Pengusaha Makanan dan Minuman Indonesia (Gappmi) , Ikatan Wanita Pengusaha indonesia (Iwapi).
Jakarta (B2B) - The consumption food diversification supports the improvement of food consumption in Indonesia, as reflected in the increase in nutritious food consumption scores or PPH from 86.0 in 2016 to 90.4 in 2017, so that the 2018 Indonesian Food Exhibition or the GPN play a strategic role to promote and develop food with protein, vitamin and mineral content, not just a source of carbohydrates.
"In principle, food diversification is not just from carbohydrate sources, but how to encourage diverse and balanced nutritious food consumption including for sources of protein, vitamins, and minerals," said Secretary General of the Agriculture Ministry, Syukur Iwantoro while opened the 2018 GPN here on Friday (July 27).
He expects the 2018 GPN activities can revive the food riches of the archipelago so as to compete in the global era, to enhance the development of cooperation between farmers, research institutions, and the business world.
Meanwhile, Regent of Meranti Island, Irwan Nasir as Chairman of the Sago Producing Association hopes that the government can invite Indonesian Logistics Agency or the Bulog to accommodate sago production so as to stimulate sago farmers to continue to produce and have a sale value.
"I also hope the government can establish sago as an alternative staple food in Indonesia," said the regent of Riau province.
On the occasion, the local food development agreement signed by the Head of the Food Security Agency, Agung Hendriadi with several associations related to the development of alternative staple food in Indonesia.