KRPL 2019, BKP Kementan Kembangkan 1.600 `Desa Stunting` di 160 Kabupaten
Indonesian Govt Developing Urban Farming to overcome Stunting
Reporter : Gusmiati Waris
Editor : Cahyani Harzi
Translator : Dhelia Gani

PUBLISHED: Minggu, 16 Desember 2018 , 22:09:00 WIB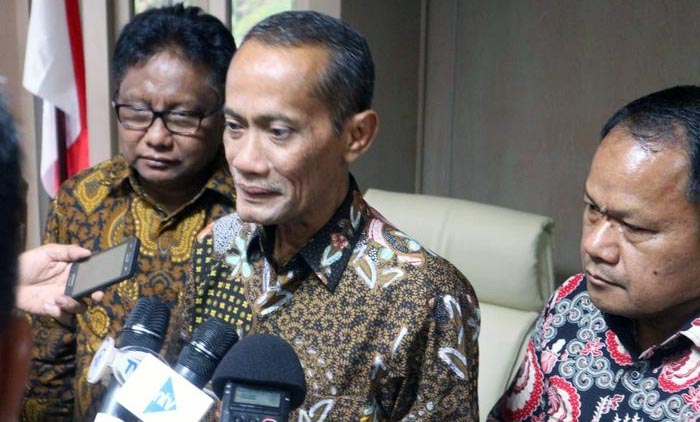 MANDIRI PANGAN: Kepala BKP Kementan, Agung Hendriadi (tengah) menjawab pers didampingi Sekretaris BKP Riwantoro (kiri) dan Kapus Distribusi dan Cadangan Pangan BKP, Rishaferi (Foto: Humas BKP)
Jakarta (B2B) - Kementerian Pertanian RI pada 2019 akan mengembangkan 1.600 desa stunting pada 160 kabupaten di 34 provinsi, yang dikembangkan oleh Badan Ketahanan Pangan (BKP) untuk mengantisipasi wilayah pedesaan yang lambat pertumbuhan dan perkembangan anak di bawah lima tahun (Balita) atau tidak sesuai dengan usia Balita.
"Hingga saat ini, stunting menjadi perhatian khusus BKP Kementan, mengingat pemantauan status gizi atau PSG 2017 menunjukkan prevalensi balita stunting di Indonesia masih tinggi, yakni 29,6 persen di atas batasan yang ditetapkan badan PBB, WHO," kata Kepala BKP Kementan, Agung Hendriadi kepada pers di Jakarta, Sabtu (15/12).
Sejak 2010, BKP Kementan mengembangkan kawasan rumah pangan lestari (KRPL) di 18 ribu desa pada 500 kabupaten di 34 provinsi, pada 2018 dikembangkan lagi 2.300 KRPL, 1.000 di antaranya adalah ´desa stunting´ sementara untuk 2019 akan dilaksanakan di 1.600 desa stunting pada 160 kabupaten di seluruh Indonesia.
"Desa stunting merupakan wilayah desa yang pertumbuhan dan perkembangan Balita-nya lambat, tidak sesuai dengan usia balita sehat, yang terjadi karena kurangnya asupan gizi," kata Agung H didampingi Rishaferi, Kepala Pusat Distribusi dan Cadangan Pangan dan Sekretaris BKP Kementan, Riwantoro.
Rishaferi menambahkan, Kementan berkomitmen turut mendukung penyediaan pangan cukup dan beragam bagi masyarakat, dengan meningkatkan kemandirian pangan, sebagai upaya meningkatkan ketahanan gizi nasional.
"Upaya-upaya yang telah dilakukan Kementan adalah mendekatkan akses masyarakat terhadap pangan, penyediaan infrastruktur produksi pangan, menjaga stabilisasi pasokan dan harga, serta mendeteksi dini daerah rentan rawan pangan dan stunting," kata Rishaferi, mantan Kepala Balai Besar Pasca Panen di Badan Penelitian dan Pengembangan Pertanian (Balitbangtan).
Jakarta (B2B) - Indonesia Agriculture Ministry next year will developing 1,600 stunting villages in 160 districts of 34 provinces, developed by the ministry´s Food Security Agency or the BKP Kementan to anticipate stunting rural areas.
"Until now, stunting has become a special concern for the BKP Kementan, considering monitoring 2017 nutritional status shows stunting prevalence in Indonesia is still high, that is 29.6 percent above the limit set by the UN agency, WHO," Director General of BKP Kementan, Agung Hendriadi told the press here on Saturday (December 15).
Since 2010, the BKP Kementan has developed urban farming areas or the KRPL in 18 thousand villages in 500 districts of 34 provinces, then added 2,300 KRPL in 2018, 1,000 of them are ´stunting villages´ while for 2019 there will be 1,600 stunting villages in 160 districts across the country.
"Stunting village is a rural area inhabited by many stunting children due to malnutrition," said Mr Hendriadi who was accompanied by by Rishaferi, Director of the Food Distribution and Reserve Center, and Secretary of BKP Kementan, Riwantoro.
Rishaferi added, the ministry is committed to supporting sufficient and diverse food supply for the community, independent food as an effort to improve national nutritional resilience.
"The efforts made by the ministry are to make it easier for people to access food, development food production infrastructure, food supply and price stabilizers, early detection of areas prone to food insecurity and stunting," said Rishaferi, former Director of the Post Harvest Center at the Agricultural Research and Development Agency.