Tepung Lokal, BKP Kementan Libatkan Akademisi Bangun Industri Pangan
ndonesian Govt Involves Academics to Support Development of Food Industry
Editor : M. Achsan Atjo
Translator : Dhelia Gani

PUBLISHED: Selasa, 12 Februari 2019 , 22:26:00 WIB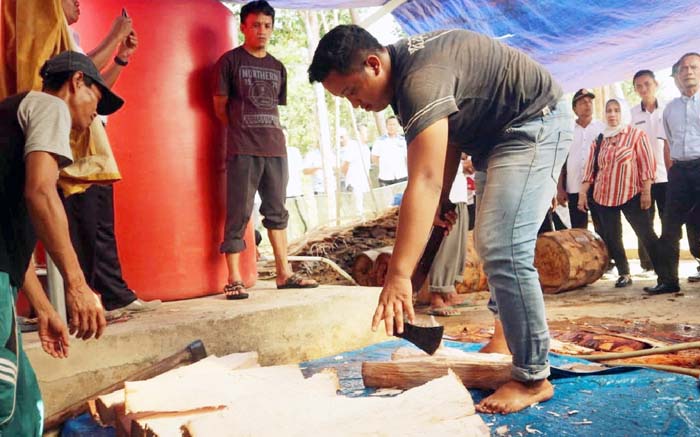 OLAH PANGAN TRADISIONAL: Industri rumahan mengolah sagu menjadi pangan lokal sebagai bagian dari keanekaragaman pangan lokal (Foto: Humas BKP Kementan)
Bogor, Jabar (B2B) - Pemerintah RI berupaya mengembangkan industri pangan berbasis tepung lokal, untuk mendukung tersedianya bahan baku alternatif bagi industri pangan olahan dalam negeri, dengan melibatkan akademisi mendukung pengembangan industri pangan lokal disingkat PIPL, yang akan didukung dunia industri melalui koordinasi dengan Kamar Dagang dan Industri (Kadin) dan Gabungan Pengusaha Makanan dan Minuman Indonesia (Gapmmi).
Kepala Badan Ketahanan Pangan di Kementerian Pertanian RI (BKP Kementan) Agung Hendriadi mengatakan PIPL merupakan program strategis, dengan melibatkan akademisi dan asosiasi industri dan memperkuat aspek bisnis dan kelembagaan dari PIPL.
"Kementan akan terus mendorong pengembangan tepung berbasis pangan lokal dengan kualitas bersaing untuk mendukung industri pangan nasional. Sementara Kadin dan Gapmmi siap menjadi offtaker atau pembeli dari produk yang dihasilkan," kata Agung H pada pertemuan pemantapan kegiatan PIPL di Bogor, belum lama ini.
Para pakar pangan yang akan mendampingi kegiatan PIPL antara lain Prof Achmad Suryana, Prof Sri Widowati, Prof Bilter Sirait, Prof Posman Sibuea, Prof Nurpudji Taslim, Dr Drajat Martianto, dan Dr Damianus Adar.
Sementara PIPL 2019 fokus pada 10 provinsi: Riau, Lampung, Kepulauan Riau, Jawa Barat, Jawa Tengah, Sulawesi Selatan, Gorontalo, Nusa Tenggara Timur (NTT), Maluku, dan Papua.
Menurutnya, pemilihan lokasi berdasarkan potensi produksi dan ketersediaan bahan baku yang dapat dijadikan tepung, juga kesiapan kelompok.
"Kegiatan ini akan melibatkan kelompok usaha pangan eksis, dengan bantuan mesin dan peralatan pengolah tepung serta fasilitas pendukung lainnya, untuk engolah dan menyediakan bahan baku tepung lokal.
"Selain itu juga akan dilakukan pendampingan untuk pengembangan pemasaran dan aspek bisnisnya.," kata Agung H.
Kepala Pusat Penganekaragaman Konsumsi dan Keamanan Pangan Tri Agustin, selaku Ketua Tim Pelaksana PIPL mengatakan, persiapan teknis akan terus dimatangkan hingga ke daerah.
"Mulai pekan depan tim akan turun ke lapangan untuk verifikasi, diharapkan akhir Februari persiapan teknis dapat diselesaikan dengan baik," kata Tri Agustin.
Jakarta (B2B) - Indonesian government seeks to developing a local flour-based food industry to support availability of alternative raw materials for domestic processed food industry, by involving academics to support development of local food industry or the PIPL, will be support by industry through coordination with Indonesian Chamber of Commerce and Industry or the Kadin and Indonesian Food and Beverage Association or Gapmmi.
Director General of Food Security Agency at the Indonesian Agriculture Ministry or the BKP Kementan, Agung Hendriadi said the PIPL is strategic program supported by academics and industry associations to strengthen business aspects and PIPL institutions.
"The Agriculture Ministry will continue to encourage development of local food-based flour with competitive quality to support the national food industry. The Kadin and Gapmmi are ready to be the offtaker or buyer of products," said Hendriadi here recently.
The food experts who will assist PIPL activities include Prof Achmad Suryana, Prof Sri Widowati, Prof Bilter Sirait, Prof Posman Sibuea, Prof Nurpudji Taslim, Dr Drajat Martianto, and Dr Damianus Adar.
Meanwhile PIPL 2019 focuses on 10 provinces: Riau, Lampung, Riau Islands, West Java, Central Java, South Sulawesi, Gorontalo, East Nusa Tenggara, Maluku and Papua.
According to him, the choice of location is based on the potential for production and availability of starch and group preparation.
"Activities that will involve food business groups exist, with machinery and flour processing equipment and other supporting facilities, to process and provide local flour raw materials. In addition, marketing assistance and business aspects will also be provided," Hendriadi said.
Director of Diversity of Food Consumption and Safety, Tri Agustin as the PIPL team leader said, technical preparation will be carried out in the region.
"Starting next week the team will go to the field to verify, technical preparation is expected completed in February," Agustin said.