Idealnya Rp23.000 per Kg, BKP Kementan Operasi Pasar Telur Ayam Ras di Jakarta
Indonesian Govt Intervene Traditional Market to Stabilize the Price of Broiler Eggs
Reporter : Gusmiati Waris
Editor : Cahyani Harzi
Translator : Dhelia Gani

PUBLISHED: Rabu, 08 Mei 2019 , 22:29:00 WIB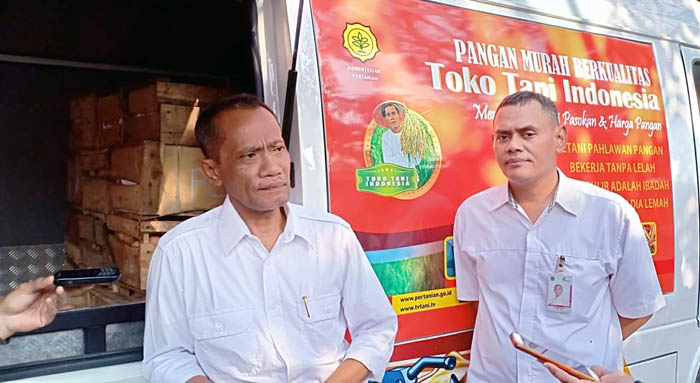 PASAR TRADISIONAL: Kepala BKP Kementan, Agung Hendriadi menjawab pers usai menyuplai telur ayam ras di Pasar Palmerah, Jakarta Barat [Foto: B2B/Mya]
Jakarta [B2B] -Pasar Palmerah di Jakarta Barat menjadi salah satu dari tujuh pasar tradisional di DKI Jakarta yang menjual telur ayam ras di atas Rp23.000 padahal di tingkat peternak hanya Rp22.000 per kg, yang dinilai membebani konsumen menengah ke bawah sehingga Badan Ketahanan Pangan - Kementerian Pertanian RI [BKP Kementan] menggelontorkan tujuh ton telur ayam ras untuk stabilisasi harga melalui operasi pasar seharga Rp23.000 per kg.

Kepala BKP Kementan, Agung Hendriadi mengatakan operasi pasar dilakukan pada tujuh dari 40 pasar tradisional di DKI Jakarta yang harga jual telur ayam ras mencapai Rp26.000 per kg, sehingga pemerintah harus turun tangan melakukan intervensi agar harga telur ayam ras kembali stabil.

"Kami telah menjalin kerjasama dengan PD Pasar Jaya, BUMD pengelola pasar, untuk melakukan survei harga pada tiga hari menjelang Ramadan, dari 40 pasar di seluruh DKI Jakarta ternyata harga telur ayam ras melonjak pada tujuh pasar tradisional," kata Agung H kepada pers di Pasar Palmerah Jakarta, Rabu [8/5].

Pasar tradisional dimaksud adalah Palmerah, Glodok dan Pluit di Jakarta Barat; Petojo Ilir dan Tebet Barat di Jakarta Selatan; dan Pulogadung di Jakarta Timur.

Menurutnya, Menteri Pertanian RI Andi Amran Sulaiman menginstruksikan harga telur ayam ras di tujuh pasar tradisional di DKI Jakarta harus kembali normal melalui operasi pasar, karena harga di tingkat peternak masih stabil pada Rp22.000 per kg.

Agung Hendriadi memastikan BKP Kementan terus memantau fluktuasi harga telur ayam ras maupun bahan pangan pokok lainnya selama Ramadan hingga Hari Raya ?Idul Fitri 1440 H.

"Pemerintah dalam hal ini Kementan akan terus mendukung operasi pasar bahan pangan pokok untuk memastikan konsumen tidak terbebani dengan lonjakan harga selama Ramadan hingga Lebaran," kata Agung H.
Jakarta (B2B) - Indonesian government anticipates the spike in prices of broiler egg in Jakarta and surrounding areas by provide 7 tons of broiler eggs priced at IDR23,000 per kg which is marketed to 50 farm shop outlets, 40 traditional markets and dozens of residential areas to push prices back to IDR23,000 per kg.
Director General of Food Security at the Indonesian Agriculture Ministry or the BKP Kementan, Agung Hendriadi said the broiler eggs bazaar is carried out on seven of the 40 traditional markets in Jakarta, the capital city of Indonesia, to anticipate a price increase of IDR26,000 while the normal price of IDR23,000 per kg, so the central government supported by the regions must intervene for price stabilization.
"We have collaborated with PD Pasar Jaya, local government-owned enterprises, to conduct a price survey three days ahead of Ramadan, then it was found out from 40 markets across the Jakarta, the price of broiler eggs surged on seven traditional markets," Hendriadi told the press here on Wednesday [May 8].
According to him, Agriculture Minister Andi Amran Sulaiman instructed the price of broiler eggs in seven traditional markets in Jakarta it must be back to normal because price at the farmer level is still stable at IDR22,000 per kg.
[U$1 = 14,318 rupiah]