Stok Pangan, Penyuluh Kaltara Pastikan Lahan Pertanian Tetap Produktif
Indonesian Agriculture Anticipate Covid-19 by Weaker Health Systems
Reporter : Gusmiati Waris
Editor : Cahyani Harzi
Translator : Dhelia Gani

PUBLISHED: Sabtu, 18 April 2020 , 22:34:00 WIB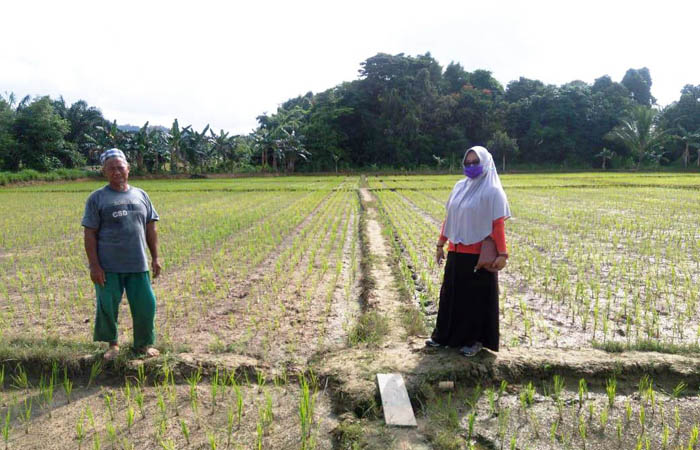 VARIETAS LOKAL: Elia Eston [kanan] dan Akhmad Juni Arafat sejak awal April 2020 melakukan pendampingan di Kecamatan Tanjung Palas Utara, Kabupaten Bulungan [Foto: Humas Pusluhtan]
Bulungan, Kaltara [B2B] - Bukti keberlangsungan sektor pertanian ini terlihat dari aktivitas para penyuluh dan petani dilapangan untuk memastikan produksi pertanian terus berjalan terutama di tengah pandemi Corona yang menuntut ketersediaan pangan untuk seluruh rakyat. Pangan selain sebagai kebutuhan pokok manusia juga menjadi penentu stabilitas nasional di tengah krisis Covid-19.
Dua penyuluh di Provinsi Kalimantan Utara, Elia Eston dan Akhmad Juni Arafat sejak awal April 2020 melakukan pendampingan di Kecamatan Tanjung Palas Utara, Kabupaten Bulungan merupakan wujud nyata untuk memotivasi petani agar terus berusahatani sehingga masyarakat Indonesia dapat terpenuhi kebutuhan pangannya.
Elia Eston mendukung pemeliharaan tanaman padi varietas unggul lokal seluas 10 hektar pada lahan milik Wasmo. Juga persiapan tanam jagung varietas Pioner P35 seluas dua hektar dan 10 hektar pada lahan Joko Lelono di Desa Kelubir.
Akhmad Juni Arafat mendampingi Poktan Tani Mulyo di Desa Panca Agung untuk memastikan terlaksananya penanaman jagung pada lahan Lamidi. Termasuk mendampingi Munzani dalam usahataninya pada komoditas padi, jagung dan cabai. Dilanjutkan mendampingi Agus dan Sayuti untuk memastikan tanaman cabainya terus berproduksi.
Keduanya berkomitmen melaksanakan imbauan Menteri Pertanian RI Syahrul Yasin Limpo [SYL] untuk memastikan pertanian terus bergerak untuk mendukung ketersediaan pangan, tanpa mengabaikan Protokol Kesehatan WHO. "Jaga jarak. Jangan berkerumun. Kenakan masker. Rajin cuci tangan dengan sabun di air yang mengalir."
Kepala BPPSDMP Prof Dedi Nursyamsi mengaku bahagia karena penyuluh tetap setia mendampingi petani yang kerapkali disampaikan pada videoconference di Agriculture War Room [AWR KostraTani] bertani tergolong kegiatan outdoor yang merupakan tempat berlimpahnya sinar ultraviolet dari cahaya matahari, sehingga merupakan zona aman untuk bekerja, asalkan tetap mematuhi Protokol Kesehatan WHO.
"Lahan pertanian umumnya berada di zona aman atau zona hijau, selain itu sinar matahari berlimpah di lahan pertanian akan membuat virus Corona pemicu Covid -19 tidak aktif," kata Dedi Nursyamsi. [Ria/Bgn]
Bulungan of North Borneo [B2B] - Indonesia´s Agriculture Ministry is in intensive care after testing positive for the novel coronavirus, as civil servants in head office and across the country were ordered to close over the health threat. The World Health Organization has said it is particularly concerned about high-risk nations with weaker health systems, which who may lack the facilities to identify cases, according to Agriculture Minister Syahrul Yasin Limpo.